Cindy's Newsletter for Gift Shop Managers | June 15, 2023 💮
CINDY'S NEWSLETTER
for
Gift Shop Managers
Cindy's Newsletter for Gift Shop Managers delivers practical, ready-to-implement content to gift shop managers, retailers, and volunteers across the country. We help our readership of over 3,000 retailers optimize shop operations, grow revenue, and connect with one another. The newsletter is published monthly and free since 2001.
Have you paid your dues this quarter?
The value and richness of this newsletter comes from your participation. Do your part by submitting two comments per quarter, at minimum. Reply to reader's questions listed throughout the newsletter (in green) or simply share what is working or isn't working in your shop, a great selling product, a helpful website or resource, an operating question, your biggest challenge right now, a terrific vendor you've come across recently, tips on managing volunteers, or tips on managing yourself!
LEAVE A COMMENT! Click the green comment tags

throughout the newsletter, enter it in the comment section, or send to cindy@cindyjonesassociates.com.
---
JUNE 15, 2023
---
Royal Children's Hospital, Melbourne, Australia
---
You Need Heart! ♥️ 💪🏼🫀 ♥️
Managing and running a successful hospital gift shop takes an awful lot of heart!
You have to have patience, be able to accept criticism and be willing to change certain things you thought you knew.
The key to managing, surviving and thriving in a hospital gift shop environment is perseverance and the willingness to change to meet your customers ever-changing needs.
Besides taking some risks, you need to be diligent and open to alterations.
But if you've got a passion for what you're doing, a vision for how you want it to look and the means to persevere through trials and tribulations, well then, you're on the right track.
---
NBC News: Silver Cross Gift Shop
Lynda McShane started volunteering at Childerguild Gift Shop at Silver Cross Hospital in New Lenox when she was 21, selling bags of Brach's candy, plants and cigarettes from "a couple of carts we'd lock in a closet."
That was more than 55 years ago, and she's still at it, though the setting and merchandise are quite different.
The gift shop now fills 1,528 square feet of space and 14 departments, with items ranging from boutique clothing and jewelry to stuffed animals, handbags, boxed candy, floral items, balloons, greeting cards, books, toys, snacks and cold beverages.
Silver Cross provides the space for the shop and pays for utilities, McShane said. That allows about 40% of the shop's proceeds to be given to the hospital. Since its early years, the organization has donated nearly $6 million to the hospital, raised through the shop and its annual Childerguild Ball.
---
SPONSOR
Quickcharge POS provides all of the point of sale features
you need in an easy-to-use solution with automated
payroll deduction capabilities, contactless payment,
and reliable customer support!

Transitioning from your current POS system
is fast, easy, and affordable.
800-348-5545
www.mmhayes.com/giftshopPOS
---
The top retail trends in 2023
Square teamed up with Wakefield Research and surveyed 2,000 consumers and 500 retail owners and managers about where retail is headed. What they found reinforces the shopping trends towards digital online consumerism that we talk about so much here in the newsletter.
The shop on main street, the post on your Instagram feed, and the email to the online store may all come from the same retailer. It will be hard to thrive in the coming decade without social and mobile commerce or marketing. Augmenting consumer access to your shop and its merchandise will be imperative (think, omnichannel retailing).
"The who, what, where, and why behind our shopping experience is going through a metamorphosis."
OmniChanneL Retailing
– Social media
– Online store / website
– Mobile devices / text message
– Kiosks / pop-up
– Lobby / cafeteria / atrium
– Brick & mortar store
Retailers now sell their goods on an average
of four different channels.
Take, for example, the fate of your local bookshop. Bookstores took a hit with the advent of digital books. Brick-and-mortar shopping is facing the same future with the rise of digital retailing.
Adapt. Adapt. Adapt.
Shops relying on earlier formats will either adapt or die out as the new ones pull volume from their stores and make the remaining volume less profitable.
Square analyzed the survey results, insights from the Square retail team, and interviews with creative retailers leading the charge to identify the top retail trends for businesses to explore this year. All data cited below comes from the survey results: The Future of Retail Report: 2023 Edition.
Expand where you sell
81% of retailers are planning to expand the number of digital channels they sell on in the next 12 months.
Retailers reported 43% of their revenue comes from online sales.
Brands need to be seen and heard…where consumers can come to be inspired and to shop. (YES, your shop has a "brand", if you're marketing it correctly.)
Plan for economic uncertainty
44% noted raising prices as their top choice in the event of an economic downturn.
88% of consumers say they'd understand if their favorite local business raised its prices.
38% of consumers would be more likely to shop at a smaller business to support those who may be struggling.
Enhance the customer experience with automation
73% of consumers prefer retailers use automation instead of staff in at least one area of the shopping experience.
Automation allows customers to experience things their way and at their own pace.
44% of consumers want an automated tool to check product information or inventory.
94% of retailers plan to enhance their in-store customer experience, turning commerce into an event.
Customers want to engage with brands
86% of customers want to hear from businesses they frequent.
Consumers prefer to engage via email Facebook, text message, Instagram and TikTok
meet them where theY are
60% prefer Email
32% prefer Facebook
31% prefer Text/SMS
17% prefer Instagram
10% prefer TikTok
26% are interested in social media purchases.
22% are interested in virtual reality experiences.
20% are interested in QR code window shopping.
19% are interested in text message or chat sales.
18% are interested live-streamed events.
Social and mobile commerce are booming
79% of consumers make purchases directly from their mobile devices.
91% of retailers surveyed sell on social media.
19% of consumers said that they want retailers to offer ways to purchase directly through text or other chat messaging tools.
🎯 Tips
Turn your shop windows into a sales associate. Place QR codes in your displays to allow passersby to shop even when your store is closed.
Numerous POS systems support QR codes: Square, Shopify, Lightspeed, Vend, etc.
Capture customer information when they scan your QR codes.
SOURCE: RetailDive
---
Product Pick: Plush Organ & Anatomy Gifts by I Heart Guts
We love these award-winning plush organs and anatomy gifts by I Heart Guts! A selection of 47 different organ plushies make great post-op gifts, turning that struggle into a snuggle. Each adorable organ comes with a silly pun and a bit of info about the human body. Hospital staff will love the cute colorful organ pins for some badge-reel bling. Best-sellers include the uterus pin, heart pin and brain pin! Check out their hilarious organ socks, organ stickers, organ magnets, posters, kidney slippers and more. We love this line for hospital gift shops. Sure to get patients, staff, and families laughing. Because life takes guts. Visit their wholesale page or on Faire.
---
UPCOMING HOLIDAYS
JULY
Jul 4 – Independence Day 🇺🇸
Jul 7 – World Chocolate Day
Jul 10 – Ntn'l Pina Colada Day 🧉
Jul 14 – Ntn'l Mac & Cheese Day
Jul 31 – Nat'l Avocado Day 🥑
AUGUST
…fill with fun off-season sales!
Aug 3 – Ntn'l Watermelon Day 🍉
Aug 8 – Intn'l Cat Day 🐈‍⬛
Aug 9 – Book Lovers Day
Aug 15 – Ntn'l Relaxation Day 🛀🏽
Aug 21 – Senior Citizens Day
Back-to-School Season 🏫
september
Sep 4 – Labor Day
Sep 9 – Star Trek Day 🖖🏼
Sep 10 – Grandparents Day
Sep 15-17 – Rosh HaShanah 🍯 🍎
Sep 25 – Yom Kippur
Sep 23 – First Day of Fall 🍁
---
Volunteer auxiliaries dissolve, shops close
Pandemic shuts Laconia Hospital auxiliary after 129 years
LACONIA, NH – After more than 128 years, the Lakes Region General Hospital Auxiliary at Lakes Region General Hospital and Concord Hospital-Laconia sadly, like many auxiliary organizations across the country, has ended.
"We were having problems getting volunteers for the gift shop before COVID hit. The board members and I were there almost 24/7 to keep it open, and some days we couldn't keep it open at all," said Paulette Adams, president of the auxiliary, noting that volunteers and board members were all of retirement age.
The pandemic forced the gift shop to shut in 2020 and also canceled the annual fall craft fair, which had started small but had grown so large that it moved to the Laconia High School gym. After two years of shutdown, it proved impossible to get going again. The gift shop will reopen under the hospital's management. Lanconia Daily Sun, 2023
Regina General Hospital gift shop changes hands after four decades under volunteer leadership
REGINA, SASKATCHEWAN – The Regina General Hospital Auxiliary, a volunteer-led organization, is handing over the keys for the gift shop after 42 years. The auxiliary has contributed nearly $4.5 million dollars over the last four decades. The Hospitals of Regina Foundation will take over operation. The Foundation plans to renovate the gift shop and the bookstore before hopefully reopening in the fall. Many auxiliary members have already signed up to volunteer.
The COVID-19 pandemic forced the shop to close in March 2020 and the auxiliary was unable to reopen. "We couldn't make up a board and we couldn't get enough volunteers to run the gift shop and if you're going to do something you want to do it right," said auxiliary president Norma Rohatyn, adding it was a difficult decision to disband and give up the shop.
At its peak, it had upwards of 80 members, but at the time it disbanded there were 28 members with an average age of 82. CTV News, 2023
Sierra View issues a heartfelt goodbye to 'Pink Ladies'
PORTERVILLE, CA – After 59 years of service, the governing board of the Volunteer League at Sierra View Medical Center voted to dissolve, allowing league members to focus on volunteering without having to run and attend board meetings, pay dues, or manage league financials.
"Although the Volunteer League has voted to dissolve, SVMC's volunteer opportunities hold the same core values of community service. Volunteers will still bring the same warmth and helpful hand to the hospital, while being able to focus on their passion of giving."
The hospital gift shop, previously managed by the Volunteer League, closed April 28, 2023 and will reopen under new management once the state approves the Sierra View Volunteer League dissolution. The Valley Voice, 2023
Barstow Community Hospital Auxiliary bids farewell after 62 years
BARSTOW, CA – After 62 years, the Barstow Community Hospital Auxiliary closed its last chapter. As a final act of the Auxiliary's benevolence, the organization donated $25,000 to the Barstow Community College Foundation for future healthcare student scholarships.
The decision to dissolve the group was primarily due to lost revenue from the loss of the gift shop and vending machines. The gift shop began reducing inventory sales, with items sold at 50% off. The gift shop continued sales until all items were sold, with an end date of July 31. Daily Press, 2022
Culpeper Hospital Auxiliary votes to dissolve
CULPEPER, VA – After 60 years of service, the Culpeper Hospital Auxiliary has voted to dissolve. The onset of COVID-19 and its impact on volunteers, as well as continuing concerns about filling leadership positions are contributing factors to the decision.
Estimated more than 1,433,000 volunteer hours have been accrued by the organization since it began, equivalent to $40 million dollars in manpower.
The Auxiliary gave $100,000 in 1986 toward capital improvements at the hospital; $410,000 in 1997 toward extensive renovation of the medical/surgical nursing unit; $1.2 million in 2001 toward the capital campaign that built Powell Wellness Center; $400,000 in 2007 for digital 3D mammography; $700,000 in 2012 to purchase a breast coil and software for the MRI equipment and $500,000 in 2017 for the hospital cafeteria renovation. Culpeper Star, 2021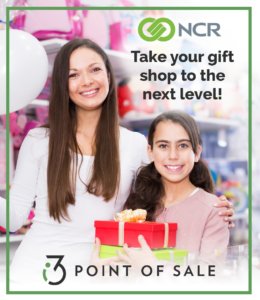 ---
SPONSOR
i3 Verticals – NCR Point of Sale Solution
A "Volunteer Friendly" NCR Point of Sale solution
for hospital gift shops. Easy to learn! Easy to use!
Payroll Deduction and Inventory Management available.
Take your gift shop to the next level!
Ask for a FREE copy of our "Hospital Gift Shops:
Tips for Success" booklet.
887-809-9980
www.i3pos.com
---
A. Do you charge for shopping bags? 🛍
I would be interested in hearing what other hospital gift shops do about shopping bag expense. We have been giving them away when the purchase is a gift, but this is getting out of hand and prices of bags have really gone up. I would like to start charging but, not sure how this will go over since we have been giving them away for so long. Even the plastic "thank you bags" have gone up in price. – Cheryl, Novant Health, Charlotte, NC. 3/22/23
We charge for the specialty birthday, congratulations etc. bags but not our regular paper bags. We do have reusable bags with our logo that we recently got. Right now, we are doing a promotion to get customers into the habit of using them (and saving us money by not needing our paper bags). We hand out to our loyalty customers at purchase. Inside the bags are coupons for 10% and 15% off in the month of May, June and July. It has been very effective. In addition, it advertises for us too. – Jodi Babineau, Sunshine Gift Shoppe, Lakeview Medical Center, Rice Lake, WI. 40 beds. 4/18/23.
We do not charge and they remain pretty inexpensive for us through Nashville Wraps, but the key is ensuring that you receive free freight. I did switch to a plain plastic bag and I think that cost us .24 cents per bag. Most of our customers spend well over that so it's okay. – Ali McCrary. Good Samaritan, Vincennes, IN. 232 beds. 4/22/23
Yes, we charge for gift bags. We have basic price points for the kraft paper bags and do have some premium glossy bags. We use Nashville Wraps. – Greg Holtgrewe. Baptist Health Paducah, Paducah, KY. 300 beds. 4/18/23
We charge for the specialty birthday, congratulations etc. bags but not our regular paper bags. We do have reusable bags with our logo that we recently got. Right now, we are doing a promotion to get customers into the habit of using them (and saving us money by not needing our paper bags). We hand out to our loyalty customers at purchase. Inside the bags are coupons for 10% and 15% off in the month of May, June and July. It has been very effective. In addition, it advertises for us too. – Jodi Babineau, Sunshine Gift Shoppe, Lakeview Medical Center, Rice Lake, WI. 40 beds. 4/18/23.
We only charge for specialty bags (1st baby, birthday, etc.). We do not charge for regular merchandise bags. – Peter Waugh, Memorial Hospital, North Conway, NH. 25 beds. 4/21/23.
No, we do not charge for shopping bags. – Nancy Collins, New London Hospital, New London, NH. 25 beds. 4/26/23
We do not charge, use some reusable plastic and also Kraft bags with handles. Both can be used as gift bags when we add colorful tissue and curly ribbon. Customers really appreciate this. We buy from American Retail. – Whidbey Health Medical Center, Coupeville. 35 beds. 4/19/23
We do not charge for gift bags and we purchase from Dollar Tree and Amazon. We are a small hospital gift shop. – Janet Sherwood. 4/19/23
We buy gift bags from Dollar Tree and order from Kellis gift shop supplier to have for customers to buy when purchasing a gift. – Karen, South Austin Medical Clinic, Austin, TX. 4/19/23
No charge. We use Nashville Wraps; the price is reasonable – Tricia Rochman, Carbondale Memorial Hospital, Carbondale, IL. 154 beds. 4/19/23
We do not charge for gift bags. We offer brown handle bags with colored tissue and ribbon as a courtesy to our guests. We do offer gift bags from the giftwrap company at retail for those who want a little more. – Kevin Shaw, Methodist Hospital Gift Shop, St. Louis Park, MN. 4/19/23
We do not charge for gift bags as we feel this is a courtesy for shopping with us. If they do not purchase a gift from the Gift Shop and they want a gift bag, we do charge a small fee. – Deb Kerr, Children's Mercy Hospital, Kansas City. 385 beds. 4/19/23
We charge for gift bags and we have all different sizes and shapes. we carry pink merch bags that we do not charge for and get them through Nashville wrap. – Christine Parker, Kent Hospitality Shop, Warwick. 359 beds. 4/19/23
We do not charge at time of purchase however we build the cost into our product costs. – Shauna Morgan, Jim Pattison Children's Hospital in Saskatoon, Canada. 4/19/23
We do not charge for shopping bags if the customer makes a purchase. However, we do charge if they don't. – Laura Keipert, Children's Healthcare of Atlanta, GA. 4/18/23
See similar question in 2022: shopping bag vendors. A lot of comments.
Connect. Share. Grow. ♡
---
💮
Gift Market Calendar

💮
**Always confirm show dates
Jun 21-27, 2023
Dallas Total Home & Gift Market
Jun 27-30, 2023
Dallas Apparel & Accs Market
Jul 11-17, 2023
Atlanta Summer Market
Jul 30-Aug 3, 2023
Las Vegas Summer Market
Aug 22-25, 2023
Dallas Apparel & Accs Market
Sep 18-20, 2023
Atlanta Fall Market
Sep 19-21, 2023
Dallas Total Home & Gift Market
Oct 14-18, 2023
High Point Fall Market
Oct 24-27, 2023
Dallas Apparel & Accs Market
Nov 6-8, 2023
Atlanta Fall Cash & Carry
Visit
Gift Shop Mag Trade Show Calendar
for smaller local and regional shows.
---
Q. Is your shop large enough to generate desired sales?
What is the smallest square footage you have seen for a gift shop in a larger hospital (e.g., 645 beds)? We will be losing our existing space of ~700 sq ft (+ back office and storage) and are currently evaluating our (very limited) options. The new space will likely be a much smaller footprint (300-500 sq ft). – Wendi Vela, UC Davis Medical Center, Sacramento, CA. 6/6/23
FROM CINDY
Our database has over 4,000 hospital gift shops. There are 660 shops that qualify as 'large' with 500 beds or more. So, we can assume that most of those shops are fairly large in size to service their employees, visitors and guests.
Most large hospital gift shops are at least 1,000 sq ft of selling space and usually have additional shops in their children's and cancer centers.
Here is a sample letter requesting additional gift shop space. I hope this helps in your effort to ensure the new space for your shop is large enough to meet it's retail needs.
Dear Hospital Administrator,
The Hospital Gift Shop requests additional space to meet their customer's needs and wants. With almost __ employees working in the hospital, the potential for increased sales and service is great. In a recent survey, __% of the hospital employees commented on the limited size and crowded conditions in the existing shop. It is also important that the shop is ADA compliant.
The Gift Shop's actual selling space is presently __ square feet. During the past fiscal year, gross sales were $__. Annual sales per square foot were $__. Therefore, a shop of 1,200 square feet can feasibly generate approximately $__ in gross sales.
This past year the shop's net profit was __% of gross sales. With __ square feet in selling space, the gift shop could provide the hospital with approximately $__ in net revenue annually. Over a period of many years, revenue to the hospital would be substantial.
Thank you for your consideration.
Is your shop large enough for the hospital size and to feasibly generate the desired or prescribed sales?
Enter your shop's square feet and the number of beds in the hospital it serves. Enter the selling space. Do NOT include stock room, back office, etc. Do NOT include the sqft for multi-locations.
Is your shop large enough compared to number of beds.
<-CLICK TO COMMENT
Example
Square Feet: 1,000
# of Beds: 615
Anthem Hospital, Lockert, NY
Is your shop large enough to feasibly generate desired sales? How does the size of your shop stack up to others?

Leave a comment here or enter it at the bottom of the newsletter.

Thank you!
♡ Connect. Share. Grow. ♡
---
Gift shop cited for "combustible" candles 😮
Today we were paid a visit by our Director of Environment of Care and Life Safety telling us the hospital was cited by the Fire Marshal for a doctor having an unlit candle in his office. We sell candles in our gift shops and now they are suggesting we no longer carry candles as they are considered "combustible".
Can you tell me if you have ever heard of this before? I have been here over 10 years and have carried candles for just about that amount of time. I have never heard of it. – Deborah R. Kerr, Director of Retail Strategy & Gift Shop Operations, Children's Mercy, Kansas City, MO. 4/24/23
FROM CINDY
In my +30 years working with hospital gift shops, I have never heard of a case where selling candles violates National Fire Protection Association (NFPA) code for healthcare facilities. Once a candle is sold it is not the responsibility of the gift shop to determine how or where it will be used. It is up to the hospital and the employee who purchased the candle to follow the policies. There are many more flammable and combustible compounds in a hospital that fall under this code. Thank you for sharing!
---
Auxiliary donates $1.5 million
The Jupiter Medical Center Auxiliary recently donated $1.5 million to create a state-of-the-art and tranquil family waiting area in the Johnny and Terry Gray Surgical Institute. The space will be named the Jupiter Medical Center Auxiliary Lounge.
The donation is the result of sales from the hospital's volunteer-run thrift and gift shops. In addition to financial contributions, the auxiliary oversees all volunteer efforts, including the 55,000 hours of service provided between the shops and patient care in 2022.
Since its inception, the auxiliary has donated more than $14 million to the hospital. Prior to this donation, its most recent gift was a $1 million pledge in 2019 to support the hospital's DeGeorge Level II Neonatal Intensive Care Unit.
SOURCE: Florida Weekly
---
Gift shop grand reopening 📣
Concord Hospital – Laconia holds grand re-opening of gift shop
Concord Hospital – Laconia recently celebrated the re-opening of its gift shop, signifying a return to normalcy following the pandemic. Located on the first floor of the hospital, the gift shop is staffed by volunteers and is open Monday through Friday from 10am – 2pm, offering an assortment of unique gifts and food options.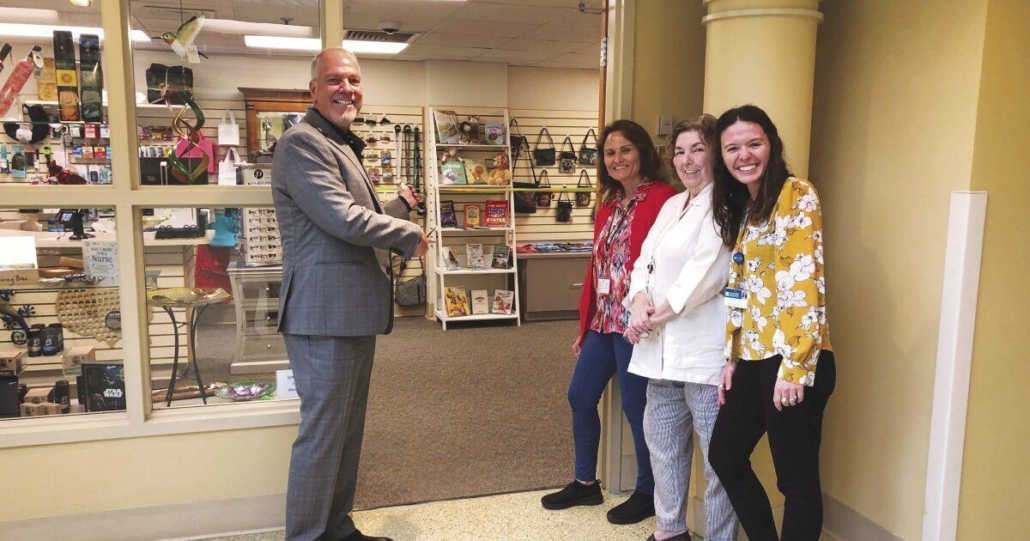 "The re-opening of the gift shop makes the organization feel a bit more alive now that the pandemic is behind us," commented Kevin McCarthy, chief administrative officer, Concord Hospital – Franklin and Laconia.
"I want to thank Jana McCourty Bunker and her team, as well as our IT folks, for all their hard work with getting the new space set up. I have received several comments over the past several months concerning the gift shop and the hope that we could offer it again. Now that it's open, I see a level of excitement that this is one more sign of a return to normalcy for our staff."
SOURCE: Laconia Daily Sun
---
MAY 2023 NEWSLETTER: ISSUE #641
Did you miss last month's articles, surveys, and discussions?
In May, we took the opportunity to celebrate and thank our sponsors. They help keep this newsletter free.
Please shop their products and mention that you heard about them, here, in the newsletter!
---
SPONSOR
The most LOVED nightlight on the market!
LumiPets® are the most technologically innovative kid's companion, and educational night light offered on the market today.
– All day play
– Color changing modes
– Learn colors
– Promote healthy sleep routines
Keep the monsters away with LumiPets, the color changing nighttime companion.
LumieWorld.com • orders@lumieworld.com
---
SPONSOR
Cue Cards for My Happier Mind is a gorgeous deck of 71 tips for better mental health.
A perfect gift for anyone needing a mood boost, Cue Cards are full of "substance, sass, and humor."
User friendly, low-key…they feel like reassuring hugs, filled with love.
50% discount! Free shipping!
MyHappierMind.com • 415-317-0609 • contact@MyHappierMind.com
SOCIAL MEDIA
Q. When it comes to social media and you are restricted to nothing outside of the hospital, how do you make this work? We do have a Facebook page, but it is a closed group. As volunteers, we are part of this group and we do invite friends. But feel this doesn't reach more in the community. – Jan Friedman, Unity Point, Dubuque, IA. 1/24/23
We use Facebook to promote events, fundraisers, merchandise and more. Facebook groups are also a great way to share, to remind people to come to your business! This is especially helpful when unable to visit the hospital gift shop during COVID with visitor/public restrictions. – Jennifer Bahlmann-Ballantine. 3/7/23
Does Cindy have any social media groups or message boards for gift shop managers and buyers to collaborate in a more effectively and allow for real time reactions? I know many gift shop personnel may participate in volunteer management professional networking groups and organizations but there doesn't seem to be anything out there specific to gift shop retailers. Is anyone a part of any local groups for networking? -Holly Verbos, Penn State Health, Hershey, PA. 628 beds. 2/22/2023
I love this idea! I would love to have something to be able to connect with other hospital gift shop managers. It would be great to be able to ask questions, bounce ideas and just overall support from other managers :) – Lanie Ray, Wishes Gift Shop/Fairfield Medical Center, Lancaster, OH. 2/24/2023
Even a private Facebook group would be really helpful. We could post pictures of displays or products for each other to comment on and discuss. I think it would foster greater newsletter comment and discussion too! -Holly Verbos, Penn State Health, Hershey, PA. 628 beds. 2/24/2023
We have a closed Facebook group, as well. And need advice also. – Nancy Williams. 2/17/23
As a not-for-profit hospital, we are not allowed to post outside of the hospital. We are allowed to email our employees internally. – Craig McKneely, Scripps Mercy Hospital Gift Shop, San Diego. 412 beds. 2/17/23
We use our hospital's communications and public relations office for that purpose. – Peter Waugh. 2/17/23
Our health system requires social media posts go through marketing. As 'just' the gift shop it is difficult to get regular postings. Pre-COVID we would have annual events throughout the year, usually four. Post-COVID we only have two, Poinsettia and Pastries for Christmas and The Planting Patch in May right before Mother's Day. With annual events marketing creates a design/sign that they will post on social media. Each year we use the same design and change the date or times as needed. I feel gift shops are the cherry on top of the hospital and are usually an afterthought for marketing. Non-retail people don't fully understand the value of real-time information. – Noelle Boardman, St. Luke's Floral & Gifts, Cedar Rapids, IA. 530 beds. 2/17/23
Yes. I've always been told that there are restrictions and that you have to be careful posting pricing if you're a non-profit, so we have an open gift shop page and post pictures of new product and fundraisers. Would love to see an article on the do's and don'ts of non-profit social media pages!! – Ali McCrary. 2/17/23
Our hospital requires all social media posts to go through marketing for the entire health system. Gift shops are never part of the information that is shared with the community. We haven't found a solution. – Amy Saye 2/17/23
It's great to see so much interest in this question! Let's address some of the comments.
SOCIAL MEDIA & NON-PROFITS
Hospital gift shops are permitted to use social media and to advertise, but they must be related to the hospital's exempt purpose of promoting the health of its patients. They need to:
Explicitly state that proceeds go toward supporting the hospital. "All of the proceeds from the gift shop directly benefit patient care at Ascension Via Christi Manhattan and the Mercy Auxiliary."
Be directed toward patients, medical staff, employees, or visitors
Comply with HIPAA laws (e.g., no patient info or images)
Typically follow branding guidelines set by the hospital or health system to ensure consistency and coherence in their messaging and visual identity.
Follow advertising regulations set by the FTC or other regulatory bodies. For example, gift shops may need to disclose if they are sponsoring a post or using paid advertising.
There are several hospital gift shops with terrific Facebook Pages:
From: Top 6 hospital gift shop Facebook pages
It is counter intuitive to restrict a gift shop from using social media. The shop's goal is the raise funds for the hospital, after all. Limiting its reach and online footprint is, in turn, limiting the funds raised. Ironically, it can only hurt the hospital funding goals, in the end. Social media is arguably the most powerful tool a nonprofit has at their disposal. It's free and a simple way to "push" great products in front of hospital employees and customer's via their feeds. See last month's article, "Proof that social media can increase sales".
Along the same lines, it is also a myth that 501(c)(3) nonprofit organizations cannot make a profit. Most hospitals and their subsequent gift shops are for profit. They charge sales tax and operate as a business. The shops then donate all their profits to the hospital for patient benefit and equipment. Read more on IRS rules on advertising for hospital gift shops.
GIFT SHOP MESSAGE BOARD
In 2020 we moved the newsletter online and incorporated a comment/discussion feature. The goal was to create a 'community' where readers could "ask questions, bounce ideas and just overall support from other managers". We made it so readers could post pics, reply to specific comments, include links, get notified when someone replies to your comment, and so on.
At this time, we also started building a dedicated message board, similar to Quora or Reddit. Even going as far as buying a domain (see below). Ultimately, we felt it would not get enough use or ads to cover the costs ($1200/year). A paid membership model did not seem feasible either.
We considered a Facebook Group but there were limitations. It would exclude retailers who don't use Facebook, the search function is terrible, can't navigate or search embedded images and threads, no archive options. We also wanted a platform that did not require a login and was incredibly simple. Nonetheless, we'd love to revisit this if readers indicate enough interest. Please let us know here or comment below.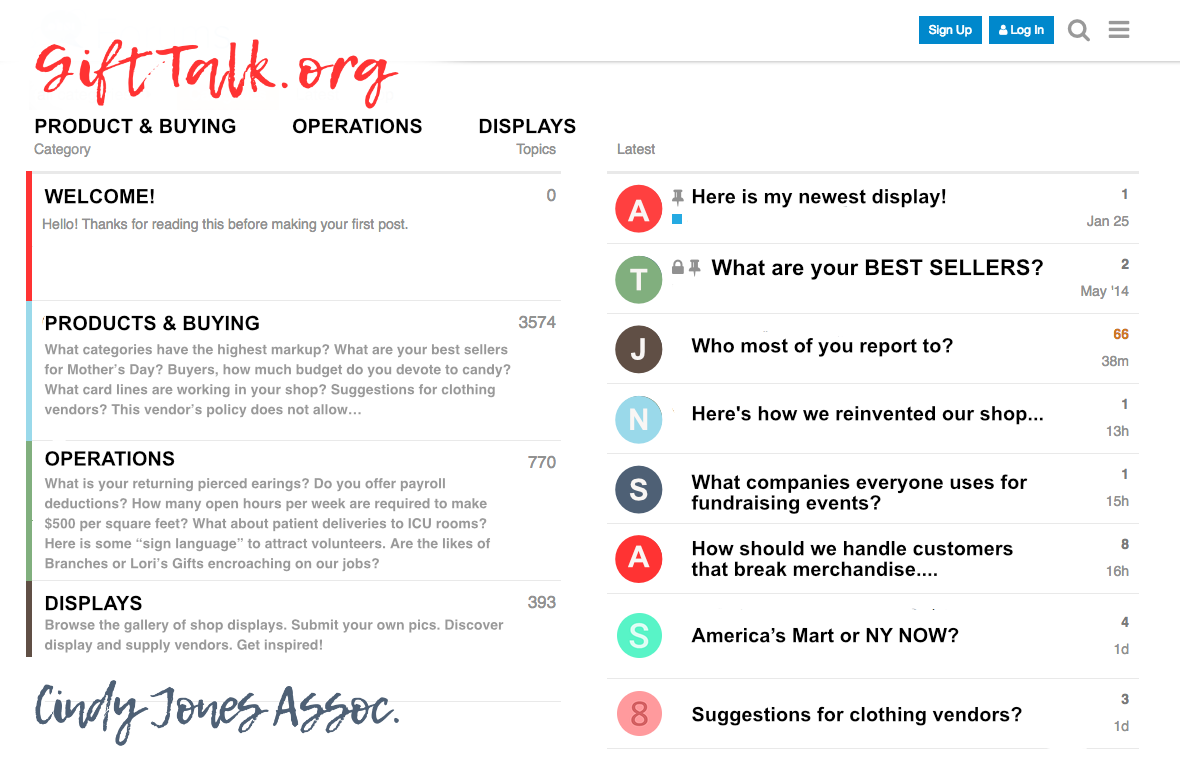 ---
Want to advertise? Click here.
© Cindy Jones Associates, 2022. COPYRIGHT PROTECTED. Redistribution, copying, reselling, re-renting, or republishing is STRICTLY PROHIBITED. Cindy's Newsletter may not to be forwarded, redistributed, reproduced, reprinted, or posted online without prior permission from Cindy Jones Associates. Subscribers may share one issue with a fellow manager. Thereafter, the manager may subscribe here to receive future issues.
https://www.cindyjonesassociates.com/wp-content/uploads/2023/06/shop_Perth-Childrens-Hospital-Perth-Australia.jpg
1080
1080
C Jones
https://www.cindyjonesassociates.com/wp-content/uploads/2021/05/CJA_coral_400x106.png
C Jones
2023-06-15 08:00:00
2023-06-16 15:20:57
Cindy's Newsletter for Gift Shop Managers | June 15, 2023 💮