Cindy's Newsletter for Gift Shop Managers | September 15, 2020 💮
CINDY'S NEWSLETTER
for
Gift Shop Managers
Cindy's Newsletter provides its readership of over 3,000 gift shop professionals "actionable content" to help optimize their shop operation, grow revenue, and connect with one another. LEAVE A COMMENT: Click the colored comment tags throughout the newsletter or email Cindy at cindy@cindyjonesassociates.com
---
SEPTEMBER 15, 2020
---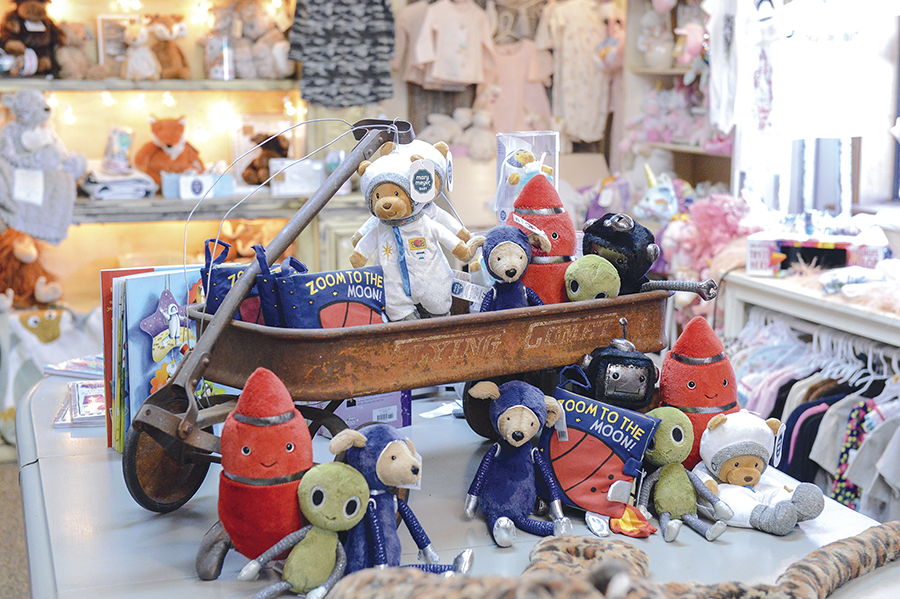 ---
YOUR SHOP & COVID-19 😷
🎉 Reopened! What policies have you put in place? Are they working?
👎🏼 Still Closed. What's the biggest concern you have about reopening?
😕 Any difficulties or unforeseen challenges reopening?
What helpful tips can you share with other retailers during these unprecedented times? It's difficult to stay afloat right now, but we encourage you to stay positive. Keep showing up to work every day, keep finding new and creative ways to continue turning merchandise, and keep supporting your community. They need you!
<– Click to comment
---
Great news! We're definitely seeing a trend in the right direction. Poll results show a 25% increase in shops reopening since last month.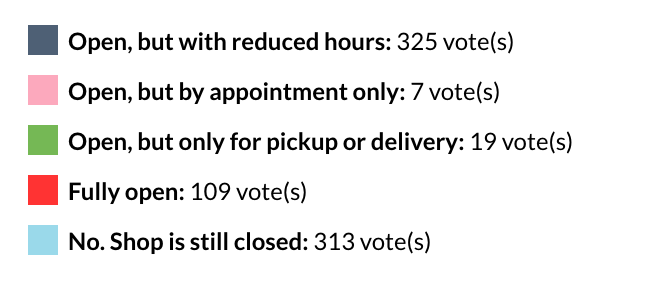 September 15, 2020
---
How to go from good to remarkable in retail
by Steven Dennis /
There is a select group of good retailers that meet their customers' expectations. They are retailers that carry the products customers expect, at the prices they expect, and have staff in the store who service them like they expect.
Then there are the few remarkable retailers who do something quite different. They over deliver customers' needs in unexpected ways, exceeding all expectations.
At every turn, they do the unexpected, offer products customers didn't know they needed, and provide customer service that surprises and delights. When retailers are remarkable, price doesn't enter the picture because that elusive quality called value is more important.
The gulf between the two – unremarkable and remarkable retailers – is vast and the world is filled with way too many of the former and too few of the latter.
What's more, the price retailers pay by being unremarkable in the post-COVID marketplace is high; the growing numbers of once remarkable and now clearly unremarkable retailers are filling bankruptcy courts proves the point.
When distinguishing between unremarkable and remarkable retail, it usually comes down to "I know it when I see it," famously said by Supreme Court Justice Potter Stewart when he tried to articulate the difference between constitutionally protected pornography and obscenity.
That same intuitive filter is how the shopper, not to mention retail professionals, recognize remarkable retail. The many intersecting components that transform mundane retail into a truly remarkable experience can be quantified. The key is to look at remarkable retail as a series of data points that become an evidence-based playbook for change.
The companies that did not deal with all the disruptive trends of the past 10-to-20 years are even more vulnerable to be wiped out or severely impacted in this time. Retailers need to be fundamentally more agile and build that culture of experimentation. The fear coming out of this pandemic is it may make companies more risk-averse.
SOURCE: Steve Dennis, author of Remarkable Retail (LifeTree Media, 2020)
---
SPONSOR
Quickcharge POS provides all of the point of sale features
you need in an easy-to-use solution with automated
payroll deduction capabilities, contactless payment,
and reliable customer support!

Transitioning from your current POS system
is fast, easy, and affordable.
800-348-5545
www.mmhayes.com/giftshopPOS
---
---
Q. Is anyone using lobby kiosks or vending machines during shutdown?
Does anyone have any information on lobby kiosks or automated retail 'vending machines' to sell gift shop items during times when the gift shop is not open? I have seen flower kiosks and there are similar vending services in airports. -Judi Stallings, UNM Hospital Gift Shop, Albuquerque, NM. 600 beds. 8/24/20
<– Click to comment
---
---
THIS MONTH'S SURVEY
---
LAST MONTH'S SURVEY
Survey shows most of our readers are not attending gift shows yet. Only 6 out of 75 readers who voted in August said they were attending gift shows. Check out our section on virtual tradeshows and online showrooms in recent issues to learn how and where to buy remotely. Search for "online showrooms" on this website.
---
---
Q. Is anyone selling COVID-19 novelty items?
What COVID-19 novelty items is everyone selling? We are trying to find fun pandemic, social distancing, covid-19 gifts to sell in our shop? Thanks and stay safe!!! - Anonymous in Arizona 9/1/20
<– Click to comment
---
---
A holiday season like no other
The coronavirus pandemic is upending the way U.S. consumers shop and the holidays will be no exception as major retailers and shippers roll out their earliest-ever shopping season.
[Big box retailers] have moved winter holiday promotions up to as early as October. Walmart is announcing store closures on Thanksgiving and plans to bypass the midnight Black Friday door-buster sales that traditionally mark the start of the holiday season but are incompatible with the pandemic's social distancing recommendations.
Kohl's Chief Executive Michelle Gass said on Tuesday that "a holiday season like no other" means emphasizing comfortable apparel, home essentials and kids' toys, all categories that have performed well as shoppers largely opt to remain at home.
Retailers are struggling to keep their shelves stocked for any holiday purchases while avoiding getting stuck with too much unsold merchandise if anxious shoppers decline to open their wallets.
By starting promotions early – in some cases before Halloween – retailers risk giving shoppers holiday fatigue. But analysts and investors say the idea could help draw shoppers back.
One supplier to a big box retailer told Reuters that the chain is bracing for a 30% decline in holiday spending this year, though the National Retail Federation (NRF) trade group has yet to release its holiday forecast.
Excerpts from Reuters / Aug 22, 2020
---
---
Q. Holiday gourmet food line?
We are considering ordering some holiday gourmet dips, soups, and drink mix products to sell. Any advice or recommendations? 8/23/20
<– Click to comment
FROM CINDY
Wind & Willow and Gourmet Village were recommended.
---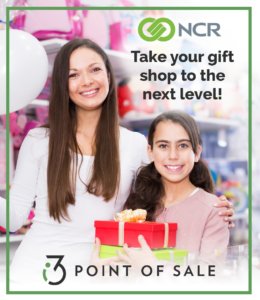 ---
SPONSOR
i3 Verticals – NCR Point of Sale Solution
A "Volunteer Friendly" NCR Point of Sale solution
for hospital gift shops. Easy to learn! Easy to use!
Payroll Deduction and Inventory Management available.
Take your gift shop to the next level!
Ask for a FREE copy of our "Hospital Gift Shops:
Tips for Success" booklet.
887-809-9980
www.i3pos.com
---
Space and size benchmarks for your shop
by Cindy Jones, Editor 💮
As a hospital gift shop consultant and designer, I am often asked for recommendations on space and size in new shops. In this process, benchmarks based on the number of beds, hospital employees, and sales can assist in determining the size of a future gift shop.
SHOP SIZE
I recommend that a hospital with 2,000 or more employees have at a minimum of 1,000 square feet of selling space. Without the appropriate square footage the shop cannot adequately meet the retail needs of patients, visitors, and employees. This results in lower sales and less money back to the hospital.
Recently, I have seen a significant increase in shop size for those that are raising a substantial amount of money for the hospital.
STOCKROOM SPACE
There are no figures available for average stockroom size, however, a shop can't operate at a high level without an adjacent office and stockroom/workroom. Additional storage can be located at various locations in the facility.
FORMULA FOR INVENTORY LEVELS 🎯
Inventory should be approximately 25% of annual sales. If annual sales are $600,000, then the average inventory (at retail) should be approximately $150,000. The stockroom and shop needs to accommodate that amount of merchandise.
SALES PER SQUARE FOOT
In evaluating both successful and failing shops, I have found that a minimum of $400-500* per square foot (at retail) in sales annually is doable for most shops.
NOTE: This benchmark applies to shops that are proportionate in size to their hospital (number of employees and beds). A small shop in a big hospital should generate higher sales per square foot. A disproportionately large shop in a small hospital will generate lower sales per square foot.
To maximize every square foot of a shop's selling space:
– There should be very little storage (drawers or cupboards) in the selling space.
– Merchandise must turn fast.
– Appropriate pricing structures must be maintained to receive the maximum profit on the merchandise. Good profit margins are the key to success!
*Many shops around the country are generating well over $1,500 in sales per square foot per year.
Information is based on the consultant's general experience, knowledge of gift shop management, and data from sponsored national surveys.
---
Plush
by Cindy Jones, Editor 💮
Regardless of what comes and goes, plush will always remain a viable retail staple in hospital gift shops. That doesn't mean that they don't still follow trends, and having the "it" items in all shapes and sizes are key.
Whether designs are realistic, whimsical, semi-realistic or licensed, soft and cuddly plush is always a win. This year we'll see more innovative trims and fabrics that are used as accessories and accents on plush pieces.
While pinks and purples are always hot for girls, pastels with a tone-on-tone pop of color, earth tones and bright colors continue to be popular overall. Top plush categories include bears, dogs, cats and jungle, and popular themes include princesses, sea life, iridescent and hombre.
It is important to have an array of price points for plush to cover impulse buys in small, medium, and large sizes. It's also important not to lose sight of the extra large statement pieces for impact and Q4 sales.
Get a full markup on plush. Plush should be one of your highest sales categories. Cost x 2.4% and 6% or so for shipping
---
These calculations show if you have excess inventory
by Cindy Jones, Editor 💮
Excess inventory can increase the cost of goods by 25-30%. Determining poor performers can be accomplished by calculating space-to-sales ratio.
Say you have 13 feet of shelving devoted to gifts. Gift sales generate $700 a month. That gives you sales of nearly $54 per month. (Measure display space in linear feet.)
On the other hand, let's say you devote 20 feet of display space to jewelry but sell only $500 per month. That amounts to sales of $25 per square foot, suggesting that the gift department may be far more productive than the jewelry department.
Note: Space-to-sales ratio alone does not give enough data for a final decision. Also factor gross margin in each category.
Once you have targeted the poor performers, get rid of them. But before marking them down, try moving them to another spot. If that doesn't work, take a markdown.
When evaluating your shop's performance, you need to analyze inventory turns. Inventory turns are calculated by dividing total annual sales by average monthly inventory at retail. Compare your current turns with those from previous years. Also, compare your shop's turn rate with the hospital gift shop benchmark – which ranges from 4-5.
Then, to stock your shop for the desired inventory turn, follow these steps 🎯:
Divide ideal turnover figure into 52 weeks to calculate the number of weeks in each turn, or in your selling period. So, if your ideal turn rate is 4, then your goal is to turn your shop's entire inventory once every 13 weeks.
Then, project your sales for the number of weeks (13) in the turn. This will give you the precise level of inventory (at retail) you will need at the beginning of the selling period.
Achieve and maintain that level.
Let's face it, vendors will happily sell you more than you need. It's your job to buy no more than you can sell.
Get the complete 10-page step-by-step Guide to Calculating Shop Inventory including worksheets, checklists, and calculations.
---
Virtual Tradeshows and Online Showrooms
NY NOW Digital Market
Oct 3-7, 2020
NY NOW Digital Market will be held Oct. 3-7, 2020. The Digital Market offers live events, community engagements, and live chat and video conferences with brands. Attendees will have the opportunity to explore brands, new products and collections, and to experience personalized recommendations through the live chats and video conferencing. Registration is open now for the NY NOW's Digital Market.
Virtual New York Tabletop Show
Oct 13-20, 2020
41Madison.com will host a dedicated New York Tabletop Show hub with new digital features designed to help visitors better connect with brands from afar. Registrants can expect to enjoy upgraded showroom pages, dedicated brand pages will conveniently offer downloadable sell sheets, interactive 3-D virtual tours of showrooms, direct lines of communication with showrooms.
MELROSE 360˙ Showroom
Melrose International announces the premier of their virtual showrooms. They are launching a new way to shop this market season through MELROSE 360˙ Showrooms. Customers will be able to shop by collections, walk the entire showroom, make wish lists, and even place an order. The Home & Holiday showroom is available now and the 2021 Home & Garden showroom will be available in mid-August. The MELROSE 360˙ Holiday Showroom has an all new shopping experience designed for you. This showroom will feature 12 holiday collections from our 2020 line, for those who weren't able to shop earlier this season! In addition, all the items featured in this showroom are immediately shipped from our warehouse.
Do you know of any virtual markets or online showrooms?
<– Click to comment
---
💮
CALENDAR

💮

GIFT MARKETS
Updated Sept 15. Always confirm show dates with the market directly before making travel plans. Dates change frequently and often.
Sep 23-25, 2020
Dallas Total Home & Gift Market (Fall) 🔗
VIRTUAL MARKET
Oct 3-7, 2020
NY NOW's Digital Market
**Oct 5–7, 2020
LA Mart (Fall). Los Angeles 🔗 **by appointment only
Oct 5–6, 2020
Seattle Gift Show (Fall) 🔗
CANCELLED
Oct 7 – 10, 2020
Las Vegas Souvenir & Resort Gift Show 🔗
VIRTUAL SHOW
Oct 13-20, 2020
New York Tabletop Market
Oct 13 – 17, 2020
Atlanta Apparel Market (Fall) 🔗
Oct 17-21, 2020
High Point Market (Fall). Highpoint, NC 🔗
CANCELLED
Oct 18-20, 2020
NY NOW (Fall). New York 🔗
CANCELLED
Oct 18 – 20, 2020
National Stationery Show, New York
Oct 20-23, 2020
Dallas Apparel & Accessories Market (Fall) 🔗
ON HOLD
Oct 22-25, 2020
TransWorld's Spring Jewelry, Fashion & Accessories Show (Fall) Rosemont, IL 🔗
Oct 27 – 29, 2020
AmericasMart Fall Cash & Carry, Atlanta 🔗
Nov 4 – 7, 2020
Smoky Mountain Gift Show. Gatlinburg, TN 🔗
Dec 3-6, 2020
TransWorld's Spring Jewelry, Fashion & Accessories Show (Holiday) Schaumburg, IL 🔗
Jan 6 – 12, 2021
Dallas Total Home & Gift Market (Winter) 🔗
Jan 11-15 and 18- 22, 2021
LA Mart (Winter). Los Angeles 🔗 **by appointment only
Jan 12 – 19, 2021
Atlanta Market (Winter) 🔗
Jan 19 – 22, 2021
January Denver Market 🔗
Jan 24 – 28, 2021
Las Vegas Market (Winter) 🔗
Feb 2 – 6, 2021
Atlanta Apparel Market 🔗
Feb 7-10, 2021
NY NOW (Winter), New York 🔗
Feb 18-21, 2021
TransWorld's Jewelry, Fashion & Accessories Show (Winter), Rosemont, IL 🔗
Feb 25-28, 2021
Denver Apparel & Accessory Market 🔗
For a more complete list, including small and regional shows, we recommend Gift Shop Mag Trade Show Calendar or Smart Retailer TradeShow Calendar
STATE AUXILIARY CONFERENCES
---
SPONSOR
snoozies!® Face Coverings
snoozies!® three-layer cloth washable face coverings, are selling at a rapid clip in hospital stores around the country!
– Includes four filters
– Adult and children sizes/patterns
– Washable and reusable
– Comes with replacement filters
– Adjustable elastic ear-loop bands
– Flexible metal bridge for snug fit
– Over 20 print and solid designs
View our Face Covering Catalog or at snoozies.com!
252-650-7000
www.snoozies.com
---
WEBINAR
Hospital Gift Shop Best Sellers
presented by Lilly Stamets
Vendor Show & Special Offers
Recorded August 8, 2020
Lilly Stamets, renowned hospital gift and retail consultant, presents: "Hospital Gift Shop Best Sellers!"
Vendor Show & Special Offers from Macy's, Ganz, Jose Madrid Salsa, and more!
Hosted by i3 Verticals POS
---
AUGUST 2020 NEWSLETTER: ISSUE #608
Check out last month's articles, surveys, and discussions.
Coronavirus discussion
Fall Checklist
Q. Would an online store work for your shop?
Survey: Have you recently attended, or plan to attend, a gift market?
Survey Results: Is it in bad taste to sell COVID-19 novelty items?
Four Trends: How COVID-19 will shape holiday retail shopping in 2020
Best practices on combating theft and shrinkage
Phoebe Putney Memorial Hospital Gift Shop donates $350,000
Two big, but simple, changes for your shop
Virtual Tradeshows and Online Showrooms
Gift Market Calendar
Build a Creative Thinking Environment in Your Shop
Mill House Gifts opens in Russell Medical
---
CANDLE LINE RECOMMENDATIONS
Q. I need to bring in another jar candle line quickly? There are so many out there that I don't know where to start. Any recommendations? - Volunteer Buyer, Madison, WI 9/12/20
<<< Click to comment
FROM CINDY
Yes, there are so many great candle lines available right now. Here are a few suggestions. Swan Creek Candle Co. and  MAME Soy Candles
---
HIKE IN CHOCOLATE AND CANDY PRICES
Q. We have notice a major increase in chocolate and candy prices. Is any one else experiencing this? – Anonymous 7/7/20 
Yes. But I do have a vendor that sometimes have clearance sales on candy and snacks, but be careful with the expiration dates. Kellies Gifts. They are my biggest vendor I deal with. – Grace Hutchinson, Volunteer Manager and Buyer, Piedmont Medical Center Gift Store, Rock Hill, SC, 7/16/20 
---
FORECASTING…and facemasks
Not knowing what to forecast this year has been difficult but I decided to work with an open budget, not buy too much ahead. We recently expanded hours to 11 to 5 Monday-Friday with 2 shifts of volunteers a day. Number one best seller is masks!!!!! They are bigger than TY beanie babies seriously! I checked sales for the last 15 days in July and we are up $4,000 over same month last year. I made a list the other day and have 17 suppliers I am working with to keep mask in the shop. Our doors are locked to the public so most of our clientele is staff.
I am having my first virtual sale next week. It will last one week and the vendor is going to send daily email blasts and take the orders. At the end of the week I will enter the payroll deduction. I had another vendor contact me yesterday wanting to do a virtual sale. So anxious to see how this works! It's a way I can add sales to the shop and not risk the inventory. The ways I advertise are email blasts to the organization and take preorders or let them know masks are in. I hope this is helpful. – Connie Slingluff 7/16/20
Connie, I am curious on what face masks you are selling? – Margaret Legut 7/29/20
I have tried 3 different vendors for masks and our favorite are from Evergreen. I have customers on a waiting list for them however I have others in the shop. Have worn many of the masks myself and I too like the Evergreen ones.

Snoozies masks www.buyersdirect.com have been our BIGGEST seller! Yes, they are more expensive but, after the employees tried them, they realized how comfortable they were. I sell them for $14.99 and get a second 25% off. We are a small community hospital too so we're not selling to the rich and famous A much less expensive alternative is www.wineonion.com I've always bought jewelry from them but now you can get masks for less than $3 each and they're selling really well at $6.99. And always, DM Merchandising dmmerchandising.com has excellent prices! Their Comfort Care masks are $2.90 cost and sell for $6.99. I've reordered so many times! -Jenny Turner, UH Portage Medical Center, Ravenna, OH 10/7/20
---
HOW IS THE SHUTDOWN AFFECTING YOUR GIFT SHOP?
How is the pandemic shutdown affecting your gift shop. Has your gift shop closed or reduced hours? What about volunteers? Are you sanitizing product? If your hospital does close the gift shop will they deploy you to another department? Are you able to work from home?
<– Click to comment
Our hospital had not been allowing visitors other than special circumstances since March. We had been allowed to reopen the gift shops for limited hours a day. This week they are changing the visitor policy to allow a visitor per patient, but visitors and patients have to remain in their rooms when possible and they are not allowed to enter the gift shops or dine in the café. We are concerned about policing this, as our doors have been open and we have two rooms so the door isn't always in sight. We are going back closed doors/no entry and text orders. We will continue using our private employee group to sell to employees. I'm looking at ecommerce sites for the possibility of this continuing deep into fourth quarter. – Shea Parazine 7/7/20
Thank for all you do, Cindy. Reading Hospital is choosing to not open their gift shops any time in the near future. My last day is June 30th. – Eric Wininger, Gift Shops Manager, Reading Hospital 6/19/20
We've been open with reduced hours up until yesterday when we returned to regular weekday hours. No weekend hours yet. During our reduced hours we sold t-shirts that said "I'm sorry for what I said during Quarantine" and the staff LOVED them! Nothing insensitive to the seriousness of the situation, but our employees relish getting away for some retail therapy. They've been buying hand sanitizer and we're finally getting masks in that we ordered. – Vicki Holcombe 6/16/20
Vicki, May I ask what company you bought your masks from? Are you happy with them and were they a reasonable price? Thank you!– Pam 6/16/20
They are cloth masks from Couture Tee Company out of Farmville, LA. Cost is $3.50 each. We just got them in but our manager reports they are already selling. She bought one herself and said it's comfortable to wear. We also have some that just shipped from Calla Products out of Diablo, CA. Cost is $4.00 each for those. Both are vendors we already had a relationship with. I hope this helps. – Vicki Holcombe 6/17/20
My company, Hospitalgiftshop.com, provides hospitals with E-Commerce, online shops…for almost 12 years…that's all we do. We're very popular and I'd be happy to discuss our services. Please email me or call any time. In this time of reduced foot traffic, an online shop is a great way to keep patients and their loved ones connected. Our website is http://www.hospitalgiftshop.com Kind regards JIM jimthomas@hospitalgiftshop.com – Jim Thomas 6/16/20
Currently we are open 11 to 1:30 mainly for employees since our hospital is still closed. Limited visitors are now allowed. We've been having fun selling when people call the shop. We don't have fresh flowers but offer a plush and a balloon. We ask what the person may like and how much they want to spend. We deliver to the nurses on the floor, not the patient. Since the sales are time consuming, we have two volunteers each shift. Callers are so happy to get a thoughtful gift to a coworker or patient. I text them a copy of the receipt and sometimes a picture of the item sent. They love it. – Connie Slingluff 6/16/20
We are not open yet. I think the hardest part was that I went in got all the Easter out, did a deep clean, got all Of Mother's Day out and displayed and we still aren't open. I have ordered nothing in 2 months. I can't order until there is money coming in again. I have a store room full of summer apparel that I will put out since the spring apparel is still hanging there. So sad!! – Vickie Bailey 5/22/20
It really is sad, Vickie! What a shame! Sending warm wishes to all you managers that are facing this same dilemma. – Cindy
Our Governor is slowly reopening the state of Arkansas and our CEO Allowed us to reopen with limited traffic and reduced hours week before last in time for Mother's day. We have a sanitizing station at the door for people to sanitize upon entry and masks are required. Our employees have been very excited to have a bit of normalcy again and its reducing some stress. No volunteers back yet so my supervisor and I are trading off shifts. We are open 10-3 Monday through Friday. I had set up a private employees only Facebook group while we were closed so I could still sell things to the employees that way and we have found they love live videos of new merch so we are continuing posting in that group as well. – Shea Parazine 5/18/20
Thank you for sharing, Shea. Glad to hear you have opened, even with limited hours. Also, thanks for sharing that you set up a private Facebook group using live videos of your products. Please share the link if it goes public. – Cindy
All our Volunteers LOA but myself and my wife continued to keep the gift shop open for the employees. – James Padgett 5/18/20
So glad to hear your shop is open. What hospital are you with? – Cindy
We are closed but open to email & phone orders so that employees can get any type of item. We've been selling a lot of pop and candy but also cards & gifts. – Jenny Turner 4/15/20
We were told to close our Shop on March 16th until further notice (Rochester General Hospital, Rochester, NY) – 337 Beds. Our Association decided to donate all perishable snacks, bagged candy and even our Gourmet Chocolates to the Hospital Staff and it was distributed by their Senior Leaders. – Anne Trocano/Linda Leary

We donated all our Easter candy and any candy/snacks which will expire by June, to our staff as a Thank You for their hard work. – Anonymous
We did the same! – Anonymous
We have had to shutter our doors as of March 18. After our closing, as the manager, I decided I would call each employee or volunteer on the day they would have worked as a way to stay in contact with everyone. Some of the paid staff (myself included) have been placed in the labor pool, and do other jobs throughout the hospital, but I still make the effort each week to call and check on everyone to discuss how absolutely bored they are, do they have enough toilet paper, the puzzle they are working on, or just how much their spouse is driving them nuts! I have to say it has been beneficial to both them and me. We are bonded through our common goal, The Gift Shop, and our lives are just not the same without it.
We all anxiously await the day we can reunite and "do our job again" – David Munger
David, this is wonderful! Thank you for sharing! – Cindy Jones
We are now taking phone orders with delivery to our patients, in-town delivery, pickup, and mail out! Business has been very slow, but I felt like I had to try something… -Jamie Lee Hernandez
We closed the shop on March 6. We donated flowers in stock to patients and staff. Fortunately, we had not decorated for Easter yet and had little expressly Easter inventory as we don't do very well with it. I have plenty of general inventory for Spring and Summer when we do reopen but have been leery about ordering ahead of that as I just don't know what things will look like. In the meantime, our auxiliary has decided to donate a substantial amount of money to the hospital to be used as they see fit rather than asking for ideas and then choosing projects or equipment to fund. This seemed like the expedient as well as the more critical response to the needs of the hospital at this point but we hope to still be able to fund the scholarships we usually award to hospital employees. I made and sent Easter cards to all my volunteers and try to stay in touch with them, as many are struggling with their own or spouse's health issues, independent of the virus. – Sandra Oldfield
I am at Northside Hospital in Atlanta. Both of our gift shops are still open. The Get Well shop in open 8 am to 8 pm M-F and 11-3 Sat and Sun, and our Baby Shop is open, but for reduced hours. We are mainly selling staff t-shirts and tons of snacks. Fortunately we have an e-commerce site and it is doing well, especially for baby gifts and flowers because no one is allowed to visit. Obviously revenues are way down, but we are still making enough to cover employee salaries and the cost of goods we are selling. The staff is very grateful that we are here, as it provides a bit of normalcy in an otherwise unthinkable situation. We have added numerous safety measures, such as a large plexiglass shield across the counter, masks, and hand sanitizer everywhere. Fortunately all of our Easter candy sold, and the rest of our Easter and spring merchandise will just be put away for next year. Since few people saw it, it will seem new to everyone. I hope you are all well and surviving this ultra-trying time! – Shauna Cox
Our shop is closed and has been since about March 16. The volunteers were all "paused" a week or so earlier and I opened a few hours for a couple days and then we were asked to close completely for a while. In a hospital, the gift shop is respite for our staff. No family members have been allowed in the building for a while now, so only staff, but they are our main customer anyway. The staff really miss the shop being open. Especially with all the stress right now, they would really love to be able to wander through the shop just to get their minds off their job for a little while. I'm hoping we will get the green light to open again soon.
I know of some hospital shops opening for a couple hours a day and only two customers at a time in the shop. Some are allowing "window shopping" and then pay via payroll deduct and what they choose is put outside the shop for them…they don't actually get to come in the shop.
I'm really anxious to hear more from other hospital gift shops to see what they are doing and how they are doing it. The i3POS webinar yesterday had some interesting points. We all need to learn from each other and share ideas as much as we can during these difficult times. – Vesta Smith
When the time comes, consider having a 'soft opening' with limited hours and only allowing 10-15 shoppers in at a time. And, they must practice social distancing. Keep a box of rubber gloves and wipes at the front door and cashier counter. Good luck! – Cindy Jones
I have changed my shop into a mini mart. We have made our shop as an Essential business for our employees who are covering the Covid units. We open at 7 a.m. and close at 9p.m. I receive deliveries of food, toilet paper. I have partnered with Costco for deliveries, I moved and boxed all of our seasonal gift items. This has been a huge success. I did this with 3 of my shops. – Anonymous
As of today (3/16), our gift is closed indefinitely. We are sad. – Melodie Christal
As of 3/10 our gift shop was closed indefinitely due to the virus. Nothing we can do!! – Nan Healy
Our gift shop has been closed down, and we have no idea for how long. – Nancy Klein
All of our volunteers have been placed on LOA. I am opening the shop 10-2 M-F and paid staff 11-4 and 1-5 on weekends. I am responsible for all vending services as well so I am spending the rest of each day ordering, stocking, etc. We feel this is probably short term as we expect to be closed at some point. Sales are only on snacks, drinks, and candy so sales are definitely lower. – Anonymous
I am operating our gift shop on a limited schedule, as I am the only paid staff member and our volunteers are also on LOA. Planning to sanitize while I'm up there. Hot spots daily (if not multiple times per day). Going to see how traffic is this week and determine if I need to stay open next week as well. We have strict visitor limitations in place, expecting mainly employee traffic. – Anonymous
Our Gift shop is also closed. Volunteers are on LOA and as manager I am the only employee in Gift Shop. I am taking this time to do stock work and assist at Information Desk as needed. I plan to donate and deliver candy and popcorn to our hardworking clinical staff. – Anonymous
Our volunteers has been asked to stay home for their safety. That leaves me with 3 paid employees. We have a pharmacy in our gift shop so we cannot close, so, we have changed our hours to match the pharmacy. So, we are closing earlier Monday through Saturday and now are closed on Sunday until this passes. Stay safe everyone. – Kim DeBord
As of Saturday our Gift shop is closed. We have Easter and Spring clothes to sell – Sandy Eiffert
Members of the community should not come to the hospital unless there is a medical reason for the visit. This includes coming to the hospital solely to eat in the cafeteria or shop in the gift shop. – Janet Long, Public Relations Manager at Morris Hospital, IL
Our gift shop is closed until further notice. – Anonymous
Our shop is closed to walk in traffic. We have posted on the door and hospital site we will accept orders email, fax and by phone. They can come to the door and pick up. Only credit card and payroll payments. We will continue to accept phone orders for patient gifts. We have redone our windows to better view our products. We hope this is just for a couple weeks. Good Luck everyone. – Mary Claire
We are open but only with limited hours. All volunteers have been mandated to stay home. It is just me the manger and my assistant. Yes, we are sanitizing product and our store and our self's and we are required to do so every hour! Yes they are saying they will deploy us to another department, we will not be able to work from home. The hospital is not allowing any visitors. Sales have been just for candy and snacks and only employees. – Colleen
We have reduced our hours to M-F 9-5 and Saturday 12-4. We don't have any Covid-19 positive tests in our County yet. I'm sure as soon as we do, we'll be shut down. Volunteers, at this point are able to determine for themselves if they wish to come in. – Anonymous
Our two hospital gift shops are closed indefinitely since Monday, 3/16. We only had two volunteers under the age of 60 and myself, a paid manager that would have been eligible to work. I will take this time to clean and organize our office/pricing area. I will clean and reset both shops and set up new displays. I will refresh any worn out display pieces such as repainting the racks from our fresh flower case that once the flowers were removed looked quite shabby, and not in the chic way!. I can work from home if needed, pricing smaller items, writing up future orders with catalogs or ordering online by holding the orders etc. This is a totally helpless feeling, I anxiously await our reopening! Stay healthy! – Jamie Lee Hernandez
Dignity Health Central Coast limits their hospital visitations due to flu and COVID-19 concerns All hospital gift shops are closed until further notice. Washington Health System is suspending some services, including closing the gift shop. – Cindy Jones
Has your gift shop closed or reduced hours? Has you volunteer department closed? If so, are you as a gift shop manager able to work from home? If your hospital does close the gift shop will they deploy you to another department? Thanks! – Colleen DeSimone, Gift Shop Coordinator,Orange Regional Medical Center Gift Shop
We have been closed for over a week now as we're staffed entirely by volunteers who are not allowed at the hospital. All visitors except end of life situations or parents of young patients are banned. We distributed the flowers, our only perishable item, to patients who would enjoy them before closing our doors. Our health fair, regional auxiliary meeting and volunteer appreciation lunch are all cancelled and we have no idea when we will re-open. Our hospital is a small rural one with 19 beds. – Sandra Oldfield
We have been closed since Monday. The President felt that if someone who was infected came in contact with multiple items it would be very difficult to disinfect everything they touched. I sent out a mass email to all employees and let them know that if they wanted to buy anything I can get it together and just charge their badge and meet them at the back door. No need to step foot into the shop. It's working out really well. – Anonymous
What is everyone doing about all of their spring merchandise, just taking a loss? I am in the process of removing all the Easter merchandise, plush, etc. and storing them for next year. I plan to keep the spring items in the shop. BTW, we have been closed since March 10th. All volunteers on LOA. As the only paid employee among our volunteers I am performing all tasks that our volunteers were doing, mail, surveys, front desk, etc. Stay well everyone. – Sarah F
We are still open, with only two paid employees disinfecting everything we can. We are only selling drinks, food and candy also. – Anonymous
Our gift shop closed officially 3/17 after all the volunteers called off. I am the only paid employee and am currently working from home because I have a sinus infection and am not allowed back into the hospital until I am 100%. Once I am 100% I will be allowed back into the hospital to work on various projects in the hospital and help in other areas where there are shortages. I feel helpless being at home and know that under any other situation I would have already been back to work with the tail end of an infection. Stay safe everyone. – Anonymous
We have a paid staff person in our gift shop so between her and a few die-hard volunteers, it has been open with reduced hours. Our volunteer services is not paused except for the teen program. We will keep it open as long as we can for our staff. We have been told that all staff are essential and no one will be staff reduced at this time, we will be deployed to help elsewhere. – Nichole
Are any of you doing delivery service to hospital employees in various departments and to patient floors? If so, how is that working? – Cindy Jones, Editor
So we have been closed since 3/13. Volunteers are on LOA. I am still here because we do flowers. The shop is closed. I have tried to let employees know that we have gifts if they need them. Very sad. No traffic on our main street. Stay Healthy! – Anonymous
We had to close the Gift Shop per our Executive Team Leaders on March 24. I'm wondering what everyone else, that has had to close, is doing with your Easter product, especially Easter candy? My thought is to hold it over until next year since I hadn't had it out long enough to sell much of it. I'm pretty sure we won't be open before Easter at this point. We plan to move to a new location in August and will have limited storage at the new location. – Vickie Bailey, Bozeman Health Deaconess Hospital. 90 beds
---
---
https://www.cindyjonesassociates.com/wp-content/uploads/2020/09/shop_-Vickie's-Gifts-Roscoe-TX-co-GiftShopMag.png
599
900
C Jones
https://www.cindyjonesassociates.com/wp-content/uploads/2021/05/CJA_coral_400x106.png
C Jones
2020-09-15 12:00:08
2020-10-30 16:53:34
Cindy's Newsletter for Gift Shop Managers | September 15, 2020 💮