Cindy's Newsletter for Gift Shop Managers | April 15, 2023 💮
CINDY'S NEWSLETTER
for
Gift Shop Managers
Cindy's Newsletter for Gift Shop Managers delivers practical, ready-to-implement content to gift shop managers, retailers, and volunteers across the country. We help our readership of over 3,000 retailers optimize shop operations, grow revenue, and connect with one another. The newsletter is published monthly and free since 2001.
Have you paid your dues this quarter?
The value and richness of this newsletter comes from your participation. Do your part by submitting two comments per quarter, at minimum. Reply to reader's questions listed throughout the newsletter (in green) or simply share what is working or isn't working in your shop, a great selling product, a helpful website or resource, an operating question, your biggest challenge right now, a terrific vendor you've come across recently, tips on managing volunteers, or tips on managing yourself!
LEAVE A COMMENT! Click the green comment tags

throughout the newsletter, enter it in the comment section, or send to cindy@cindyjonesassociates.com.
---
APRIL 15, 2023
---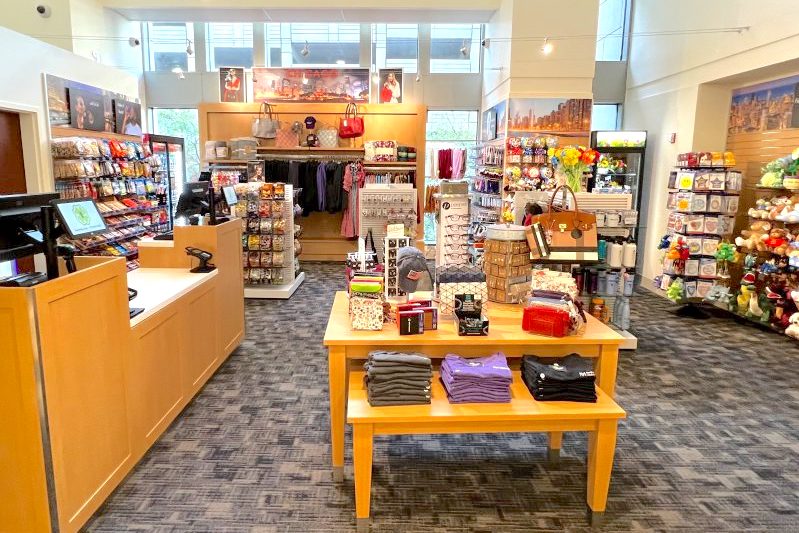 Northwestern Memorial Cloverkey Hospital Gift Shop, Chicago, IL
---
June is National Candy Month 🍭
Begin planning a special event now for National Candy Month in June to stir up some excitement in the slow months. 🍬
Wrap mini candy bars (over original packaging) with a surprise discount inside – 20%, 30%, 40% or 50% off the entire purchase. Give one to each customer as they walk in the shop. This is a terrific way to drive foot traffic. Don't forget to market the event online and with signage.
Plan a GET KISSED event with signage saying "Come to the gift shop and get kissed!" Everyone receives a Hershey Kiss who comes through the door. The door person should have a big bowl of kisses to attract traffic "for a kiss" Create clever signage and "Get Kissed" t-shirts.
More June holidays: National Flip Flop Day, Sunglasses Day, International Yoga Day, National Doughnut Day, Herb and Spices Day, Iced Tea Day, Gay Pride Month, Flag Day, Global Wind Day, International Sushi Day, National Kissing Day, Ice Cream Soda Day.
Create some funny and engaging promotions around these holidays!
---
SPONSOR
Quickcharge POS provides all of the point of sale features
you need in an easy-to-use solution with automated
payroll deduction capabilities, contactless payment,
and reliable customer support!

Transitioning from your current POS system
is fast, easy, and affordable.
800-348-5545
www.mmhayes.com/giftshopPOS
---
How to respond to unhappy customers
Every business has to deal with angry, complaining customers on occasion. A gift shop customer could be a patient, visitor, employee or more.
Whatever the reason for customer dissatisfaction, proper and timely response can make a difference between keeping a frustrated customer loyal or completely losing their business.
Angry Customer?
Stay calm.
Be an active listener.
Personalize the interaction.
Acknowledge your customer's emotions.
Use positive language.
Restate what they told you.
Build trust.
Thank them.
Considering that 95% of unhappy customers tend to share bad experiences with others – either personally, online, or through the halls of your hospital – knowing how to deal with an unhappy customer and how to respond in a professional way is an absolute 'must-have' for everyone working in your shop.
When replying to an angry customer, there are a few key points to remember and include in your message:
Respond ASAP. Why? To avoid them spreading negative word-of-mouth.
Apologize for the customer's negative experience, show empathy and understanding.
Take responsibility for whatever your gift shop may have done wrong.
Provide an explanation for the situation, if possible, and ensure it will not happen again.
Offer some incentive, a reasonable discount or refund, where appropriate.
---
Job Openings
Gift Shop Manager ($64,480-$70,000)
Pomona Valley Hospital, Pomona, CA
Gift Shop Manager ($40,375 – $47,500)
North Carolina Aquarium, Kure Beach, NC
Gift Shop Manager ($64,480 – $70,000)
Pomona Valley Hospital, Phillips Ranch, CA
Gift Shop Manager
Hartford Healthcare, Hartford, CT
Gift Store Manager ($50,000 +)
The University of Texas-Austin, TX
Manager, Gift Shops
NCH Healthcare System, Naples, FL
Assistant Manager, Gift Shops ($30,000 – $37,000)
ECU Health Medical Center, Greenville, NC
---
UPCOMING HOLIDAYS
MAY
May 5 – Cinco de Mayo
May 6 – Nurses Day
May 6- Kentucky Derby 🐎
May 14 – Mother's Day
May 29 – Memorial Day
Graduation Season Begins
JUNE
Graduation Season Con't 🎓
Jun 14 – Flag Day
Jun 18 – Father's Day
Jun 19 – Juneteenth
Jun 21 – Summer Solstice
Jun 27 – Ntn'l Sunglasses Day 😎
JULY
Jul 4 – Independence Day 🇺🇸
Jul 7 – World Chocolate Day
Jul 10 – National Pina Colada Day
Jul 14 – Ntn'l Mac & Cheese Day
---
MercyOne Waterloo Medical Center gift shop is a destination for shoppers
First-time visitors may wander into the MercyOne Waterloo Medical Center gift shop in need of a comforting gesture that says "I care" to a hospitalized patient, or hoping for the distraction of magazines and snacks.
Then they discover how the hospital gift shop has evolved.
Flower-filled bud vases, stuffed plush animals, small gifts and get-well cards remain staples, but there's now a definite boutique vibe. Such stylish offerings as home décor items – including decorative pillows, accents, hand towels, picture frames, and accessories like totes, handbags, jewelry, and themed apparel – share space with mother-and-baby gifts, essential oils, cozy blankets and leg warmers.
"We really want to bring in exciting and unique items and gifts that you don't find anywhere else," said Julie Paup, gift shop and volunteer services manager.
For the past several years, gift shops at both MercyOne Waterloo and Cedar Falls medical centers were managed and operated by an independent firm. Last summer, MercyOne resumed management and reopened seven months ago with new inventory.
"We removed all the old products and reopened with all new products and vendors," Paup said. "The hardest part was getting familiar with a new point-of-sale system."
The gift shop is becoming a destination. First-time visitors are usually people who "are visiting patients and stop to explore the gift shop. It takes their mind off what might be happening, and it's a nice escape," Paup explained.
But Paup and part-time coordinator Kathy Stephens are seeing repeat customers who return simply to shop. In addition to a wide array of products, prices are affordable, which adds to the appeal.
"People are loving the shop," said Ford. Paup agreed. "I've not heard one negative comment. All of the feedback has been super-positive," she said.
At 900 square feet, the gift shop is bright, warm and welcoming with an open floor plan to allow easy accessibility, said Brandy Reisinger, lead consultant for gift shops at both the Waterloo and Cedar Falls hospitals. The shop at MercyOne Cedar Falls Medical Center is considerably smaller at 320 square feet, but well-stocked.
Reisinger left a successful 18-year career as an interior designer to join the gift shops.
MercyOne has resumed management of their gift shops at the Waterloo and Cedar Falls Medical Centers. Shops now have a definite boutique vibe and repeat customers who love the wide array of home decor, accessories, gifts, etc.
"I was ready for a change, and I really enjoy the research and sourcing new products. I'm using my skills, but in a different way," Reisinger explained, including creating visually appealing merchandise vignettes.
Products tend to sell quickly with new items arriving daily, so displays are kept fresh. Purses and apparel are best sellers at both locations – "pretty much tied for best," Reisinger said.
MercyOne apparel is snapped up by employees, Paup said. "Our staff loves coming in here to shop. Employees work long shifts, and it's hard to find time to shop. They come down here because it's fun, convenient, and we have some great items."
Shoppers also will find T-shirts, sweatshirts and other items representing the University of Northern Iowa, University of Iowa and Iowa State University.
Specialty lines include Caren, a botanical therapy skin care lotion originally developed to soothe cancer patients, and decorative and fragrant Bridgewater Candles. A portion of their sales provide meals for children in orphanages around the world.
"We like to find vendors who do that sort of thing," Paup said. There are Iowa-made items, too. In addition, "people can get their flower arrangements from us, and we can deliver those and other gifts to patients," she noted.
This spring, customers are falling in love with the shop's customizable pillows made from indoor-outdoor fabric. "You can have a family name or anniversary date, for example, on the pillow, and choose your color and other options from our special-order catalog. It is shipped directly to your house," Paup said.
The Waterloo gift shop is open from 8 a.m. to 4 p.m. Monday through Friday. The Cedar Falls gift shop hours are noon to 4 p.m. Extended hours are every other month. In Waterloo, the gift shop will be open from 6 a.m. to 7 p.m. March 31; in Cedar Falls, extended hours on April 1 are 8 a.m. to 4 p.m.
SOURCE: The Courier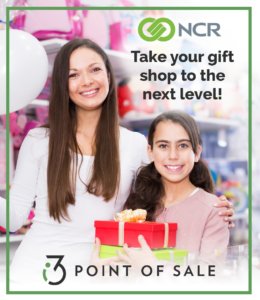 ---
SPONSOR
i3 Verticals – NCR Point of Sale Solution
A "Volunteer Friendly" NCR Point of Sale solution
for hospital gift shops. Easy to learn! Easy to use!
Payroll Deduction and Inventory Management available.
Take your gift shop to the next level!
Ask for a FREE copy of our "Hospital Gift Shops:
Tips for Success" booklet.
887-809-9980
www.i3pos.com
---
Q. Do you charge for shopping bags? 🛍
Q. I would be interested in hearing what other hospital gift shops do about shopping bag expense. We have been giving them away when the purchase is a gift, but this is getting out of hand and prices of bags have really gone up. I would like to start charging but, not sure how this will go over since we have been giving them away for so long. Even the plastic "thank you bags" have gone up in price. – Cheryl, Novant Health, Charlotte NC 3/22/23
Do you charge for shopping bags?
<- CLICK TO COMMENT
Thanks for leaving a comment!

Did you know? You can also enter your comment at the bottom of the newsletter.

Thank you!
FROM CINDY
We had a similar question recently about shopping bag vendors. What are people paying for bags from these suppliers?
Connect. Share. Grow. ♡
---
Nurses Day: Saturday, May 6
Nurses Day is coming up on Saturday, May 6. Are you ready? Here are a few great products and promo ideas for one of your most frequent – and celebrated – customers, nurses!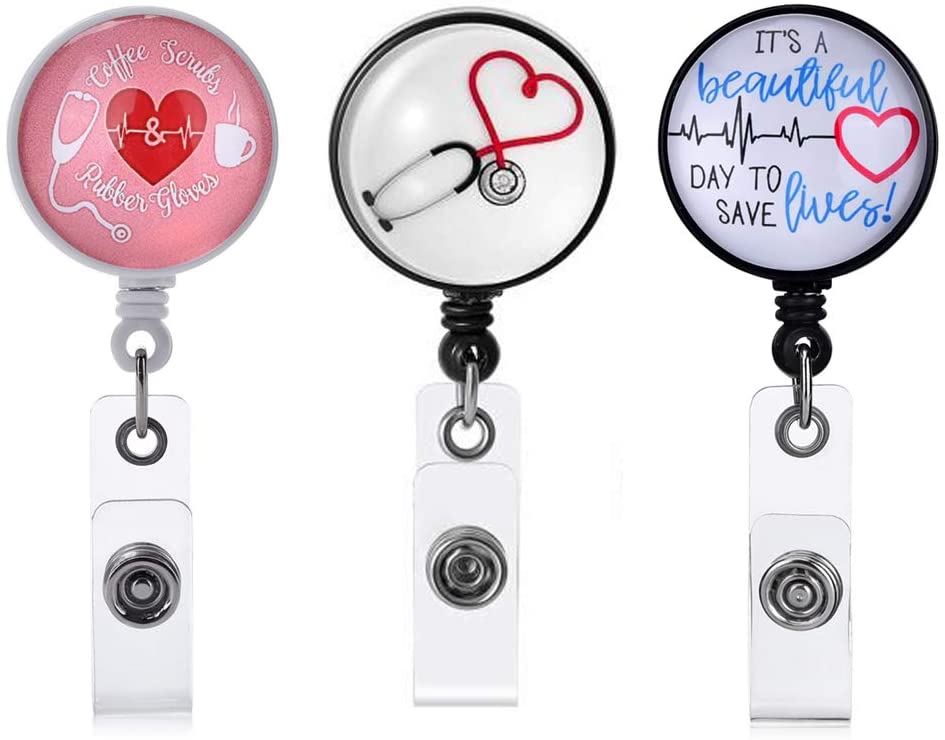 ---
💮
Gift Market Calendar

💮
**Always double-check show dates
Apr 22-26, 2023
High Point Spring Market
May 8-10, 2023
Atlanta Spring Cash & Carry
Jun 21-27, 2023
Dallas Total Home & Gift Market
Jun 27-30, 2023
Dallas Apparel & Accs Market
Jul 11-17, 2023
Atlanta Summer Market
Jul 30-Aug 3, 2023
Las Vegas Summer Market
Aug 22-25, 2023
Dallas Apparel & Accs Market
Sep 18-20, 2023
Atlanta Fall Market
Sep 19-21, 2023
Dallas Total Home & Gift Market
Oct 14-18, 2023
High Point Fall Market
Oct 24-27, 2023
Dallas Apparel & Accs Market
Nov 6-8, 2023
Atlanta Fall Cash & Carry
Visit
Gift Shop Mag Trade Show Calendar
for smaller local and regional shows.
---
The Big List of Wholesale Markets
Get your wholesale on! Here is a list of the most popular gift markets throughout the country:

Atlana, GA
AmericasMart's Atlanta sources gifts, décor, and lifestyle products from more than 8,000 brands, across a plethora of business niches. These include tabletop, housewares, gourmet, juvenile, and fashion accessories of all kinds. Located in downtown Atlanta, the AmericasMart Atlanta complex contains more than 7.1 million square feet of exhibition space and is the world's single-largest collection of wholesale home, gift and apparel showrooms. They're open year round for trade professionals and host signature events.
Dallas, TX
The Dallas Market Center is a business-to-business trade center. Open daily, the 5 million square foot campus showcases a complete wholesale marketplace including permanent showrooms and product lines. Everything from men's apparel to home furnishings can be found easily in the heart of the city.
Los Angeles, CA
The California Market Center offers 40,000 square feet of showrooms and event space to the LA fashion scene. Showrooms feature sample sales, a market specifically for kid fashion, and textile offerings from sources around the globe. They also provide insight into sustainable fashion, organic food options, and much, much more.
Miami. FL
The Miami Merchandise Mart is a professional wholesale market where showroom owners assemble collections from manufacturers in Europe, Asia, Latin America, and the U.S. The Miami team acts as a brokerage for buyers around the world, but especially for those in Florida, the Caribbean, and Latin America. Over 10,000 professional buyers make visits to this MM each year.
New York, NY
The New York Market Center is located at 230 Fifth Avenue New York. The iconic building is situated north of Madison Square Park, and features over 200 showrooms with product categories including the best in toys, holiday themes, and publishing expos.
Minneapolis, MN
The Minneapolis Mart is a permanent wholesale showroom facility, featuring over 5,000 lines of home décor, accessory, and apparel merchandise in 140 showrooms. The facility hosts six markets each year which are not open to the general public, reserving extra attention and specialization for resale businesses.
High Point, NC
The High Point Market draws more than 150,000 people annually and is the largest furnishings industry trade show in the world. The market features over 180 buildings and 11.5 million square feet of show space. Beyond finding unique wholesale goods, buyers can attend educational seminars on everything from lighting trends to business development.
San Francisco, CA
The San Francisco Design Center is comprised of 2 buildings (the Showplace and Galleria) which together house more than 100 beautifully curated showrooms, and represent approximately 2,000 manufacturers. These vendors offer product lines sourced both locally and internationally, and buyers can connect with design professionals and browse the latest in fashion, home furnishings, and textiles.
Chicago, IL
theMART is the largest privately held retail building in the United States. With 4.2 million gross square feet, theMart spans two city blocks, rises 25 stories, and is visited by an average of 30,000 people each business day. Designed as a market center for trade professionals, theMart continually offers high-quality shows and amenities for anyone looking for wholesale opportunities.
---
SPONSOR
Designed for Hospital Gift Shops, the volunteer-friendly ARBA POS system manages your inventory and automates payroll deductions. Easy current inventory import.
Optional online store pulls from the same inventory as in-store and accepts payroll deductions and credit card payments.
info@arbapro.com
630-620-8566
www.arbapro.com
---
Guide to Calculating Shop Inventory
Get the complete 10-page step-by-step Guide to Calculating Shop Inventory including worksheets, checklists, and calculations.
Guide to Calculating Shop Inventory
---
Changing the hospital gift shop stereotype
Miami's Pineapple Boutique is making changes to the hospital gift store model to meet the needs of its diverse customer base.
Gifts & Dec / Sep 16, 2022
The Pineapple Boutique in Miami's Baptist Health West Kendall Baptist Hospital prides itself on surprising its visitors.
"I think when people think hospital gift shop, they have a very antiquated opinion of what that should be in their mind," explained Whitney Ash, buyer and merchandiser for the boutique and two other locations within the hospital system. "They think of like little old ladies and volunteers running the hospital gift shop and it's all flowers, stuffed animals and knickknacks. And we've tried to completely change that."
That is in large part because about 70 percent of the boutique's approximately 2,500 visitors a month are hospital employees, according to Ash and Mireli Torres, director of retail stores for three of the hospital system's locations. Those employees come for many reasons, like the store's employee discount on most items and the interest free payroll deduction credit line given to each employee at the hospital.
"The average customer is not there to see their sick grandma and need to get something for her," said Ash. "It's literally therapy for them (the employees) and a break from their day to come in and do a little shopping. They come in and get something small like candy like you'd expect but they'll also buy nice handbags, Ray-Ban sunglasses and perfumes… And those products are not what a lot of newcomers to the store expect to see."
The rest of their customer base is made up of mostly patient visitors, and those folks are split in half – about 50 percent are there to visit ailing patients and the other half are coming to celebrate new life with labor and delivery.
For those customers visiting sick patients, staff play a crucial role in making difficult buys during even more difficult times less painful. All staff within the hospital system are hired based in part on their ability to relate to and connect with patients and their loved ones, and the boutique doubles down on that, completing specialized customer service training on how to work with customers who are dealing with illness and loss.
"Patient families will literally come in and you can just tell they want to talk, and they will cry with our staff members and our staff handles it beautifully," explained Torres. "We offer training, but you can't teach some of that… they are just wonderful people."
They also have customers coming into the hospital just to visit the gift shop thanks to its selection, though that and patient visitors have been limited during the COVID-19 pandemic.
"So much of our customer base is a kind of 'captive audience' in the hospital, so we try to keep things fresh and we try to give them lots of options so they can shop with us and not go anywhere else," said Ash. "We do seasonal displays; we are constantly bringing in new product. We give them a reason to stop in and take a breath. We don't want to just blend into the rest of the hospital."
Pop-up events are a key part of the boutique's strategy to increase foot traffic and interest, and part of what got the retailer nominated for the 2022 Retailer Excellence Awards. It gives the store a way to focus on specialty jewelry, foods, custom home linens and even uniforms, and those events account for about 20 percent of its annual business. To thank its top patrons, the boutique also hosts VIP events two to three times a year, pulling a list of its top 50 patrons and inviting them to private shopping events with special discounts, refreshments and unique merchandise.
On average, the retailer sees a 75 percent increase in foot traffic and 3x the average spend without requiring too much inventory spend commitment or space commitment during these special events. Those savings add up in a lot of ways, especially in the hospital setting where building and campus design are more focused on direct patient care spaces, limiting storage for the boutique.
"We are a store but we are also always part of a larger hospital community and patients' lives. We never forget that when planning anything," added Torres. "It guides what we do and what we carry.
SOURCE: Gifts & Dec
---
MARCH 2023 NEWSLETTER: ISSUE #639
Did you miss last month's articles, surveys, and discussions?
Restrictions on social media usage
Faire, Handshake, Tundra, Abound, Etsy
Source for quality jewelry spinners?
Ten ways to tackle inflation in 2023
Pink-A-Dilly Gift Shop
Stockabl: Shop wholesale directly from artisans
Gift Market Calendar
SOCIAL MEDIA
Q. When it comes to social media and you are restricted to nothing outside of the hospital, how do you make this work? We do have a Facebook page, but it is a closed group. As volunteers, we are part of this group and we do invite friends. But feel this doesn't reach more in the community. – Jan Friedman, Unity Point, Dubuque, IA. 1/24/23
We use Facebook to promote events, fundraisers, merchandise and more. Facebook groups are also a great way to share, to remind people to come to your business! This is especially helpful when unable to visit the hospital gift shop during COVID with visitor/public restrictions. – Jennifer Bahlmann-Ballantine. 3/7/23
Does Cindy have any social media groups or message boards for gift shop managers and buyers to collaborate in a more effectively and allow for real time reactions? I know many gift shop personnel may participate in volunteer management professional networking groups and organizations but there doesn't seem to be anything out there specific to gift shop retailers. Is anyone a part of any local groups for networking? -Holly Verbos, Penn State Health, Hershey, PA. 628 beds. 2/22/2023
I love this idea! I would love to have something to be able to connect with other hospital gift shop managers. It would be great to be able to ask questions, bounce ideas and just overall support from other managers :) – Lanie Ray, Wishes Gift Shop/Fairfield Medical Center, Lancaster, OH. 2/24/2023
Even a private Facebook group would be really helpful. We could post pictures of displays or products for each other to comment on and discuss. I think it would foster greater newsletter comment and discussion too! -Holly Verbos, Penn State Health, Hershey, PA. 628 beds. 2/24/2023
We have a closed Facebook group, as well. And need advice also. – Nancy Williams. 2/17/23
As a not-for-profit hospital, we are not allowed to post outside of the hospital. We are allowed to email our employees internally. – Craig McKneely, Scripps Mercy Hospital Gift Shop, San Diego. 412 beds. 2/17/23
We use our hospital's communications and public relations office for that purpose. – Peter Waugh. 2/17/23
Our health system requires social media posts go through marketing. As 'just' the gift shop it is difficult to get regular postings. Pre-COVID we would have annual events throughout the year, usually four. Post-COVID we only have two, Poinsettia and Pastries for Christmas and The Planting Patch in May right before Mother's Day. With annual events marketing creates a design/sign that they will post on social media. Each year we use the same design and change the date or times as needed. I feel gift shops are the cherry on top of the hospital and are usually an afterthought for marketing. Non-retail people don't fully understand the value of real-time information. – Noelle Boardman, St. Luke's Floral & Gifts, Cedar Rapids, IA. 530 beds. 2/17/23
Yes. I've always been told that there are restrictions and that you have to be careful posting pricing if you're a non-profit, so we have an open gift shop page and post pictures of new product and fundraisers. Would love to see an article on the do's and don'ts of non-profit social media pages!! – Ali McCrary. 2/17/23
Our hospital requires all social media posts to go through marketing for the entire health system. Gift shops are never part of the information that is shared with the community. We haven't found a solution. – Amy Saye 2/17/23
It's great to see so much interest in this question! Let's address some of the comments.
SOCIAL MEDIA & NON-PROFITS
Hospital gift shops are permitted to use social media and to advertise, but they must be related to the hospital's exempt purpose of promoting the health of its patients. They need to:
Explicitly state that proceeds go toward supporting the hospital. "All of the proceeds from the gift shop directly benefit patient care at Ascension Via Christi Manhattan and the Mercy Auxiliary."
Be directed toward patients, medical staff, employees, or visitors
Comply with HIPAA laws (e.g., no patient info or images)
Typically follow branding guidelines set by the hospital or health system to ensure consistency and coherence in their messaging and visual identity.
Follow advertising regulations set by the FTC or other regulatory bodies. For example, gift shops may need to disclose if they are sponsoring a post or using paid advertising.
There are several hospital gift shops with terrific Facebook Pages:
From: Top 6 hospital gift shop Facebook pages
It is counter intuitive to restrict a gift shop from using social media. The shop's goal is the raise funds for the hospital, after all. Limiting its reach and online footprint is, in turn, limiting the funds raised. Ironically, it can only hurt the hospital funding goals, in the end. Social media is arguably the most powerful tool a nonprofit has at their disposal. It's free and a simple way to "push" great products in front of hospital employees and customer's via their feeds. See last month's article, "Proof that social media can increase sales".
Along the same lines, it is also a myth that 501(c)(3) nonprofit organizations cannot make a profit. Most hospitals and their subsequent gift shops are for profit. They charge sales tax and operate as a business. The shops then donate all their profits to the hospital for patient benefit and equipment. Read more on IRS rules on advertising for hospital gift shops.
GIFT SHOP MESSAGE BOARD
In 2020 we moved the newsletter online and incorporated a comment/discussion feature. The goal was to create a 'community' where readers could "ask questions, bounce ideas and just overall support from other managers". We made it so readers could post pics, reply to specific comments, include links, get notified when someone replies to your comment, and so on.
At this time, we also started building a dedicated message board, similar to Quora or Reddit. Even going as far as buying a domain (see below). Ultimately, we felt it would not get enough use or ads to cover the costs ($1200/year). A paid membership model did not seem feasible either.
We considered a Facebook Group but there were limitations. It would exclude retailers who don't use Facebook, the search function is terrible, can't navigate or search embedded images and threads, no archive options. We also wanted a platform that did not require a login and was incredibly simple. Nonetheless, we'd love to revisit this if readers indicate enough interest. Please let us know here or comment below.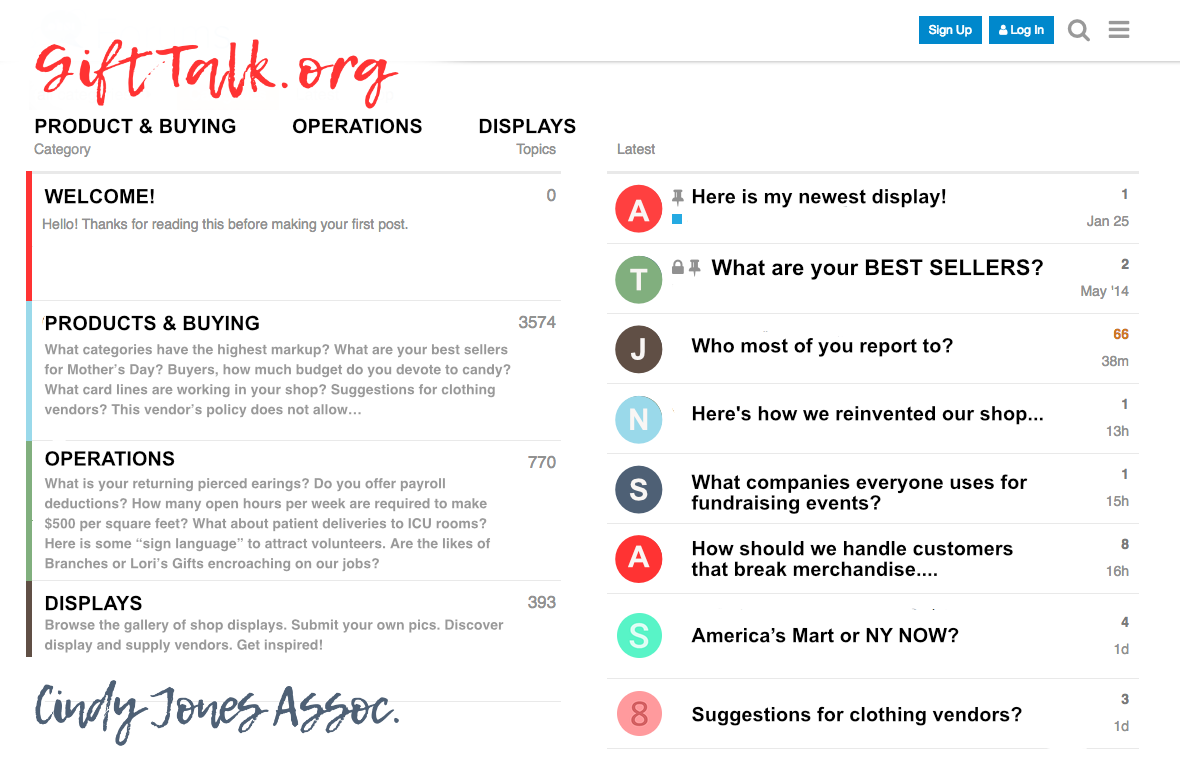 ---
JEWELRY SPINNERS
Q. Does anyone have a good source for quality jewelry spinners? Now that most use a peg holed card (versus the old folded top), we can't seem to find any quality durable spinners. We are only finding the metal spoked spinners or the wood spinners with metal pegs. – Lee Patterson, St. Vincent's Hospital Gift Shop, Birmingham AL. 400 beds. 1/25/23
We use
D.B. Imports
for most of our furnishings and jewelry displays. They have a nice selection. –
Cherie Towers. 2/24/23
Mud Pie has had some great jewelry merchandisers in the past. – Debbie Kerr. 2/20/23
We are using the stands from the vendors themselves – Nancy Williams. 2/17/23
Display options are available through Tripar International. – Jennifer Bahlmann-Ballantine. 2/17/23
We get our spinners from our jewelry vendors. I currently have a Rain spinner and a Cornet (Main Street Earrings) spinner. Both are on our shelves. They are not free but some will offset the price of the display with the purchase of the product. Hope this helps :)
– Lanie Ray, Fairfield Medical Center, Wishes Gift Shop, Lancaster, OH. 1/26/23
Connect. Share. Grow. ♡
---
FLOWER VENDING
Have any hospital gift shops taken on a flower vending machine to capture floral sales after hours? I would love to hear recommendations for companies to work with and approximate costs. Thank you! – Meggen Heuss, UW Health, Madison, WI. 1/15/23
Hi Meggen! The article "Should vending machines be part of your retail strategy?" provides some pros and cons on vending for retail. It was written in 2019. We will leave your question up in hopes you get some feedback from fellow managers this month! – Cindy
---
EMPOROS POS
Q. I run The Orchard Gift Shop at Indiana University Health. They want to change our POS system to change to Emporo. We currently have Keystroke. Does anyone currently use Emporos POS? If so, what are your thoughts on it. I would appreciate any feedback. Thank you. – Jodi Tyrie, Indiana University Health Arnett Hospital, Lafayette, IN. 191 beds. 10/15/22
I would not recommend using a system like this. If you are going to the expense of bringing in a new system, I would definitely use a system that is better suited for retail with a good inventory management system. We are currently in the process of getting a new POS system with NCR/i3Verticals. Good luck! –Deb Kerr, Children's Mercy Hospital, Kansas City. 385 beds. 11/17/22
FROM CINDY
We are not familiar with Emporos. It has not been mentioned in our ongoing POS survey as a system in use. At first glance, it appears to be designed for pharmacies. I would question its ability to meet the unique needs of a gift shop. Keystroke is designed specifically for retail operations. Emporos does have two nice features: native payroll deduction and a mobile bedside delivery option. But, because it is optimized for pharmacies, the user interface might be confusing in a gift shop environment unless they adapt it.
♡ Connect. Share. Grow. ♡
---
SPONSOR
Cue Cards for My Happier Mind is a gorgeous deck of 71 tips for better mental health.
A perfect gift for anyone needing a mood boost, Cue Cards are full of "substance, sass, and humor."
User friendly, low-key…they feel like reassuring hugs, filled with love.
50% discount! Free shipping!
MyHappierMind.com • 415-317-0609 • contact@MyHappierMind.com
---
Want to advertise? Click here.
© Cindy Jones Associates, 2022. COPYRIGHT PROTECTED. Redistribution, copying, reselling, re-renting, or republishing is STRICTLY PROHIBITED. Cindy's Newsletter may not to be forwarded, redistributed, reproduced, reprinted, or posted online without prior permission from Cindy Jones Associates. Subscribers may share one issue with a fellow manager. Thereafter, the manager may subscribe here to receive future issues.
https://www.cindyjonesassociates.com/wp-content/uploads/2023/04/shop_Northwestern-Memorial-Hospital-Gift-Shop-Chicago-IL.jpg
533
799
C Jones
https://www.cindyjonesassociates.com/wp-content/uploads/2021/05/CJA_coral_400x106.png
C Jones
2023-04-18 13:40:45
2023-04-28 12:58:41
Cindy's Newsletter for Gift Shop Managers | April 15, 2023 💮