Cindy's Newsletter for Gift Shop Managers | March 15, 2023 💮
CINDY'S NEWSLETTER
for
Gift Shop Managers
Cindy's Newsletter for Gift Shop Managers delivers practical, ready-to-implement content to gift shop managers, retailers, and volunteers across the country. We help our readership of over 3,000 retailers optimize shop operations, grow revenue, and connect with one another. The newsletter is published monthly and free since 2001.
Have you paid your dues this quarter?
The value and richness of this newsletter comes from your participation. Do your part by submitting two comments per quarter, at minimum. Reply to reader's questions listed throughout the newsletter (in green) or simply share what is working or isn't working in your shop, a great selling product, a helpful website or resource, an operating question, your biggest challenge right now, a terrific vendor you've come across recently, tips on managing volunteers, or tips on managing yourself!
LEAVE A COMMENT! Click the green comment tags

throughout the newsletter, enter it in the comment section, or send to cindy@cindyjonesassociates.com.
---
MARCH 15, 2023
---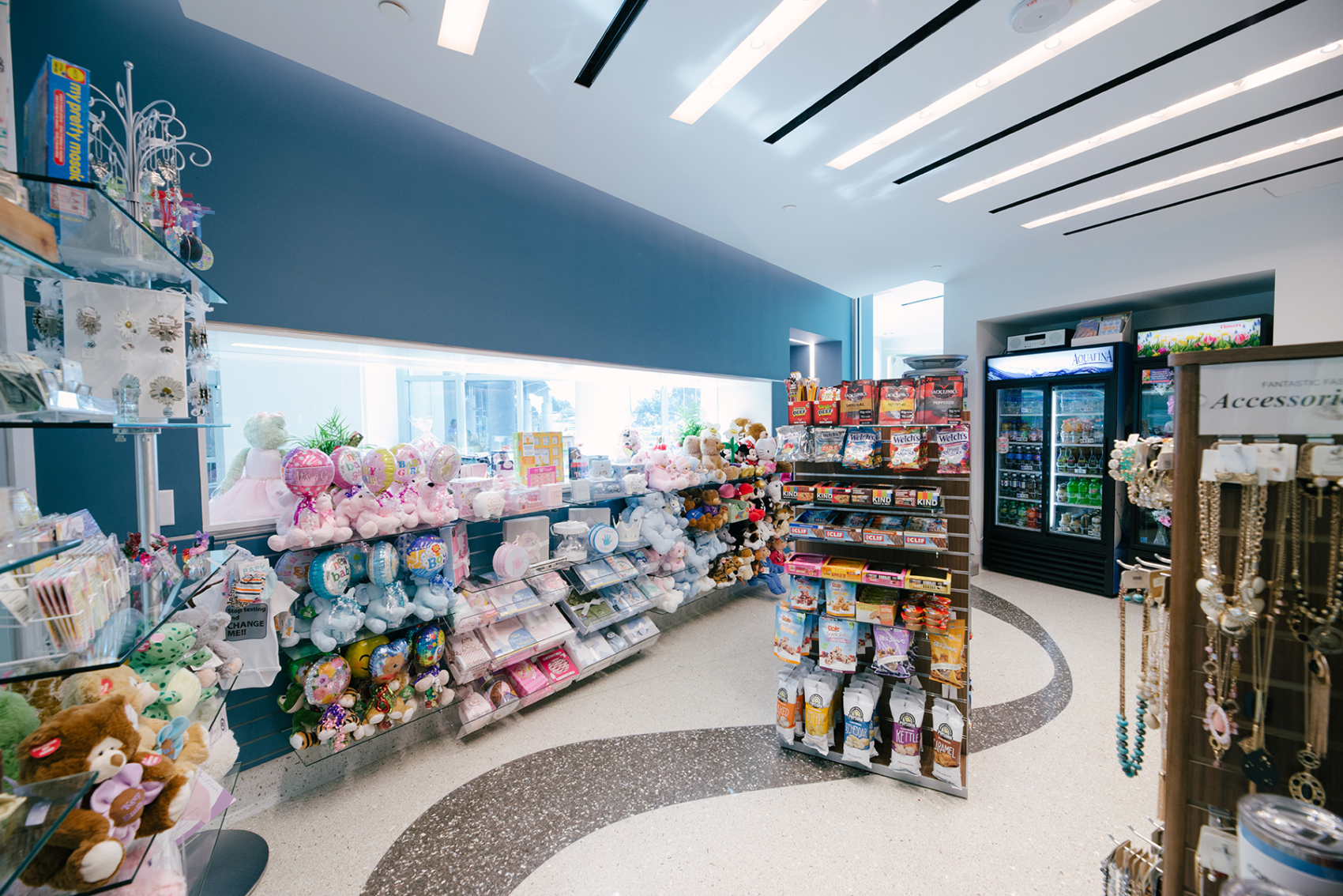 Lakeland Regional Health Medical Center, Lakeland, FL
---
Restrictions on social media usage
Q. When it comes to social media and you are restricted to nothing outside of the hospital, how do you make this work? We do have a Facebook page, but it is a closed group. As volunteers, we are part of this group and we do invite friends. But feel this doesn't reach more in the community. – Jan Friedman, Unity Point, Dubuque, IA. 1/24/23
We use Facebook to promote events, fundraisers, merchandise and more. Facebook groups are also a great way to share, to remind people to come to your business! This is especially helpful when unable to visit the hospital gift shop during COVID with visitor/public restrictions. – Jennifer Bahlmann-Ballantine. 3/7/23
Does Cindy have any social media groups or message boards for gift shop managers and buyers to collaborate in a more effectively and allow for real time reactions? I know many gift shop personnel may participate in volunteer management professional networking groups and organizations but there doesn't seem to be anything out there specific to gift shop retailers. Is anyone a part of any local groups for networking? -Holly Verbos, Penn State Health, Hershey, PA. 628 beds. 2/22/2023
I love this idea! I would love to have something to be able to connect with other hospital gift shop managers. It would be great to be able to ask questions, bounce ideas and just overall support from other managers :) – Lanie Ray, Wishes Gift Shop/Fairfield Medical Center, Lancaster, OH. 2/24/2023
Even a private Facebook group would be really helpful. We could post pictures of displays or products for each other to comment on and discuss. I think it would foster greater newsletter comment and discussion too! -Holly Verbos, Penn State Health, Hershey, PA. 628 beds. 2/24/2023
We have a closed Facebook group, as well. And need advice also. – Nancy Williams. 2/17/23
As a not-for-profit hospital, we are not allowed to post outside of the hospital. We are allowed to email our employees internally. – Craig McKneely, Scripps Mercy Hospital Gift Shop, San Diego. 412 beds. 2/17/23
We use our hospital's communications and public relations office for that purpose. – Peter Waugh. 2/17/23
Our health system requires social media posts go through marketing. As 'just' the gift shop it is difficult to get regular postings. Pre-COVID we would have annual events throughout the year, usually four. Post-COVID we only have two, Poinsettia and Pastries for Christmas and The Planting Patch in May right before Mother's Day. With annual events marketing creates a design/sign that they will post on social media. Each year we use the same design and change the date or times as needed. I feel gift shops are the cherry on top of the hospital and are usually an afterthought for marketing. Non-retail people don't fully understand the value of real-time information. – Noelle Boardman, St. Luke's Floral & Gifts, Cedar Rapids, IA. 530 beds. 2/17/23
Yes. I've always been told that there are restrictions and that you have to be careful posting pricing if you're a non-profit, so we have an open gift shop page and post pictures of new product and fundraisers. Would love to see an article on the do's and don'ts of non-profit social media pages!! – Ali McCrary. 2/17/23
Our hospital requires all social media posts to go through marketing for the entire health system. Gift shops are never part of the information that is shared with the community. We haven't found a solution. – Amy Saye 2/17/23
It's great to see so much interest in this question! Let's address some of the comments.
SOCIAL MEDIA & NON-PROFITS
Hospital gift shops are permitted to use social media and to advertise, but they must be related to the hospital's exempt purpose of promoting the health of its patients. They need to:
Explicitly state that proceeds go toward supporting the hospital. "All of the proceeds from the gift shop directly benefit patient care at Ascension Via Christi Manhattan and the Mercy Auxiliary."
Be directed toward patients, medical staff, employees, or visitors
Comply with HIPAA laws (e.g., no patient info or images)
Typically follow branding guidelines set by the hospital or health system to ensure consistency and coherence in their messaging and visual identity.
Follow advertising regulations set by the FTC or other regulatory bodies. For example, gift shops may need to disclose if they are sponsoring a post or using paid advertising.
There are several hospital gift shops with terrific Facebook Pages:
From: Top 6 hospital gift shop Facebook pages
It is counter intuitive to restrict a gift shop from using social media. The shop's goal is the raise funds for the hospital, after all. Limiting its reach and online footprint is, in turn, limiting the funds raised. Ironically, it can only hurt the hospital funding goals, in the end. Social media is arguably the most powerful tool a nonprofit has at their disposal. It's free and a simple way to "push" great products in front of hospital employees and customer's via their feeds. See last month's article, "Proof that social media can increase sales".
Along the same lines, it is also a myth that 501(c)(3) nonprofit organizations cannot make a profit. Most hospitals and their subsequent gift shops are for profit. They charge sales tax and operate as a business. The shops then donate all their profits to the hospital for patient benefit and equipment. Read more on IRS rules on advertising for hospital gift shops.
GIFT SHOP MESSAGE BOARD
In 2020 we moved the newsletter online and incorporated a comment/discussion feature. The goal was to create a 'community' where readers could "ask questions, bounce ideas and just overall support from other managers". We made it so readers could post pics, reply to specific comments, include links, get notified when someone replies to your comment, and so on.
At this time, we also started building a dedicated message board, similar to Quora or Reddit. Even going as far as buying a domain (see below). Ultimately, we felt it would not get enough use or ads to cover the costs ($1200/year). A paid membership model did not seem feasible either.
We considered a Facebook Group but there were limitations. It would exclude retailers who don't use Facebook, the search function is terrible, can't navigate or search embedded images and threads, no archive options. We also wanted a platform that did not require a login and was incredibly simple. Nonetheless, we'd love to revisit this if readers indicate enough interest. Please let us know here or comment below.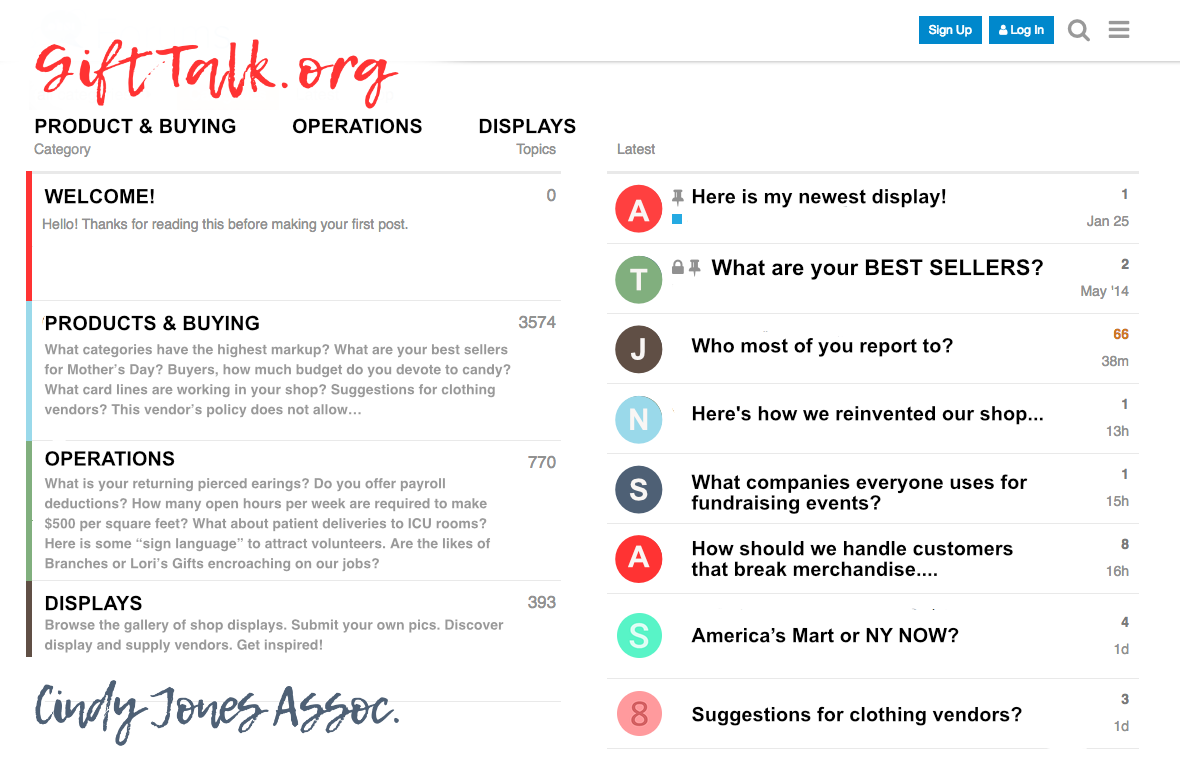 ---
SPONSOR
Quickcharge POS provides all of the point of sale features
you need in an easy-to-use solution with automated
payroll deduction capabilities, contactless payment,
and reliable customer support!

Transitioning from your current POS system
is fast, easy, and affordable.
800-348-5545
www.mmhayes.com/giftshopPOS
---
Source for quality jewelry spinners?
Q. Does anyone have a good source for quality jewelry spinners? Now that most use a peg holed card (versus the old folded top), we can't seem to find any quality durable spinners. We are only finding the metal spoked spinners or the wood spinners with metal pegs. – Lee Patterson, St. Vincent's Hospital Gift Shop, Birmingham AL. 400 beds. 1/25/23
We use
D.B. Imports
for most of our furnishings and jewelry displays. They have a nice selection. –
Cherie Towers. 2/24/23
Mud Pie has had some great jewelry merchandisers in the past. – Debbie Kerr. 2/20/23
We are using the stands from the vendors themselves – Nancy Williams. 2/17/23
Display options are available through Tripar International. – Jennifer Bahlmann-Ballantine. 2/17/23
We get our spinners from our jewelry vendors. I currently have a Rain spinner and a Cornet (Main Street Earrings) spinner. Both are on our shelves. They are not free but some will offset the price of the display with the purchase of the product. Hope this helps :)
– Lanie Ray, Fairfield Medical Center, Wishes Gift Shop, Lancaster, OH. 1/26/23
Connect. Share. Grow. ♡
---
UPCOMING HOLIDAYS
APRIL
Apr 1 – April Fool's Day
Apr 7 – World Health Day
Apr 9 – Easter Sunday 🐰
Apr 18 – Tax Day
Apr 22 – Earth Day 🌎
Apr 26 – Admin Prof Day
MAY
May 5 – Cinco de Mayo
May 6 – Nurses Day
May 6- Kentucky Derby 🐎
May 14 – Mother's Day
May 29 – Memorial Day
Graduation Season Begins
JUNE
Graduation Season Con't 🎓
Jun 14 – Flag Day
Jun 18 – Father's Day
Jun 19 – Juneteenth
Jun 21 – Summer Solstice
Jun 27 – Ntn'l Sunglasses Day 😎
---
Ten ways to tackle inflation in 2023
We scoured the best resources online to assemble the best tips for combating inflation in your shop.
Identify categories facing the greatest inflation and introduce entirely new products and categories. According to Forbes, the biggest losers include jewelry, fashion accessories, prepared food and fragrances/cosmetics. Other categories with a negative net score are beverages, consumer electronics, sports/outdoor, apparel, packaged grocery, footwear, pet supply and entertainment/books.
Private brands: Consider private label or less expensive alternatives to major brands. A wide range of own label items can also help to encourage a sense of value choices within a retailer's range, something that improves perceptions of value in and of itself.
Work the floor: The more retail personnel interact with customers, the more likely they are to make a sale. So moving personnel from behind the checkout counter and onto the sales floor has a positive impact on sales. Trader Joe's staffers routinely restock shelves throughout the day not just to fill the holes but to give them more opportunity to chat it up with shoppers. With retail positions already hard to fill, giving them more opportunities to interact with customers, rather than standing hours behind a cash register, is its own reward.
Streamline promotions: Executing several different types of promotions across the store at the same time (e.g. percentage-discounts, flat cents-discounts, BOGO, multi-buys, multi-save, and conditional discounts) add confusion for shoppers, complexity for operators, and costs throughout the enterprise. Focus on offering only 3-4 promo types, thereby reducing costs. Simplicity also helps improve value perception.
Skip BOGO: BOGO promotions can dramatically affect stock availability, thereby putting even more pressure on supply chain challenges.
Fewer promotions: High promotional activity tends to erode overall value perception, creating a kind of vicious circle of more promotions = poorer value perception. Promotions are necessary for driving consumer excitement and demand in certain categories – but not in all. Getting the price vs. promotion formula right in each category using customer data is even more critical during times of inflation.
Adjust categories: You've heard it said that inventory should never celebrate a birthday. How long an item should be in the store will vary depending on what it is. But, there are a few categories that should move quickly: accessories, apparel, footwear, seasonal goods, and trending gift items.
Pausing or cancel orders on items that are not producing the profit margin they did in the past.
Offer higher-end goods at lower price points and promote them as luxury or higher-end, but offer them at a more affordable rate.
Simplify choices: Reduce the assortment in key categories to improve value perception and cut costs. Make the range work harder to save on cost-to-serve and improve value perception. Aim for breath of choice over depth.
More than 85% of consumers believe that sale prices are the actual "real" price (i.e., stores mark up merchandise and then bring it down to the real price for sales).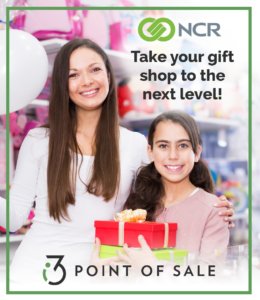 ---
SPONSOR
i3 Verticals – NCR Point of Sale Solution
A "Volunteer Friendly" NCR Point of Sale solution
for hospital gift shops. Easy to learn! Easy to use!
Payroll Deduction and Inventory Management available.
Take your gift shop to the next level!
Ask for a FREE copy of our "Hospital Gift Shops:
Tips for Success" booklet.
887-809-9980
www.i3pos.com
---
Pink-A-Dilly Gift Shop
Long-time reader Debbie Swan, shop manager at Pink-A-Dilly Gift Shop for TWO decades was featured in her hospital's blog. Congratulations!
Pink-A-Dilly Gift Shop, located at Baxter Health in Mountain Home, glows like a polished gem, its collection of gifts tastefully arranged in its massive windows. You can find the usual get-well mementos at Pink-A-Dilly: a card, a box of candy, stuffed animals. But the shop has a much more elegant, upscale vibe than is typical of such stores, thanks to the handpicked inventory and years-long merchandising expertise of Debbie Swan, manager.
"I like to offer things that are unique, that nobody else has," she said. "I've always gone with quality rather than price. You have to have a fair price, but if you get something cheap, you're going to get it right back. You want people to enjoy what they have."
Swan, who's been at the helm of the shop for two decades, is a walking master class in retailing. Any aspect of the store
today, from the inventory to the upgraded registers to the very design of the shop itself, has all come to pass on her watch. And as the store moves into its newest chapter, online retailing, she's at the head of that parade too, as foreign as it might feel at times. "It's a different animal. I'm from the generation that didn't grow up with a cell phone in my hip pocket," she said with a laugh.
"For me to learn a platform other than brick-and-mortar is a challenge, but a good challenge. I'm learning it, and I will learn more as we go. I'm all for it."
Her retail education goes back to her 20s where she landed a job in a local landmark store. "A German family had this big shoe store," she said. "It was huge—men's, women's, children—and I worked there for eight years. That was how I learned how to work with people. I became the buyer for men's shoes. I also dressed the windows for them."
As a grocery store merchandise manager, she was tasked with ordering every non-food item in the store, Swan dove into the marketing aspect of the job with gusto, designing huge seasonal displays aimed at the many tourists visiting the area's lakes. "I love doing displays," she said. "I put all kinds of floats and masks and all kinds of summery stuff up. That was the job that really taught me how to price things, what to put on sale, how to mark things down."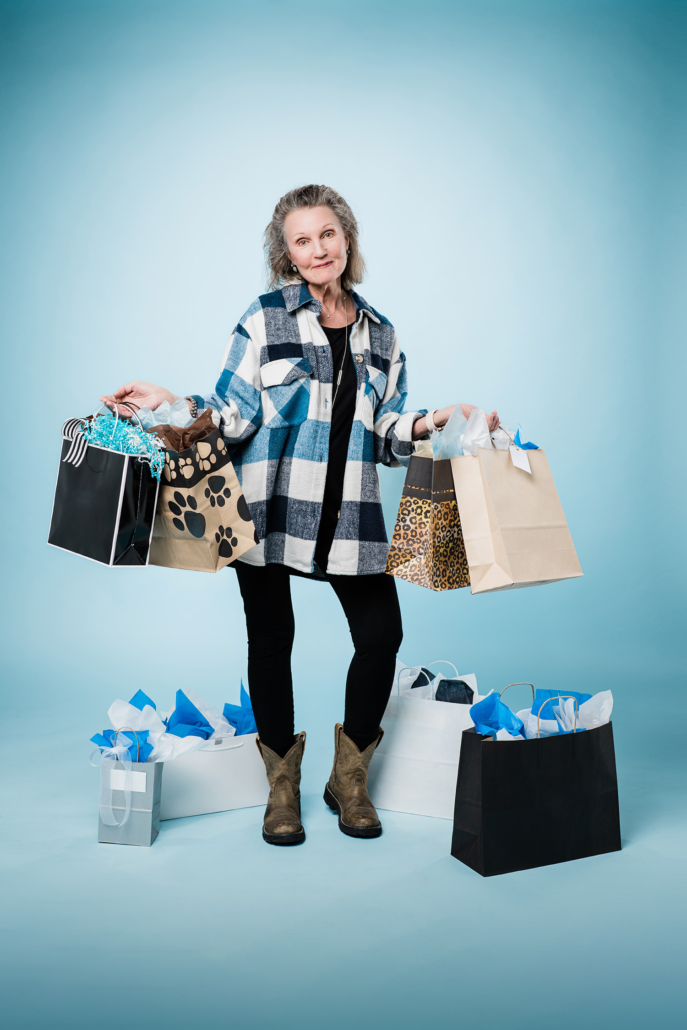 In taking over Pink-A-Dilly, the profits of which are earmarked for Baxter Health Foundation coffers, Swan resolved to make the store a destination retail experience.
"It was a closed-wall gift shop, and there were two square window boxes," she said of the old days. "In 2005, we went from a 900-square-foot shop to a 1,300-square-foot shop. They broke out the solid walls and put in glass window walls, which made all the difference in the world. Instead of people walking past, they came in. They saw something in the window, and it brought them in."
Swan also adjusted the inventory levels to help reduce what was being sold on clearance, especially seasonal items. "I noticed right away we had the biggest sale after Christmas because they were used to ordering 12 of this and 24 of that," she said. "I don't do that. I get three of something and two of something and four of something. Then you can get more variety and less quantity."
Most retail workers Swan's age are enjoying retirement or have burned out altogether. But between the customers and the volunteers whom she credits with the store's success and the ability to do the work she loves most, she has no intention of surrendering the keys anytime soon.
"We wouldn't have a successful shop if it weren't for the volunteers," she said. "I tell them, this is your shop. I let them do some displays if they like to. Different people are good at different things, so I use their talents. "People have so much negativity going on in their lives that we need to read positive signs and things that build you up, not tear you down. That's what I like to have."
Pink-A-Dilly Gift Shop on Facebook
SOURCE: Baxter Regional
---
💮
Gift Market Calendar

💮
**Always double-check show dates
Mar 21-24, 2023
Dallas Apparel & Access Market
Apr 22-26, 2023
High Point Spring Market
May 8-10, 2023
Atlanta Spring Cash & Carry
Jun 21-27, 2023
Dallas Total Home & Gift Market
Jun 27-30, 2023
Dallas Apparel & Accs Market
Jul 11-17, 2023
Atlanta Summer Market
Jul 30-Aug 3, 2023
Las Vegas Summer Market
Aug 22-25, 2023
Dallas Apparel & Accs Market
Sep 18-20, 2023
Atlanta Fall Market
Sep 19-21, 2023
Dallas Total Home & Gift Market
Oct 14-18, 2023
High Point Fall Market
Oct 24-27, 2023
Dallas Apparel & Accs Market
Nov 6-8, 2023
Atlanta Fall Cash & Carry
Visit
Gift Shop Mag Trade Show Calendar
for smaller local and regional shows.
---
Stockabl: Shop wholesale directly from artisans
Want personalized recommendations based on your shop's style? Or, recommendations for local makers that you could stock in your shop? Are you interested in having products customized for your town, city, state or local event? Stockabl offers retailers three free services that gives you ideas based on the products you need: a personal shopper, customized products, and open calls.
You can put forward an open call. These allow you to potentially have products made within the price range you are seeking. This is a great way to get unique inventory for your shop. And it allows you to build relationships with makers.
Stockabl is a wholesale marketplace for handmade and independently designed goods that connects retail buyer with smaller makers and designers from around the globe. Stockabl has over 100 artisans through a commission-free marketplace. It is a private company founded by Adrianne Stone in 2018. The Stockabl team is made up of makers and small shop owners, so they are intimately familiar with the wants and needs of this unique community.
Stockabl: Best for handmade items (replaces Etsy Wholesale)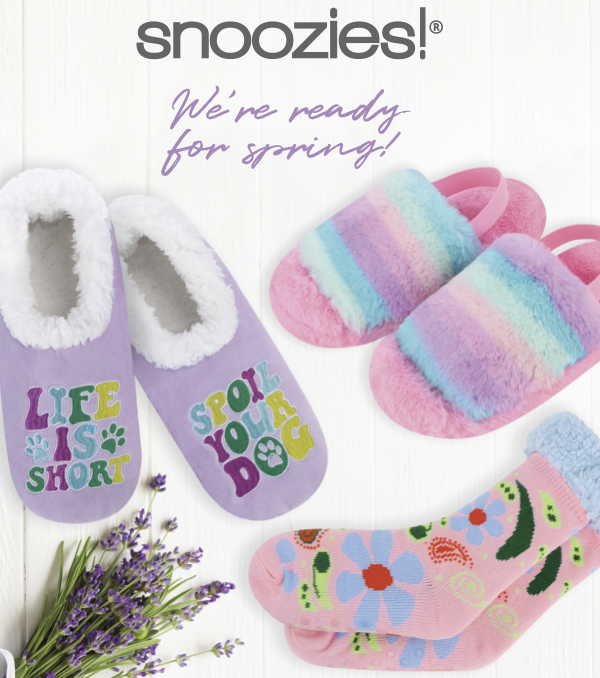 ---
SPONSOR
snoozies!® Spring 2023
Check out the new slipper slides, pairables, skinnies and spring collections
We are mixing style and comfort for the most adorable spring yet!
See all snoozies!® collections at snoozies.com
Call your local rep or our in-house specialists:
Pam at 252-650-7000 ext 209
Danielle at 252-650-7000 ext 206
---
---
PROS & CONS: Faire, Handshake, Tundra, Abound, Etsy
Some of the most popular online wholesale marketplace platforms include Faire, Handshake, Tundra, Abound, and Etsy.
In this article, we explore five of them based on several factors: minimum order quantities, pricing and fees, payment terms, order protection, and customer support.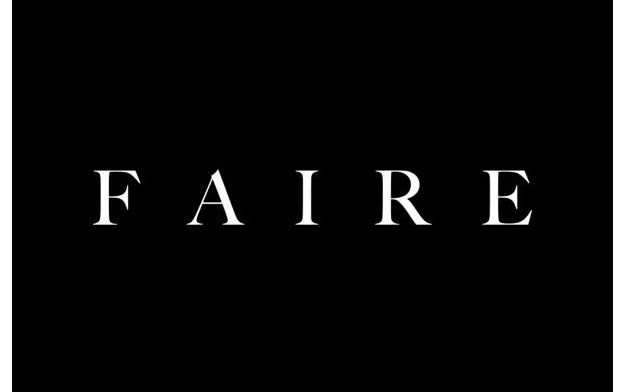 Faire may be the first site you think of when trying to get onto a wholesale platform. It's probably the most well known by both buyers and sellers, which means there are actual stores buying everyday. With 250,000 retailers and 30,000 brands from more than 80 countries, Faire is in some ways "the" marketplace for independent brands and makers.
Faire offers free returns on first orders with makers. From the date your order is placed, you have 60 days to return the product. This allows you time to try out the product and return what doesn't work for a full refund. Any reorders are not eligible for return.
Faire offers an Insider Membership ($19.99/mo) where buyers get free shipping on select US brands and early access to new brands. Critics of the platform note that the free shipping option was only for a few vendors of their choosing and the early access was no more than a few hours. Faire now has integrations for Shopify.
Faire has net 60 payment terms are available for all orders (eligible for brick & mortar businesses) and they occasionally offer Net 90 terms.
Faire also generates product and brand recommendations based on your previous search activities.
PROS
Payment terms (Net 60)
Custom product recommendations
Free shipping and returns on opening orders
CONS
Customer service is poor
Shipping fees (except opening orders)
Midsize selection of intrntl brands
Best For: Personalized product recommendations
MOQs: Depends on seller
Financing options: Net 60 purchasing plans for all purchases
Shipping lead time: Depends on seller
Types of products: Homeware, home decor, kitchenware, textiles, fashion accessories, beauty, skincare, fragrances, jewelry, stationery, party supplies, kids toys, pet supplies
---
Handshake is a curated wholesale marketplace by Shopify that provides US retailers with several thousand hand-selected and high-quality brands and suppliers. Handshake's staff curates the suppliers, choosing top brands for quality and reliability. Every supplier is also verified before listed. You don't need to contact suppliers to ask for pricing information and negotiate orders. Instead, Handshake allows you to check out on the website – just like you would normally.
Since it is integrated with Shopify, if they see that your email isn't linked to a Shopify ID, you will need to create one. You don't need to open a store on Shopify though, and getting a Shopify ID is free.
Handshake runs from within the Shopify ecosystem. So if you're already using Shopify, your inventory, billing, and orders will all be in the same places you're used to.
The platform has a fun mix of trend-driven and timeless artisan products for you to choose from and, while Handshake might not be your one-stop shop, it does pride itself on having unique products that you won't be able to find anywhere else.
With a focus on trustworthy and high-quality brands and suppliers, Handshake provides a secure experience for its buyers. Not only that, but there is also free shipping for opening orders of more than $100, no commission or transaction fees, and curated lists and highlighted products to make your shopping experience easier.
PROS
Handpicked selection of trusted brands
Free shipping for opening orders over $100
Quality over quantity products
CONS
Only available for US retailers
Requires Shopify ID (free)
Suppliers determine shipping/return policies
Best For: Hand-selected quality goods
MOQs: Depends on vendor
Financing options: None
Shipping lead time: Depends on vendor
Types of products: Fashion accessories and apparel, beauty, homewares, kids, stationery, pets
---
Tundra is a wholesale marketplace that allows buyers and suppliers to transact online with no fees or markups. The platform uses proprietary technology to automate end-to-end wholesale processes. It has an intuitive user interface making it easier to navigate.
Tundra boasts a community of over 10,000 businesses shopping from a broad assortment in popular categories including kids, home, beauty, apparel, and general merchandise.
Tundra doesn't charge suppliers or retailers to use the site. Instead, the company makes money from offering additional services. For example, retailers can purchase insurance, expedited shipping, and prepaid duties and taxes for international orders when checking out.
Tundra does not offer returns however the vast majority of brands will have lower minimums on Tundra, which mitigates the risk of trying a new brand. If you are a savvy stockist and just want to buy direct from brands without the markups or commissions, Tundra is a good option.
Positives include, "Tundra not only had similar items, but better quality, a broader range within our niche, and basically help fund the growth of our offering new items to our customers. In short, each time we order from a vendor, Tundra will match up to $150.00 of products from a new vendor of our choosing. This has allowed us to try several new products and develop relationships with new vendors we had never thought of trying in the past."
Tundra has free standard shipping on most products. All products marked with the blue truck icon have free standard shipping. Approved organizations are eligible for Net 60 payment terms on all purchases on Tundra. Net 60 payment terms are free for qualified buyers; interest and/or penalties only apply if payment is not made within 60 days.
Tundra accepts big name brands on their platform like Mattel and Burts Bees. Their focus is on wholesale for small and medium sized businesses generally (not artisans or makers specifically) so you'll find many larger product companies and more general-use brands.
PROS
Lower minimums
No transaction fees
Over 2M products with 5-day lead times
CONS
Shipping fees for non-Pro members*
No returns
Small selection of N. American suppliers (around 10,000)
Best For: Financing, cash back, and free shipping, discounts on opening orders
MOQs: Depends on vendor
Financing options: Through third-party provider Kickfurther
Shipping lead time: Depends on vendor
Types of products: Homewares, fashion, kids, office, pets, and snacks
*Pro Member spend requirement: $500/mnth. No membership fees apply.
---
Abound is a wholesale marketplace where verified independent retailers discover and stock incredible products made by the very best small brands. Their retail experts hand-pick the brands on Abound, removing the guesswork for independent retailers.
Abound is, in some ways, a middle point between Faire and Tundra. They report having 10,000 retailers and nearly 200,000 products. They're a bit more niche than Tundra, and do have a lot of smaller buyers, but are generally not as artisan-focused as Faire.
One thing that sets it apart is that Abound doesn't just curate its sellers—its retail experts review each one for reputation, quality, and reliability. Not only that, but they are adding new products every week, so there is no end to the discovery you can do on Abound.
Abound carries mid-priced products from both established and emerging brands. Additionally, Abound handles everything in-house, including setting shipping and return fees, messaging, transactions, and providing order protection.
Abound has a strong focus on supporting small businesses and providing them with an accessible and reliable place to shop. It offers 60-day returns on all opening orders so you can try out new brands risk-free and net 60 payment terms.
PROS
Expertly sourced wholesalers and products
New products added weekly
Net 60 payment terms for qualified retailers
60-day returns for all opening orders free
CONS
Only US and UK retailers
Higher price point than intrnl wholesalers
Limited return eligibility
Best For: Thoughtfully curated and unique products
MOQs: Depends on maker or seller
Financing options: Net 60 payment terms for qualified retailers.
Shipping lead time: Anywhere between 1-45 days, depending on maker/supplier
Types of products: Homeware, kitchenware, garden accessories, jewelry, beauty products, fragrances, makeup, skincare, toys, baby accessories, stationery, food, drinks, pet supplies
---
Etsy isn't exactly a wholesale marketplace, but many retailers have had success buying from here. Etsy is an ecommerce platform focused on handmade, vintage, and craft items. These products fall into a wide range of categories, such as jewelry, clothing, and furniture. Etsy Wholesale shut down in 2018; however, you can still buy items at wholesale prices from Etsy sellers. Three ways to find wholesale suppliers:
Visit Etsy's Wholesale page to browse by product categories, customized based on your needs and preferences.
Search: You can search for wholesale goods by typing in "wholesale + the item you are searching for," such as "wholesale dog toys."
Message sellers: You can also message sellers individually through Etsy's in-site messaging platform. You should include in your message that you are a business interested in purchasing their wares wholesale to sell at your store. Most sellers are eager to work with businesses that want to place large orders of their goods—it is a great opportunity for them too.
PROS
Support independent artisans
Unique products with an artisan bent
Custom product recommendations
CONS
Smaller order quantity capabilities
Suppliers set shipping/return policies
Scam risks
Best For: The largest selection of independent artisans
MOQs: Depends on vendor
Financing options: Depends on vendor
Shipping lead time: Depends on vendor
Types of products: Party and holiday, jewelry, vintage goods, homewares and furniture, apparel, toys, gifts, craft supplies, and art

| | | | | |
| --- | --- | --- | --- | --- |
| | | | | |
| Best for personalized product recommendations | Best for Shopify stores | Best for financing, cash back, & free shipping | Best for curated, vetted suppliers | Best for handmade & vintage items |
Other online wholesale platforms
Indieme sources over 250,000 products100% handcrafted made in the USA & Canada including, ceramics, jewelry, glass, home décor, sculptures, fiber, artisan food. Ankorstore is a good alternative of Faire. This B2B wholesale marketplace is more focused on the European market. Orderchamp is an alternative to Ankorstore and also focuses mainly on Europe. Amazon has a wholesale marketplace with over 100 million customers. Creoate is a wholesale marketplace that started in 2013 with suppliers from all parts of the world. Qalara have a wide range of responsibly-produced goods from South Asia and South East Asia. Bulletin allows brands and retailers to purchase products in bulk and sell them at their own prices, while still following the retail margins they need.
Some find that the online wholesale platforms are just a third party creating additional workload. Many prefer direct customer service and answers from a vendor. Those with strong wholesale operations, regardless of their size, will be able to service buyers sufficiently. It also benefits the vendor where they are not loosing money on commission to a third party. This often ends up meaning higher wholesale prices. For example, Faire takes 25-28% from the maker which some find "unfair".
On the other hand, you can look through many brands, all in one place, to find just the right products. In Faire's instance, retailers enjoy products which are automatically selected for them based on "machine learning" via their proprietary algorithm. You can shop from the comfort of their couch, sparing the exhaustion and expense typically associated with trade shows.
What have you found works best for your shop: gift markets, online wholesale markets or a combination of the twoQ
Which online wholesale marketplace do you like best and why?
<- CLICK TO COMMENT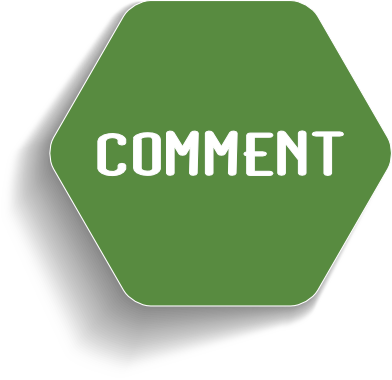 Do you buy through an online wholesale marketplace? Why or why not?

Leave a comment here or enter it at the bottom of the newsletter.

Thank you!
Connect. Share. Grow. ♡
---
FEBRUARY 2023 NEWSLETTER: ISSUE #639
Did you miss last month's articles, surveys, and discussions?
Three new must-have skills for retail buyers
Q. Source for quality jewelry spinners?
Victoria's Gift Shop online store
Q. Have you tried flower vending machines?
2023 holiday preview
Q. Restrictions on social media usage?
March action plan
New line discovered at Atlanta Gift Show: Punchkins
Gift Market Calendar
FLOWER VENDING
Have any hospital gift shops taken on a flower vending machine to capture floral sales after hours? I would love to hear recommendations for companies to work with and approximate costs. Thank you! – Meggen Heuss, UW Health, Madison, WI. 1/15/23
Hi Meggen! The article "Should vending machines be part of your retail strategy?" provides some pros and cons on vending for retail. It was written in 2019. We will leave your question up in hopes you get some feedback from fellow managers this month! – Cindy
---
EMPOROS POS
Q. I run The Orchard Gift Shop at Indiana University Health. They want to change our POS system to change to Emporo. We currently have Keystroke. Does anyone currently use Emporos POS? If so, what are your thoughts on it. I would appreciate any feedback. Thank you. – Jodi Tyrie, Indiana University Health Arnett Hospital, Lafayette, IN. 191 beds. 10/15/22
I would not recommend using a system like this. If you are going to the expense of bringing in a new system, I would definitely use a system that is better suited for retail with a good inventory management system. We are currently in the process of getting a new POS system with NCR/i3Verticals. Good luck! –Deb Kerr, Children's Mercy Hospital, Kansas City. 385 beds. 11/17/22
FROM CINDY
We are not familiar with Emporos. It has not been mentioned in our ongoing POS survey as a system in use. At first glance, it appears to be designed for pharmacies. I would question its ability to meet the unique needs of a gift shop. Keystroke is designed specifically for retail operations. Emporos does have two nice features: native payroll deduction and a mobile bedside delivery option. But, because it is optimized for pharmacies, the user interface might be confusing in a gift shop environment unless they adapt it.
♡ Connect. Share. Grow. ♡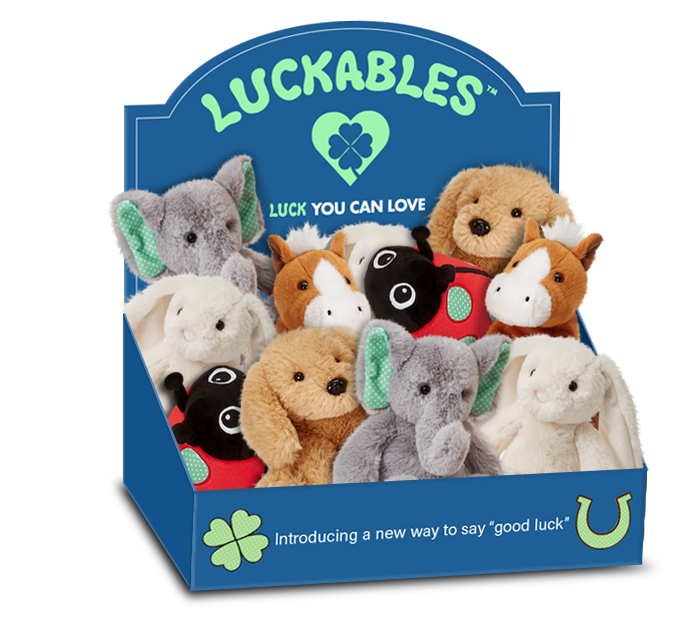 ---
SPONSOR
Whatever the reason may be, any hospital visit warrants a little bit of good luck. Luckables give the gift of luck and encouragement when it's needed most. Each Luckable represents an iconic lucky symbol, or animal, from around the world. Not to mention, they're irresistibly soft and are guaranteed to put a smile on anyone's face! Contact Heather at Heather@Luckables.com to place your order. 
---
Want to advertise? Click here.
© Cindy Jones Associates, 2022. COPYRIGHT PROTECTED. Redistribution, copying, reselling, re-renting, or republishing is STRICTLY PROHIBITED. Cindy's Newsletter may not to be forwarded, redistributed, reproduced, reprinted, or posted online without prior permission from Cindy Jones Associates. Subscribers may share one issue with a fellow manager. Thereafter, the manager may subscribe here to receive future issues.
https://www.cindyjonesassociates.com/wp-content/uploads/2019/11/shop_Lakeland-Regional-FL_2-e1575511866252.jpg
1134
1700
C Jones
https://www.cindyjonesassociates.com/wp-content/uploads/2021/05/CJA_coral_400x106.png
C Jones
2023-03-15 08:00:00
2023-07-28 14:09:52
Cindy's Newsletter for Gift Shop Managers | March 15, 2023 💮