Cindy's Newsletter for Gift Shop Managers | December 15, 2020 💮
CINDY'S NEWSLETTER
for
Gift Shop Managers
Cindy's Newsletter provides its readership of over 3,000 gift shop professionals "actionable content" to help optimize their shop operation, grow revenue, and connect with one another. LEAVE A COMMENT: Click the colored comment tags throughout the newsletter or email Cindy at cindy@cindyjonesassociates.com
---
DECEMBER 15, 2020
---
---
COVID-19 can't cancel the holidays!
COVID-19 is playing on shoppers' psyches as they weigh its impact on their health and finances. But as we've seen with previous periods of recession, as well as those of growth, consumers are resilient and will adjust their habits to adapt. So, have faith that the remainder of 2020 will be positive and look towards 2021 to be the best year ever!
To our loyal subscribers:
Today is a good day to say "thank you"…
Thank you for being one of our valued subscribers.
Thank you for telling others about my Newsletter.
Thank you for trusting me to deliver valuable content to you.
Thank you for all your wonderful comments and responses.
Thank you for clicking on the recommended links.
Thank you for being YOU!
Wishing you a most joyous 2021 full of abounding love, renewed connections, and moments that fill your soul!
– Cindy
---
SPONSOR
Quickcharge POS provides all of the point of sale features
you need in an easy-to-use solution with automated
payroll deduction capabilities, contactless payment,
and reliable customer support!

Transitioning from your current POS system
is fast, easy, and affordable.
800-348-5545
www.mmhayes.com/giftshopPOS
---
SURVEY: Where do you find best sellers?
Where do you go to discover the current best sellers and hottest products? Results from our ongoing survey indicate:
---
Q. With markets cancelled and travel limited due to COVID-19, how do you find best sellers and hot products?
<– Click to comment
---
---
Product Pick: Nodpod
For the exhausted doctors, nurses, and, frankly, just about anyone! Here's a product that recently came across our desk. Nodpods would be great to sell in hospital gift shops.
Nodpod's lay softly across your head to apply gentle, evenly distributed pressure for a comforting fit and soothing experience. The NodPod is like a hug for the head. One side features a cooling jersey cotton which can be placed in the freezer, the other a warm microfiber. The product is designed to lay freely over the eyes and can also be secured with a pull-through slit. It contours to the face for total light-blocking comfort. (nodpod.com)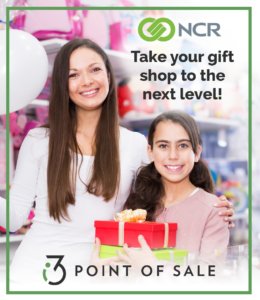 ---
SPONSOR
i3 Verticals – NCR Point of Sale Solution
A "Volunteer Friendly" NCR Point of Sale solution
for hospital gift shops. Easy to learn! Easy to use!
Payroll Deduction and Inventory Management available.
Take your gift shop to the next level!
Ask for a FREE copy of our "Hospital Gift Shops:
Tips for Success" booklet.
887-809-9980
www.i3pos.com
How two shops are driving sales through COVID
Gift Shop Magazine recently wrote about two hospital gift shops and how they are coping through COVID. These shops are using new and creative methods to "remain relevant to their customers" and adjusting their store operations to accommodate the new "normal". Kudos to the shop managers and volunteers!
St. Vincent's Hospital Gift Shop, Birmingham, AL
St. Vincent's Hospital Gift Shop, located in Birmingham, Alabama is part of Ascension Health and never stopped selling to its customers during the pandemic. Instead it found creative ways to continue to provide what its customers needed. Lee Patterson, retail services manager for St. Vincent's Hospital Gift Shop, shared how adaptations to operations allowed it to continue with business, albeit in a different way. "Even though we closed completely — only for a few short weeks — our hospital remains closed to visitors. As a result, our current sales volume is one-third of our expected sales volume," noted Patterson.
Since the hospital is closed to visitors, the staff found ways to communicate and merchandise. "We utilize posters around the hospital and send 'everyone' emails that reach our entire staff," Patterson said. "Emails are successful and have been, even before all this. We cannot use social media to advertise the gift shop."
"Since most hospital gift shops give all, or most, of their proceeds back to the hospital — and have no overhead — it is expected that our mark-ups are usually not on par with a competitor. It is our hospital's opinion that if we advertise and uncut our competitors pricing, and there was a complaint, we could jeopardize our tax-free status," Patterson explained.
Overall COVID-19 has impacted St. Vincent's Gift Shop's business in several ways. "We have to limit the number of customers in the shop at any given time. We maintain social distancing, must wear masks (hospital mandate) and use plexi-screens at the registers," Patterson said. "We allow clothing to be tried on in store, but are not allowing any clothing returns at this time."
When the retail shop was closed, it still offered purchases through email and by phone with a credit card. "We bagged and placed items for pick up outside our door for 'touchless' delivery. In delivering to a patient in the hospital we now only deliver to the nurses station, and do not deliver to any restricted areas," shared Patterson. The store was rearranged — some fixtures were removed as well as displays — to accommodate social distancing guidelines. "We have already begun discussions about limiting the amount of Christmas merchandising, trees and displays to maintain hospital guidelines," described Patterson.
For inventory control, Patterson has relied on current sales volume stats as a guide for purchasing and has adjusted to handle the new "normal." She has learned that things can change on a daily basis.
So, what is the biggest challenge St. Vincent's Gift Shop has faced during the pandemic? "Trying to remain relevant to our customers. Hospitals are not in the top places to shop right now!," emphasized Patterson.
Although the brick-and-mortar store is "different" in this new retail climate, it still has its best-sellers. According to Patterson, there are three categories — ladies ready-to-wear department, baby boutique, food and beverages — that top the list in terms of volume. Its best vendors are Mud Pie, EASEL, Burton + Burton, Kellis and DM Merchandising. "Take one day at a time. Be glad that you are healthy. We are thankful everyday that we work for an organization that cares about our well-being and that is able to sustain our jobs," Patterson advised.
SOURCE: "Ascension St. Vincent's Hospital Gift Shop" by Debbie Eisele, Gift Shop Magazine
HSHS St. Vincent Gift Shop, Green Bay, WI
Mary Ann Brunett, manager, volunteer services, HSHS St. Vincent Gift Shop in Green Bay, Wisconsin, discussed how the pandemic has affected its retail business and how it has handled operating in such challenging times. Brunett shared that as of the writing of this article, the store has been closed to shoppers since March 15 due to the COVID-19 pandemic. Since the onset of the virus and closures, the gift store has been unable to operate. "We are waiting for approval to open, even if on a limited basis to colleagues only," Brunett said.
According to Brunett, communication with shoppers via social media, emails, or other forms of marketing has been nonexistent since the closure of the retail environment. Although the store had been closed to visitors, the staff was not idle. "We have done inventory, purged expired items and cleaned," shared Brunett. She also shared that all buying activity occurred in January and as of the publishing of this article, the store had not yet restocked.
Brunett noted some of the other HSHS hospital gift shops opened for business in late August for takeout services for colleagues and volunteers only. Retail locations allow staff and volunteers to order with a payroll deduction or credit card, via phone or email, then purchases can be picked up.
"We are giving 35% off until Dec. 30, 2020 at all three shops," she said. "We also created a catalog of clothing and purses.
We got the idea from the Purchasing Power Plus group newsletter — they featured a hospital in Pennsylvania.""We gave all our candy bars, soda and chips to the colleagues as a thank you and with an announcement of the takeout concept," Brunett elaborated. When asked what the biggest challenge the store faced in the current retail climate, Brunett said: "We have not gotten permission to open due to the risk of spreading the virus."
Brunett advised: "Prepare as much as you can while you are not open, look at online sales. You also need to work with Infection Prevention and Administration and take cues from them."
SOURCE: "HSHS St. Vincent Gift Shop" by Debbie Eisele, Gift Shop Magazine
---
---
Q. How do multi-site shops coordinate purchasing, deliveries, and accounting?
I want to say thank you for all the effort you put into the newsletter. It's been a huge resource for my department. I have a question for other shop managers:
For hospital systems that have more than one gift shop location, how do you coordinate ordering, delivery, and accounting for all locations? How is the department itself set up? Are all of the financials separated? – Shea Parazine, Volunteer Services Specialist, White County Medical Center, Searcy, AR. 193 beds
<– Click to comment
---
---
Virtual Tradeshows and Online Showrooms
NY NOW Digital Market
October 3 – December 31, 2020
NY NOW Digital Market was developed to enable brands and retailers to pivot from the in-person event to a digital environment while ensuring a premium, interactive user experience. Retailers can expect enhanced search capabilities across product categories, communities, and trends; best-in-class digital functionality including video calls and appointment setting; and a machine learning layer that curates personalized brand recommendations specific to their buying needs. FREE
Specialty Food LIVE!
January 19 – 22, 2021
Access new and trending specialty food products as well as best-sellers. Buyers are welcome to come for one, two, three, or all four days. The virtual event will include Virtual Product Tasting Experience sessions, on-demand chat, videoconferencing, and fun virtual networking events. FREE
IMC Virtual Market Center
Features ShopZio, an online B2B marketplace that enables buyers and sellers to connect during this time of unprecedented business disruption. Catalog Connexion offers over 550 catalogs from High Point resources to search, browse, contact vendors and now select brands are shoppable. Product Search and Discovery provides access thousands of furniture and home décor products through our exclusive line-up of digital search and discovery tool.
MELROSE 360˙ Showroom
Shop by collections, walk the entire showroom, make wish lists, and even place an order.
Sullivans Virtual Market
Sullivans, a designer and marketer of home décor products, permanent botanicals, and giftware, revealed a new way to shop this market season through its new virtual marketplace. Sullivans is excited to present its showroom, virtually. It features seven new themes and over 750 new spring and everyday products, including on-trend containers, wall décor, textiles, florals and botanicals, and more.
---
💮
CALENDAR

💮

GIFT MARKETS
Updated Dec 15. Always double-check show dates for changes.
Jan 6-12, 2021
Dallas Total Home & Gift Market (Winter) 🔗
Jan 11-15 and 18-22, 2021
LA Mart (Winter). Los Angeles 🔗 **by appointment only
Jan 12-15, 2021
Dallas Apparel & Accessories Market 🔗
Jan 12-19, 2021
Atlanta Market (Winter) 🔗
Jan 19-22, 2021
Denver Apparel & Accessory Market 🔗
VIRTUAL SHOW
Feb 4-12, 2021
NY NOW Digital Winter Market🔗
Feb 2-6, 2021
Atlanta Apparel Market 🔗
CANCELLED
Feb 7-10, 2021
NY NOW (Winter), New York 🔗
Feb 18-21, 2021
TransWorld's Jewelry, Fashion & Acces Show (Winter), Rosemont, IL 🔗
Feb 26-28, 2021
Denver Apparel & Accessory Market 🔗
Mar 3-5, 2021
Atlanta Spring Mini Market 🔗
Mar 23-26, 2021
Dallas Apparel & Acces Market + Total Home & Gift Market 🔗
Apr 11-13, 2021
Denver Apparel & Accessory Market 🔗
RESCHEDULED for
Apr 11-15, 2021
Las Vegas Market (Winter) 🔗
Jan 24-28, 2021
May 3-6, 2021
Atlanta Spring Cash & Carry 🔗
RESCHEDULED for
Jun 5-9, 2021
High Point Spring Market 🔗
Apr 17-20, 2021
Jun 6-7, 2021
Denver Apparel & Accessory Market 🔗
Jun 9–12, 2021
June Atlanta Apparel 🔗
Jul 13-19, 2021
Atlanta Market (Summer) 🔗
Aug 7–10, 2021
International Home + Housewares Show Chicago IL 🔗
Aug 8-11, 2021
NY NOW Market (Summer) Jacob Javits Center, NY 🔗
RESCHEDULED for
Aug 22-26, 2021
Las Vegas Market (Summer) 🔗
Jul 25-29, 2021
Visit Gift Shop Mag Trade Show Calendar or Smart Retailer TradeShow Calendar for smaller local/regional shows.
---
How to conduct a physical inventory
Hospital gift shops are required by tax and, often, accounting rules to provide an accurate on-hand value of the merchandise in its shop. Although the shop may be using a perpetual inventory system or other software to keep track of all items, it may still be required to physically count all inventory.
Here are the basics on how to conduct a physical inventory with as little disruption, and as much accuracy, as possible.
Replenish shelves with merchandise from the stockroom. Try to clear as much inventory from the backroom as possible. Be sure there is no merchandise under cash wraps, in the office, or any other location. If an inventory service has been hired to do the physical inventory, follow the guide they provide and prepare the shop according to their instructions. If the physical inventory is being conducted by shop employees, meet with staff to explain the inventory counting process.
Assign each employee a location and provide a pre-numbered inventory Counting Worksheet (available in How to Conduct a Physical Inventory). Those conducting the inventory should count each item on their sheet and only record the exact quantities.
When the physical inventory count is completed, compare the physical count to the perpetual inventory record. Discrepancies should be further investigated and resolved. A recount may be required by a different counting team for any major discrepancy.
At the end of the inventory process, adjust the perpetual inventory record for each line item to reflect the quantity and value of the physical inventory.
Get these steps in complete detail and the extended guide on How to Conduct a Physical Inventory. Includes inventory preparation checklist, worksheet templates, Per Category and Total Shop Inventory calculations, formulas for Cost of Goods Sold, best-practices, and more.
---
SPONSOR
snoozies!® Face Coverings
snoozies!® three-layer cloth washable face coverings, are selling at a rapid clip in hospital stores around the country!
– Includes four filters
– Adult and children sizes/patterns
– Washable and reusable
– Comes with replacement filters
– Adjustable elastic ear-loop bands
– Flexible metal bridge for snug fit
– Over 20 print and solid designs
View our Face Covering Catalog or at snoozies.com!
252-650-7000
www.snoozies.com
---
December to January Checklist
✂ Mark Down
December 19: Mark down slow-moving items.
December 28: The last week of December, put all holiday merchandise on sale at 40% off. A Hallmark study found that customers did not purchase differently whether the discount is 40 or 50% off for post-holiday sales. So, just do 40% off for the first week after Christmas, and then go down from there. Make judgment calls on certain lines whether or not to discount further after the first week.
📝 Plan
Create a 2021 Buying and Planning calendar. Know where you're going. Know when to buy. Ensure that the shop's physical inventory process is organized and in place for the beginning of the fiscal year.

Confirm plans to attend a major Winter gift market, if possible. ✈️

Keep a "Brainstorm Book" at the checkout counter so cashiers can jot down customer's requests. Invite everyone to write down their ideas on how to revamp displays or other suggests they thought of while they were working their shift.
Sell! Sell! Sell! If all your preparatory work was done in advance – nothing should stop you from being on the floor helping customers and selling merchandise. Stock and restock!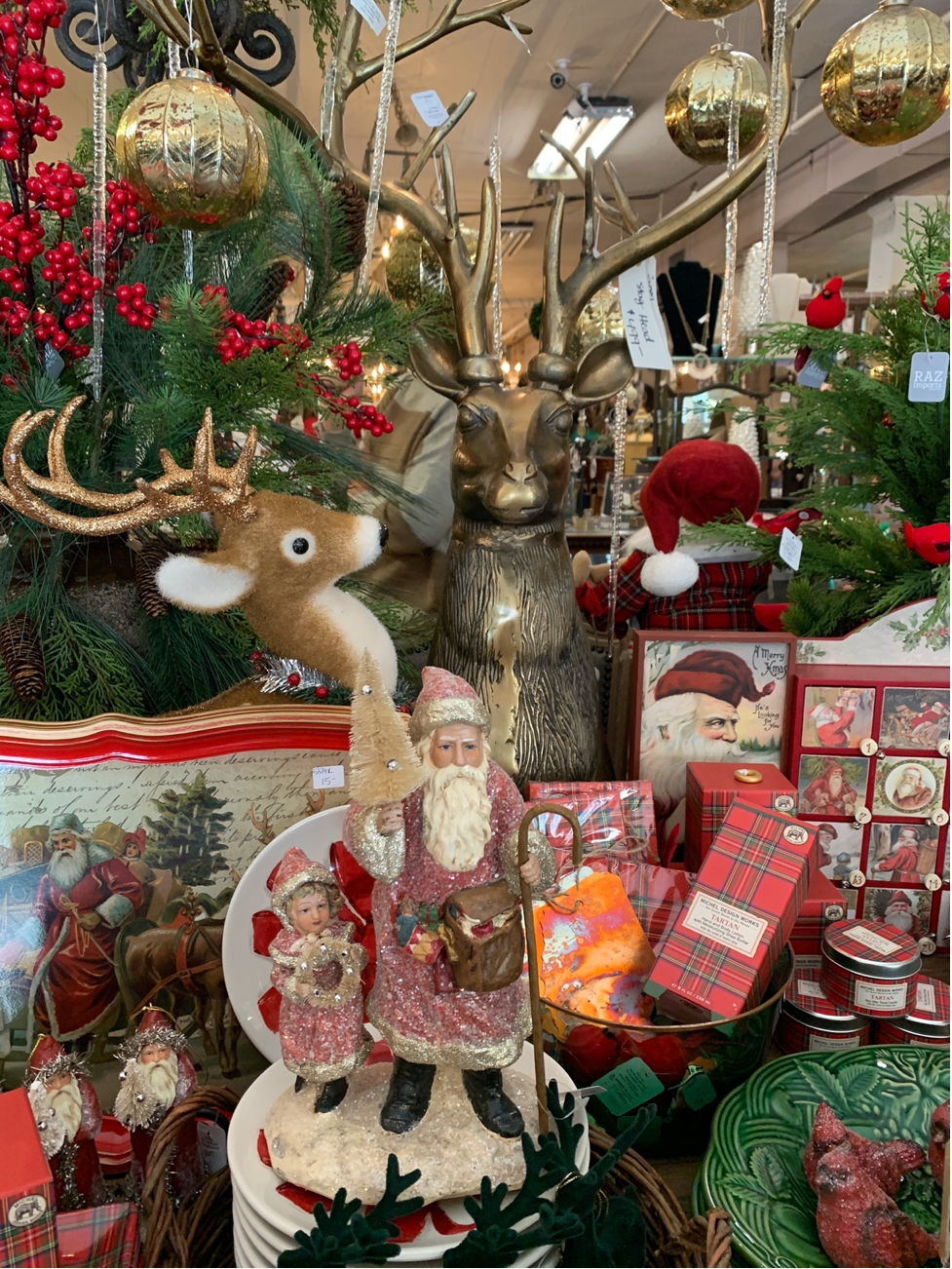 Schedule additional staffing to work 10am-2pm to handle the increased business during the last busy weeks before the holidays.
When you first arrive in the morning, do a daily "walk-about." Visually scan each display. Remove tired or worn products. Which items need to be restocked, reordered or re-merchandised? Are your product faces turned forward? What products need signage? Take notes when necessary.
Promote gift certificates as the perfect co-worker gift. Submit a reminder to the hospital's weekly e-blast, or newsletter. Train cashiers to suggest them to hospital
employees.
Check bags, boxes, and wrapping supplies. You may need to reorder after the holiday rush.
Give lots of 'pats on the back', words of thanks, and gestures of gratitude to all paid and volunteer staff. Give them a 20-30% discount on shop merchandise for their own personal purchase. This won't hurt your bottom line in the least. On the contrary, since they wear, use, and gift just about everything in the shop, they are walking billboards for the merchandise. Staff/volunteer discounts are also an excellent recruiting tool.
Pack leftovers away or donate. Try not to hold over any product. If it didn't sell this year, chances are it won't sell next year. However, you might hold over items that sold well but perhaps you were a little too optimistic in your ordering. Clean and reorganize stockroom while inventory is down.
TAKE INVENTORY! If your fiscal year ends in December, take physical inventory now. Use the step-by-step guide How to Conduct a Physical Inventory 🔗.
Buy
Buy Spring merchandise that focuses on garden, pick-up gifts, and collectibles. Think color!
Buy remaining Easter and Mother's Day merchandise. 🐰
Order gift items for upcoming Mother's Day, Administrative Professionals Day, and Nurses' Day.
Make sure to reorder fast-selling merchandise BEFORE you run out.
🧸 Display
Promote picture frames for family holiday photos.
Give your customers a wonderful feeling with fresh spring merchandise and displays. Brighten up your shop with flowers and plants. Fresh products will get customers into your shop. Sentiment and cheer sells! 🌼 🌿 🌸
Place calendars and date books in the cash register area for quick sales. 📆
Begin displaying Valentine cards and merchandise in early January so hospital employees can be thinking about their purchases. Valentine's Day is the shortest major gift-selling season of the year. The majority of purchases occur one to three days before the holiday itself. For some gift shop managers, it can be a nightmare. For those that do it right, it's worth every effort. 💘
📝 Plan
FIFTH FRIDAY $5 OFF SALE: Mark the months with five Fridays and hold a "FIFTH FRIDAY $5 OFF SALE". Qualify it by taking $5 off any purchase totaling $25 or more. That way you are only giving a 20% discount at the most, but usually it is less than 20% off because they often spend more than the $25. It is also a good incentive to add on to a sale that might only be $20 initially. It helps to have a '$ off' button setup on your POS register which pro- rates the discount off each item purchased. If a customer returns just one item, the sale price is listed by item on the receipt. Be sure to advertise this event with emails to all hospital employees. 🎉
Get more sale ideas like the DOCTOR'S DAY SALE, 20% OFF GREEN, and the GET KISSED EVENT in the 12 Month Action Plan for Gift Shop Managers 🔗
Upcoming 2021 HOLIDAYS
JANUARY
New Year's Day [1st]
Martin Luther King Day [3rd Monday]
FEBRUARY
Groundhog Day [2nd]
Super Bowl Sunday
Valentine's Day [14th]
President's Day [3rd Monday]
Black History Month
MARCH
St. Patrick's Day [17th]
Doctor's Day [30th]
APRIL
April Fool's Day [1st]
Easter Sunday [varies]
Tax Day [15th]
Admin Professionals Day [4th Wednesday]
Earth Day [22nd]
MAY
Graduation Season
Cinco de Mayo [5th]
Nurses Day [6th]
Kentucky Derby [1st Sat]
Mother's Day [2nd Sunday]
Senior Citizens' Day [19th]
Memorial Day [last Monday]
Say a special thank you to all workers in your gift shop. Serve honey buns with coffee under a sign reading "Thanks for working your buns off!"
Rearrange and freshen up your inventory. Mix new merchandise with old to spruce it up. This has to be done carefully so as not to devalue your new merchandise.
Review your Valentine orders to ensure timely deliveries.
If you haven't developed a yearlong budget for the shop, the time is now! Project expected sales for each month. Estimate your shop's operating costs for each month. 💲
Prepare a 2020 Merchandise Report to document your successes and failures throughout the year. Record what was packed away to sell the following year. Know what sold well and what did not to avoid repeating the same mistakes. This information will be important when buying for next year's holiday season.
2020 Resolution: Keep the register counter free of clutter throughout the year.
Vow to make cashier training and retraining a priority. There is only one thing worse than training your volunteers and having them leave: not training them and having them stay.
Keep volunteers and staff aware of each month's sales goals and new products.
Non-seasonal sales can be tricky because you don't want to train customers to wait for monthly sales. First, identify slow sellers on a quarterly basis and move them out as necessary. Better yet, create a permanent clearance corner and add products as you see fit to move them out.
---
NOVEMBER 2020 NEWSLETTER: ISSUE #611
Check out last month's articles, surveys, and discussions.
What I learned as a gift shop manager
Q. Can paid staff also volunteer?
Survey Results: Do you have an online store?
Q. What vendors offer baby apparel that sells well?
'Open The Joy' gifts for pediatric patients
Replace volunteers with employed staff
December Action Plan
Diffuse the combustible customer
Sometimes, even gift shops hire dishonest people
Q. Holiday gourmet food line?
Job Description: Gift Shop Manager [Download]
Virtual tradeshows and online showrooms
Calendar: Gift Markets and Regional Conferences
---
BABY APPAREL VENDOR
Q. I manage a gift shop in a 99-bed facility and we deliver babies. What vendors offer baby apparel that sells well? Thank you – Patty Cummings, Inventory Procurement Specialist, Fisher-Titus Medical Center, Norwalk, OH. 9/28/20
Mudpie and Gund sells for us. – Ali McCrary, 11/3/20
Halo is a must and Swinging on a Star has great big brother and sister items. – Christine Parker, Kent Hospital, Warwick, RI. 359 beds. 10/22/20
We do really well with Mud Pie baby. – Mary Hays, Baylor Scott & White Medical Center, Round Rock, TX. 167 beds. 10/19/20
We have Magnetic Me sleepers, Halo swaddle/sleep sacks, Mason Chic and Bunnies By the Bay. Magnetic Me is our best seller. – Barb Shafer, 10/17/20
BabyVision has a great line of inexpensive clothing including preemie items, newborn gift sets, infant headbands, socks, etc. Kellis Gifts can be a nice resource if you need only a handful items. – Lynne T. 10/16/20
I've sold thousands of fun leggings from Doodle Pants, and Pea pod hats by Margareta Horn Design, and drop ship monogram towels/blankets from Monograms of Distinction, musical toys from Cuddle Barn, soft toys from Unipak Designs – Elaine Boaman. 10/16/20
Mudpie is our best brand for baby clothing sales. We also order from a small company we found in cash and carry at the Atlanta Market called Cozy Cottage Boutique. – Shea Parazine 10/16/20
---
REPLACING VOLUNTEERS WITH PAID STAFF
Q. We have a decreasing auxiliary membership, as well as an aging one. Besides COVID, it is becoming more and more difficult to keep our hospital gift shop hours attended by volunteers. We are toying with the idea of hiring a paid employee to work the shifts that aren't covered by an auxiliary member and to do tasks that our elderly volunteers cannot. Any experience – Teri Nixon, Manager, Los Alamos Medical Center, Los Alamos, NM. 50 beds 10/14/20
Teri, here at our hospital we have both volunteers and paid staff. Volunteers are clearly more profitable to the gift shops and paid staff fill in the rest of the shifts. Our hospital has been in locked down to the public since July unless they have appointments. Unfortunately gift shops in hospitals have been effected financially since COVID-19. We have called our volunteers back that feel comfortable volunteering in the gift shop and fill the rest of the shifts with paid staff. We have also cut back our hours to be opened during the day and closed evenings and weekends. For example Monday 9am-1pm and Tuesday-Friday 9am-4pm. -Louisa Gosgnach, Thunder Bay Regional Health Sciences Centre, Thunder Bay ON. 11/20/20
Because of COVID, our volunteers are not back yet, so I have an assistant that works in the Gift Shop and I cover her lunch and breaks. There's just two of us to keep up with the shop, pricing, etc. I know that it's getting harder to recruit volunteers, especially in a hospital setting, but I would keep trying to recruit them! Volunteer recruitment might look different than it used to. For example, are you trying every avenue to recruit? Word of mouth, radio, facebook, instagram, etc.? Are you targeting all ages of volunteers? The typical retiree, but what about the college aged students that need hours for class, the stay-at-home mom that needs a break? I would keep trying before you go that route and make that your last resort! – Ali McCrary, Volunteer Services, Gift Shop and Auxiliary Manager at Good Samaritan Hospital in Vincennes, IN. 11/20/20
The good news: paid management offers a continuity of service to customers by keeping the shop open during posted shop hours. The not so good news: salaries cut into your shop's profit. This is a tough decision. We'd love to hear from volunteer managers who have the same issue. – Cindy, Editor
---
CAN PAID STAFF ALSO VOLUNTEER
Q. I understand the rule that a volunteer can't be paid for the same job that they are volunteering for. You can have separate paid staff and volunteers work together though. It's done in many hospital gift shops. But, where you can run into a problem is if a paid staff member is asked to volunteer their time doing the same duties that they are normally paid for. Is that correct? – A gift shop manager 10/12/20
FROM CINDY: OSHA does not regulate the use of volunteers, however, FLSA laws do. FLSA regulations state that a paid employee cannot volunteer (or be required to volunteer) for the same organization to do the same job in which he/she is paid to do. This means that your paid employee cashier who works three days a week cannot be expected to work a fourth day without compensation and be called a "volunteer" on that day. People who volunteer their services for charitable or civic causes without expectation of compensation can do the same job as a paid employee and they can work together in the workspace as paid employees. This rule applies for non-profit organizations. For-profit organizations cannot use volunteers. For-profit organizations can develop internships that are time-delineated and have specific learning outcomes and sometimes a modest monetary compensation associated with them (such as, work-study students). Shop managers can meet with the hospital volunteer resources manager to help clarify the engagement of volunteers from their legal department.
---
NET PROFIT MARGIN
Q. I recall that in one of your Newsletters you gave a "net profit benchmark" figure for hospital gift shops. It was like a 30% or 35% profit margin. Is that still accurate? Thanks! – Shop Manager, Volunteer Manager, Tulsa, OK. 11/3/20
FROM CINDY: Maintaining a good profit margin is the key to success. A shop may have very high sales, but if their net profit is low, something is eating up the profits along the way. It could be: high salary expenses, high cost of goods, or high operating costs and markdowns. A good manager must keep these factors in control.
An all-volunteer operated shop should achieve at least a 25% of gross sales net profit margin.
The net profit margin percent should be higher in an all-volunteer operated shop than in a shop with a paid manager due to salary expenses. A shop with a paid manager should realize at least a 20% of the gross sales net profit margin.
---
HOW IS THE SHUTDOWN AFFECTING YOUR GIFT SHOP?
October was a very slow month, being open 10 to 3 Tuesday, Wednesday, and Thursday. I even canceled Saturday as 4 to 5 customers in a five hour frame was not worth it. A lot of merchandise was being received also, a lot of back orders, especially masks, so many. The employees get a 20% discount. The masks I've been selling at 30%.
For November on Election day and Veterans day, I had sale 30% off all regular price items. Our sales were very good. Slowly putting out Christmas items. This will help our sales. December, many of the volunteers that were out due to COVID are coming back. We'll be open everyday except Sunday and I'll have sales throughout the month for the employees and volunteers. Also longer hours, broken up by half day shifts.
I will have my volunteer coordinator put out an employee wide email of specials, sales, featured items, etc. – Grace Hutchinson, Piedmont Medical Center, Rock Hill, SC. 150 beds. 11/16/20
We finally opened this week for the first time in 6 months. Our hours are 3 times a week for four hours a day. Needless to say the staff is so excited. Concerns are how long we will stay open at this point. Covid numbers are skyrocketing. Not sure I will carry fall or Christmas items at this point. – Elizabeth Stringham, Volunteer Manager for Gift Shop, ThedaCare Regional Medical Center, Appleton, WI 10/6/20
Elizabeth, where are you located? Bravo for that glimmer of hope for your staff to be open just a short period of time. It is important for the hospital to see your "value" to the hospital as people start to come in and pick up necessities. As you know the hospital staff look to you for something different to look at other than masks and soda and candy. There are cute necklaces out there that clip on to masks so that you can avoid losing your mask and it looks like jewelry hanging around your neck. Unusual and fun items even in really small quantities lets people know that you are still an important part of the hospital and you are open! Just one small table display at the entrance that makes your "guests" smile…is worth the minor investment. Everyone is watching the seasons go so that we can move on into a new year!! – Anne Obarski, Merchandise Concepts, Mount Pleasant, MI. 10/9/20
We reopened the week that all retail establishments were permitted to open. It's been going pretty well and the employees are so thankful that they can come in and shop. During the shutdown we were only selling via emails and phone calls. Patients are only permitted one visitor per day so we definitely are loosing there but our screeners will permit the public to come into the hospital to shop at our store so that's a definite plus. Still only open limited hours. Mon–Thu 9-4 and Fri 9-2. No weekends. Snoozies masks have been our BIGGEST seller! Yes, they are more expensive but, after the employees tried them, they realized how comfortable they were. I sell them for $14.99 and get a second 25% off. We are a small community hospital too so we're not selling to the rich and famous A much less expensive alternative is Wine Onion I've always bought jewelry from them but now you can get masks for less than $3 each and they're selling really well at $6.99. And always, DM Merchandising has excellent prices! Their Comfort Care masks are $2.90 cost and sell for $6.99. I've reordered so many times. -Jenny Turner, UH Portage Medical Center, Ravenna, OH 10/7/20
Hi Jenny! I'm a grad of KSU and was tickled to see your hospital turn up here. I am happy you are offering a few different price points for your masks. What is even more interesting are your comments about Snoozies! It is important to take away from your comments that even though you may think the price point is high, the "value" your customer receives out weighs the retail price. I am sure you have a group of cheerleaders at your hospital who tell everyone that comfort is worth it. I know we all can agree when it comes to masks, comfort and quality say it all. – Anne Obarski, Merchandise Concepts, Mount Pleasant, MI. 10/9/20
25% of the HGS in California are open for business in several modes of operation.Almost all of the HGS based on my research are also open with their county health and hospital restrictions. – Lilly Stamets 10/12/20
We are open to limited hours. Monday thru Friday, 10am to 4pm, closed Saturday and Sunday. The week of our employee holiday event, November 16th, we will be re open on Saturday's from 10am to 2pm for our weekend employees and guests. This will continue through the holidays and hopefully, into 2021. Thank you. -Kim DeBord, Riverside Medical, Kankakee, IL, 336 beds 10/6/20
We have opened up this week with limited hours. We do not plan to place any orders for the balance of 2020. – Barbara Reynolds, Roseville, CA 10/6/20
We are still closed… -Pinecone Gift Shop 10/2/20
---
---
https://www.cindyjonesassociates.com/wp-content/uploads/2020/12/shop_-Tisch-Hospital-New-York-NY_2.jpeg
540
960
C Jones
https://www.cindyjonesassociates.com/wp-content/uploads/2021/05/CJA_coral_400x106.png
C Jones
2020-12-15 00:00:55
2021-01-14 18:32:59
Cindy's Newsletter for Gift Shop Managers | December 15, 2020 💮