CINDY'S NEWSLETTER
for
Gift Shop Managers
Cindy's Newsletter for Gift Shop Managers delivers practical, ready-to-implement content to gift shop managers, retailers, and volunteers across the country. We help our readership of over 3,000 retailers optimize shop operations, grow revenue, and connect with one another. The newsletter is published monthly and free since 2001.
Have you paid your dues this quarter?
The value and richness of this newsletter comes from your participation. Do your part by submitting two comments per quarter, at minimum. Reply to reader's questions listed throughout the newsletter (in green) or simply share what is working or isn't working in your shop, a great selling product, a helpful website or resource, an operating question, your biggest challenge right now, a terrific vendor you've come across recently, tips on managing volunteers, or tips on managing yourself!
LEAVE A COMMENT! Click the green comment tags

throughout the newsletter, enter it in the comment section, or send to cindy@cindyjonesassociates.com.
---
OCTOBER 15, 2021
---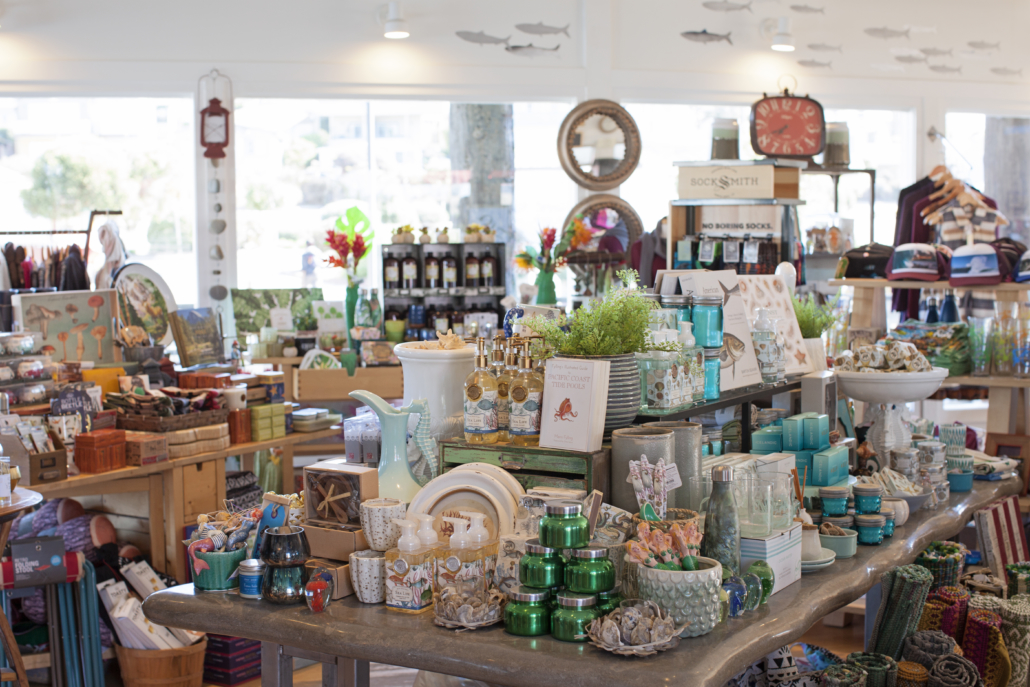 ---
How to create animated product videos + free template
In this guide, we'll show you a simple way (yes, simple) to create a social media post similar to this one by Sprout Gift Co. Using our free template, you'll simply drag-n-drop your own merchandise image into the animation, instead of starting from scratch!
There is a common expression in marketing: "You can't buy a product that you don't know exists". It makes a brutally logical, straightforward case for marketing. So, if you aren't regularly promoting your shop's merchandise over social media, email, or website, we encourage you to start now. Even more since the ability to create eye-catching, professional content is incredibly easy with Canva, no design skills required. Yes, it's actually that powerful! This stop-motion style animation makes for a great social media post.
Thank you to Sprout Gift Shop at Jim Pattison Hospital who created this post for their Twelve Days of Christmas sale (see template signage below). It was the inspiration for this tutorial. View the post directly in Facebook.
Canva's intuitive interface, template selection, and built-in features make it easy for the average user to create social media posts, flyers, posters, coupons, gift certificates, basic photo edits, invoices, product tags, and more. They have free templates for all of these!
We mentioned Canva in our recent four-part series on how to Create an Online Store. The entire platform is web-based and the free version has plenty of pre-formatted templates for creating quick and easy social media posts on Facebook, Instagram, Twitter and more. You can even publish your designs directly to these platforms from within Canva, or download them for use on your shop's website or promo emails. Canva also offers an array of simple animation options, out-of-the-box.
We've also included a second template to get you off and running!
---
In this example, we're going to be replacing Deglingos' Rototos Panda with their Kezakos Weekend Bag. We downloaded these images directly from the Deglingos website by right clicking on the image and selecting Save Image As.
Continue with the steps below using an image of your shop's merchandise.
Create an account at canva.com if you don't have one already. Select the Pro plan for the full set of animations and features. You can downgrade at any time.
Go to Home > All your folders > Uploads. Then click the grey Upload button (top right of screen) and upload the image of the product you want to animate. Always use professional images. Learn how to

photograph merchandise

correctly, get them from the vendor, or download from their website. Images require a transparent background for this design. You can use the Background Remover tool in Canva (requires Canva Pro).
Next, get the template design. Click the link below or cut-and-paste into a separate browser window.
Product Animation #1
https://tinyurl.com/drywydk3
Click Use Template at the bottom. The design will open in Canva's editor window. (Be sure you are still logged in or you'll just get a preview.)
The design is automatically given the default name Copy of Product Animation #1. You will need to rename it with something describing your product. In this example, we use'd Deglingos Weekend Bag – Animation. Click in the title box above the editor to rename it. Note, changes are automatically saved as you work in Canva.
Select Uploads along the left of screen to view the product images you uploaded in Step #2.
Next, click your product image and drag it directly over the template image. It will snap into place when you unclick. Scroll down to the next slide (Page 2). Repeat by dragging your product image over the current image. It will snap in place with the same tilt applied. Repeat on the remaining slides (Page 1 – 9). Leave the last one, Page 10, blank. Click the play icon ▶️ to preview your design. It is 3.5 seconds long, perfect for social media posts.
Your short product animation is now ready to post using the Publish to Facebook button. To publish on Instagram, Twitter, or other platforms click the ••• button on the top corner of the toolbar above the editor and select a platform. Alternatively, to download the design click See all > Download > GIF and save it on your device. Then add it to your website, marketing emails, or blog.
Duplicate and use with other merchandise
Create a copy of the design to use for other merchandise. Go to Home > All your designs. Hover your mouse over the design you want to duplicate. Click the ••• button that appears. Select Make a copy and rename it (e.g., BeeLine Jewelry Ring – Animation). Repeat the steps above to add the new product image.
🎯 TIP Create shortcuts to your "Uploads" folder for easy navigation. Canva's navigation isn't that great. Go to Home > All your folders > Uploads. This is where your uploaded images are stored. Click the star ✩ near the word Uploads, just above the images. It will turn yellow ⭐️ . A shortcut to your images will appear at bottom left.
TEMPLATE #2
Here is an additional design to use with a group of products. Edit the text and replace the images to customize it as you like for your shop.
Click on the link or cut-and-paste into a separate browser window. Remember, you must be logged into Canva for it to open in the editor. Continue from step #4 above.
Product Animation #2
https://tinyurl.com/fjzd4ms2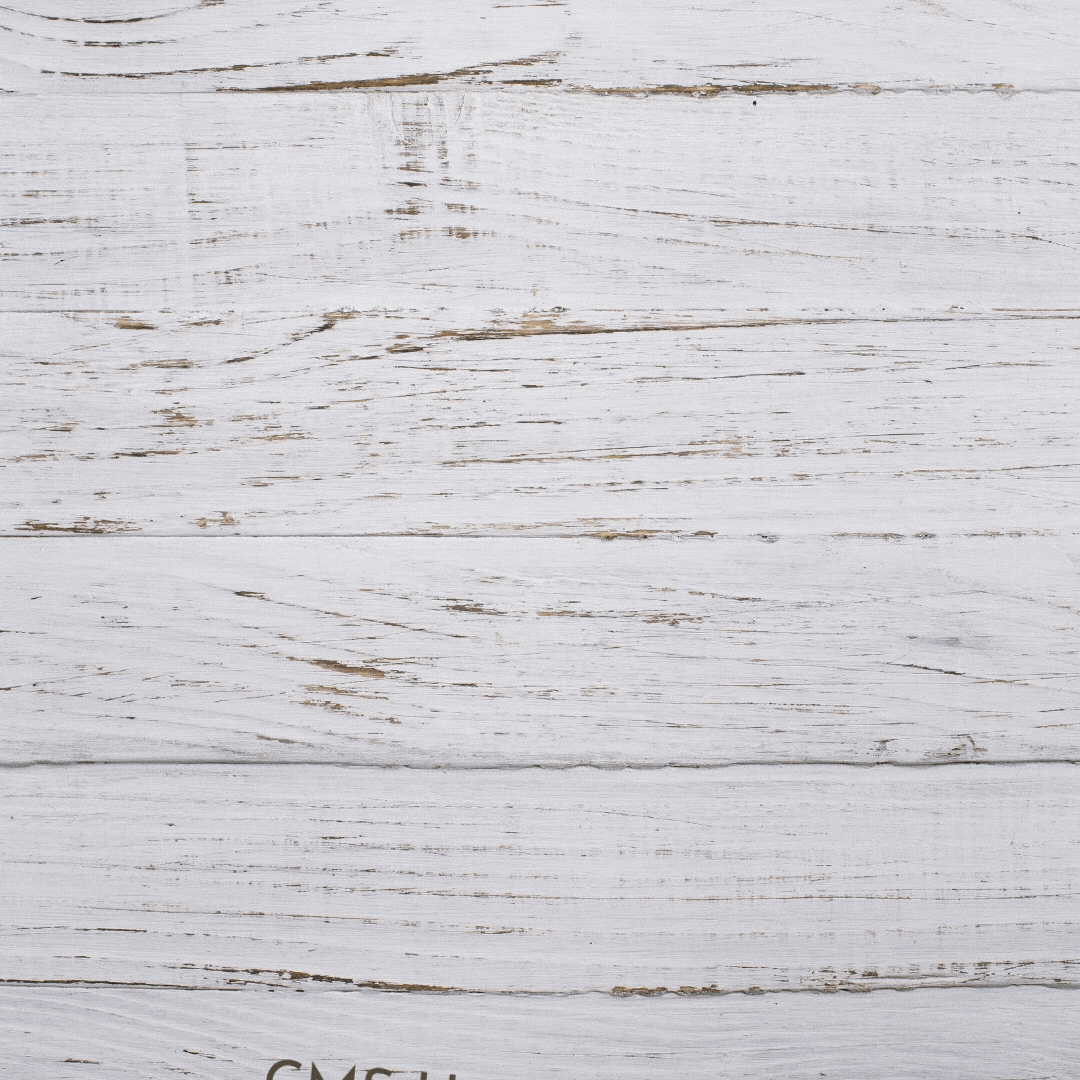 FAQ
Where are the images I uploaded? Go to Home > Folders > Uploads
Where are my designs? Go to Home > All your designs
I'm in the edit screen, where are the images I uploaded? Click on Uploads on the far left of screen.
How do I replace an image in my design? Go to Uploads. Then, click and drag the new image over the one you want to replace. Unclick and it will snap into place. Note, if you drag the image over anywhere else in the design it will snap into place there.
I made a mistake! How do I undo it?! Click the undo icon ⟲ in the toolbar at top. Click repeatedly to go back more than one step.
Leave your questions or comments on product animations, Canva, or social media marketing.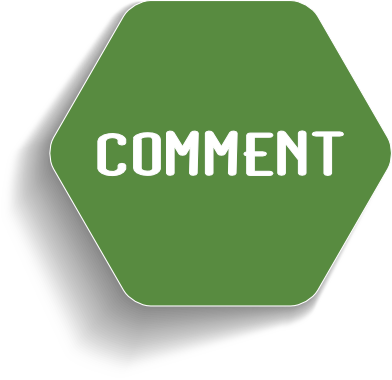 How did it go? Do you have questions or got stuck? Let us know where you need help and we'll answer here!

Share your designs! Provide the link to your animation.
---
UPCOMING HOLIDAYS
October
Oct 10 – Handbag Day
Oct 11 – Columbus Day
Sep 15 – Yom Kippur
Oct 16 – Boss's Day
Oct 16 – Sweetest Day
Oct 31 – Halloween
November
Nov 11 – Veterans Day
Nov 25 – Thanksgiving
Nov 26 – Black Friday
Nov 28 – Hanukkah Begins
Nov 29 – Cyber Monday
December
Dec 4 – National Sock Day
Dec 6 – Hanukkah Ends
Dec 25 – Christmas
Dec 31 – New Year's Eve
JANUARY
Jan 1 – New Year's Day
Jan 3 – Martin Luther King Day
---
SPONSOR
Quickcharge POS provides all of the point of sale features
you need in an easy-to-use solution with automated
payroll deduction capabilities, contactless payment,
and reliable customer support!

Transitioning from your current POS system
is fast, easy, and affordable.
800-348-5545
www.mmhayes.com/giftshopPOS
---
All that you are to your hospital
Submitted by Myke Ondek, former Gift Shop Manger, Vanderbilt University Medical Center
I hope you all remember how important you are to the hospital you represent. I often feel that hospitals are not truly aware of just what it is we do. On a personal level I know more people by name than most other hospital personnel. I see people from every department every single day of the year. We help make our employees feel connected to the medical center by being the "common ground" where they can all meet and run into one another. I also feel that shop workers have the ability to do more for the image of the facility than just about any other staff does on a regular basis.
Let's face it, we answer more questions than most hospital departments do. We are located right in the middle and people look to us for information. When it comes to compassion, we are key to making patients and families feel they have had a good experience at our hospital. We are here morning, noon, and night and seven days a week.
There is always a kind and polite shop worker to guide, assist, suggest. Sometimes we are the only people that many family members ever come in contact with. When I hear one of our clerks approach a family member and say, "You doing ok"? I know in my heart that they mean it. If it takes them a few extra minutes to help somebody, then the rest of us can cover the register. We are all about compassion. We are the human side, the contacts, the point persons, and while we may not know all the medical stuff, we suffer along with each and every person who comes in here.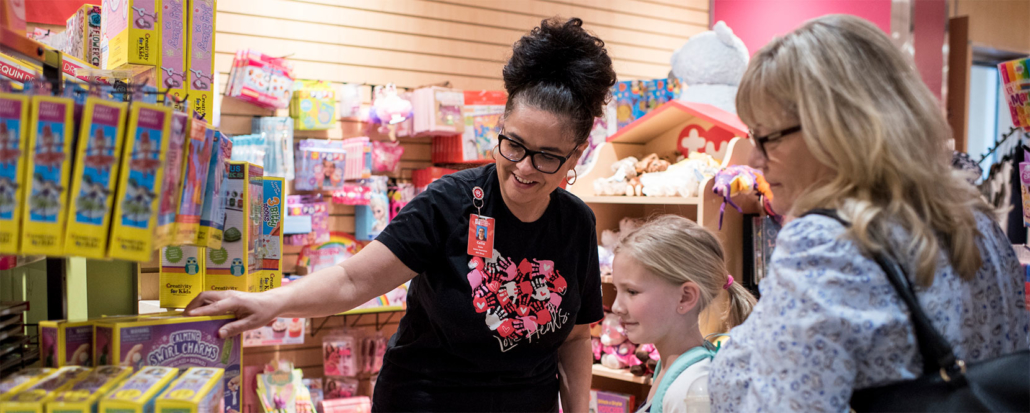 I am so very proud of the work we all do. We make a difference in many peoples' stay at our facilities. I want to have "everything" (within reason) that somebody might ask for because it reminds me that part of doing a good job is listening to what customers want. It makes good business sense, too.
Don't ever feel that you are not just as important as any other professional in the hospital. We may see 3-500 people a day. A huge impact is inevitable. Big smiling faces, a warm touch on a crying shoulder. That's what we do!
Plus, we have the satisfaction of knowing that the money we raise is going to a greater cause. A patient program, research, or whatever the case may be, it is not just going into a fat cat's pocket! I am proud to do what I do and I know what some people go through in life.
Sometimes, we feel hand-tied by administration. Sometimes we feel left out but I am finding that my facility treats me with the same respect they treat all other department managers. I am lucky to have a boss who goes the extra mile to get things done on our behalf. It makes it all worthwhile.
While I have been here for many hours this week and on both my days off, I still look forward to showing up bright and early tomorrow morning to face another day at a worthwhile job
Thank you Myke!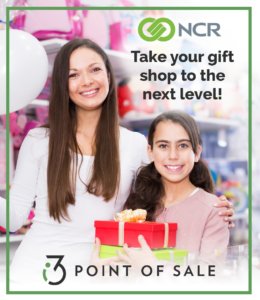 ---
SPONSOR
i3 Verticals – NCR Point of Sale Solution
A "Volunteer Friendly" NCR Point of Sale solution
for hospital gift shops. Easy to learn! Easy to use!
Payroll Deduction and Inventory Management available.
Take your gift shop to the next level!
Ask for a FREE copy of our "Hospital Gift Shops:
Tips for Success" booklet.
887-809-9980
www.i3pos.com
---
When should holiday merchandise be displayed?
Remember, you want at least eight weeks of regular price selling to maximize profits. So, begin displaying holiday merchandise (your higher priced items) at the end of October.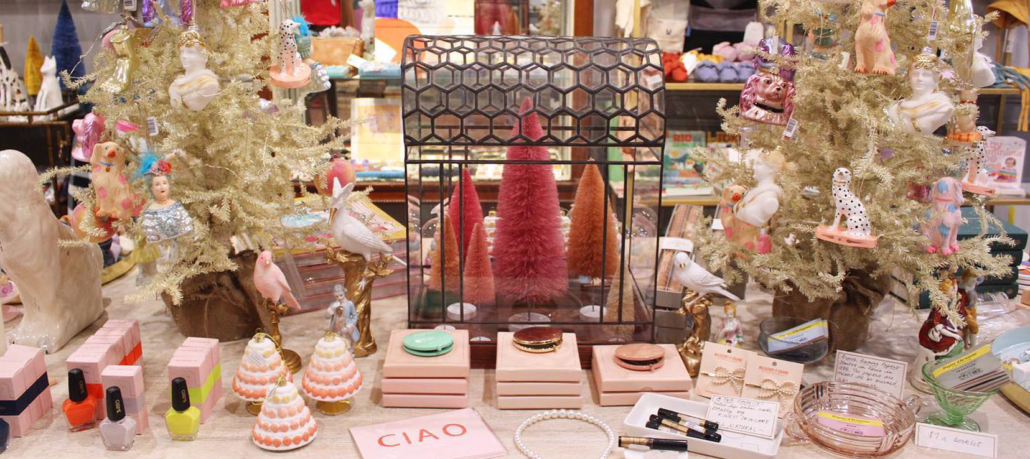 ---
Do this one thing everyday before opening your shop
Inspect your shop every morning before you unlock the doors for business. It only takes about five minutes to complete and can prove to be invaluable. Make it a requirement. The first few times you won't notice much, but the more you do it the more things that need attention will pop out. Store associates should also do this exercise each day at the beginning of their shift. Here's how:
Begin outside of your shop. Is the common area outside the shop cluttered or in need of clean up? Can customers easily see your window and exterior signing? Are your windows clean? Are the window displays current, neat, and fully accessorized? Does the shop require paint or repair?
Assess the decompression zone. This is the 5' to 15' area just inside the front door of the store. Its job is to slow down rushed and distracted customers so they can concentrate on shopping. It should be inviting and not cluttered.
Walk through each area of your shop. This includes the checkout and service areas. Make sure that each area is clean and neat and properly set to reflect the caring professionalism of your store.
---
Is it time to renovate: Sample request letter
You might find that, regardless of all your efforts, your shop looks tired and outdated. Or, maybe it's also just too small. Sometimes, the only solution is a shop renovation. It is best to plan shop renovations for January or February when sales are slow.
Here is a sample letter requesting additional gift shop space:
Dear Hospital Administrator,
The ____ Hospital Gift Shop requests additional space to meet their customer's needs and wants. With almost ____#____ employees working in the hospital, the potential for increased sales and service is great. In a recent survey, ____% of the hospital employees commented on the limited size and crowded conditions in the existing shop. It is also important that we become ADA compliant.
The Gift Shop's actual selling space is presently ______ square feet. During the past fiscal year, gross sales were $_______. Annual sales per square foot were $_______. Therefore, a shop of 1,200 square feet can feasibly generate approximately $___________ in gross sales.
This past year the shop's net profit was _________% of gross sales. With ______ square feet in selling space, the gift shop could provide the hospital with approximately $_________ in net revenue annually. Over a period of many years, revenue to the hospital would be substantial.
Thank you for your consideration.
Regards,
<name>
<title>
---
RESPONSES: Do you use HospitalGiftShop for your online store?
Q. Our shops have struggled with our online presence, especially through the pandemic and for a variety of other reasons. We are considering outsourcing to HospitalGiftShop to provide online access to our customers. Does anyone have experience with them? Have you used hospitalgiftshop.com for your online store? What are the pros and cons? What have you heard about them? What are the costs? Thank you! – Judi S, Gift Shops/Espresso Cafes. 7/8/21
No, we do not use a 3rd party website, but do operate online in house. It was work on the front end loading photos/descriptions, but has paid for itself 100x over in sales. – Michaela Kanoski, CHI Creighton University Medical Center-Bergan Mercy, Omaha, NE. 390 beds. 9/27/21
We do not use them however I receive calls quite often from upset customers who have ordered through them thinking they ordered directly from our hospital's gift shop. They call because the patient did not receive their gift. – Linda Armstrong, 9/21/21
We have not used HospitalGiftShop for our shop. I would be interested in finding out more and reading comments. Thank you. – Michelle Suggs, The Shop at WhidbeyHealth 9/18/21
I'd love to learn more about them, too! – Ali McCrary, Good Samaritan Gift Shop, Vincennes, IN. 158 beds. 10/11/21
I have not used HospitalGiftShop for online service, however, my goal for 2021 will be to start up an online shop to cater to family & friends of our patients, in-house employees, employees from our offsite clinics as well as our immediate neighborhood & local/rural community. There is much work to do, but I am willing to pull up my sleeves. – Jamie Lee Hernandez, The Gift Corner/Loose Ends, Billings. 289 beds. 9/24/21
We do not have an online presence yet but are planning to keep it in house. Getting capital money next year! – Traci Gerdes, Children's Hospital of Atlanta, Atlanta, GA. 500 beds. 9/18/21
Hospital Gift Shop is a Healthy Commerce company based in San Diego, California. We mention hospitalgiftshop.com in our recent article Creating and Online Store: Parts 1-4 as a way to outsource your entire online operation. But, there are pros and cons to doing so. We'd like to hear from any shops that are using their service!
Do you use hospitalgiftshop.com? Why or why not?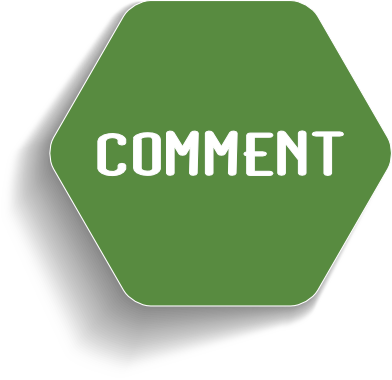 Are you – our would you – use hospitalgiftshops.com for an online store? What is your experience? Leave a comment here or enter it at the bottom of the newsletter.

Thank you!
---
Reopening after the pandemic: One shop's story
Submitted by Deb McKenzie, General Manager, Moose Ledge Gift Shop, Littleton Regional Healthcare, New Hampshire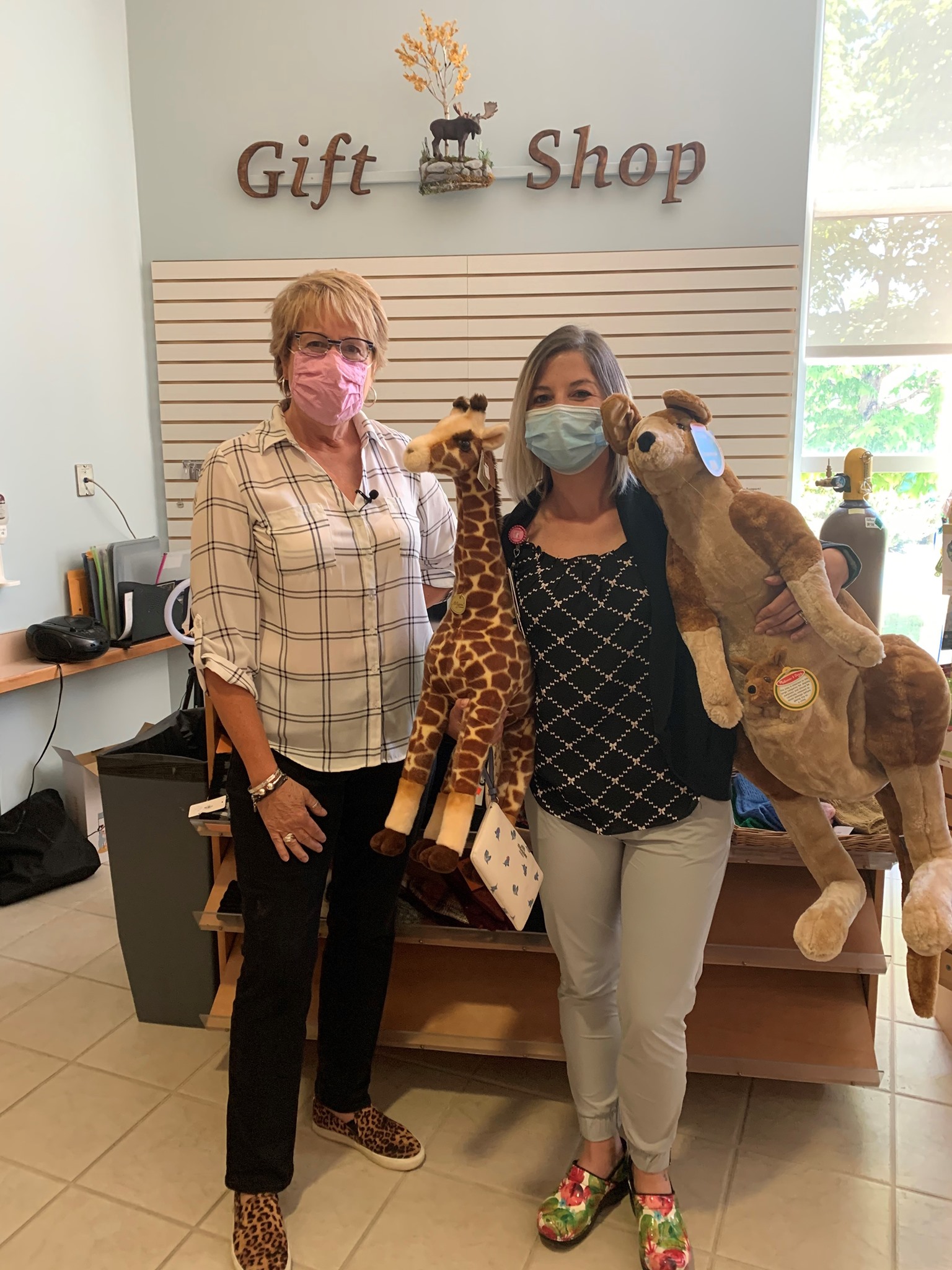 Our gift shop, located in a 25-bed, critical access hospital, was abruptly closed on March 11, 2020 due to the ensuing pandemic. For the next 16 months, staff and patients would walk by the windows and see everything just as it was the day we closed. St. Patrick's Day merchandise was still displayed on the shelves and our old, aging cash register sat collecting dust as well as everything else in the dark, seemingly abandoned shop. We were so happy when we learned we could finally reopen!
We learned in early May that we would be allowed to reopen July 1st. It seemed like the perfect opportunity to take the shop to a 2.0 status, so we made plans for a major shop makeover. The walls were painted in fresh, new colors. A new sign was installed. Our old clunker cash register was replaced with a new Square Register POS. A training video on using the new POS was created and a link to that video was emailed to all the volunteers so they could gain some familiarity with it prior to hands-on training, which was hugely successful and very appreciated!
During July and August (typically our slowest months of the year), we held a massive and very successful clearance sale of all the old shop merchandise that the hospital employees and patients had watched sitting on those dark shelves for so many months. We began with a 40% off price reduction and added weekly reductions until it was gone. We were also able to clear out old merchandise from our stockroom as well, giving us a clean slate to begin our buying for the coming months.
Following an event such as the pandemic, we knew there would likely be changes requiring us to make adjustments. Our gift shop is 100% staffed by volunteers, including our buyer/merchandiser and myself as general manager. Since reopening, we have lost about half of the shop staff we had prior to the shutdown requiring us to reduce shop hours and days we are able to open.
Since the hospital is still limiting visitors and other activity on campus, we are currently seeing a reduction in foot traffic into the shop from the pre-Covid days. This is compounded by some restructuring that has occurred in the hospital which re-routes some patients to areas away from the shop, thus creating the challenge of keeping the gift shop visible as well as adjusting inventory levels to volume without over-buying and being left with surplus. We are constantly trying to think outside the box and come up with solutions for these new challenges.
Our volunteer staff is so happy to be back in the shop and hospital staff and patients are thrilled to have the gift shop open once again!
Out of the ashes a new day is born!
Thank you Deb!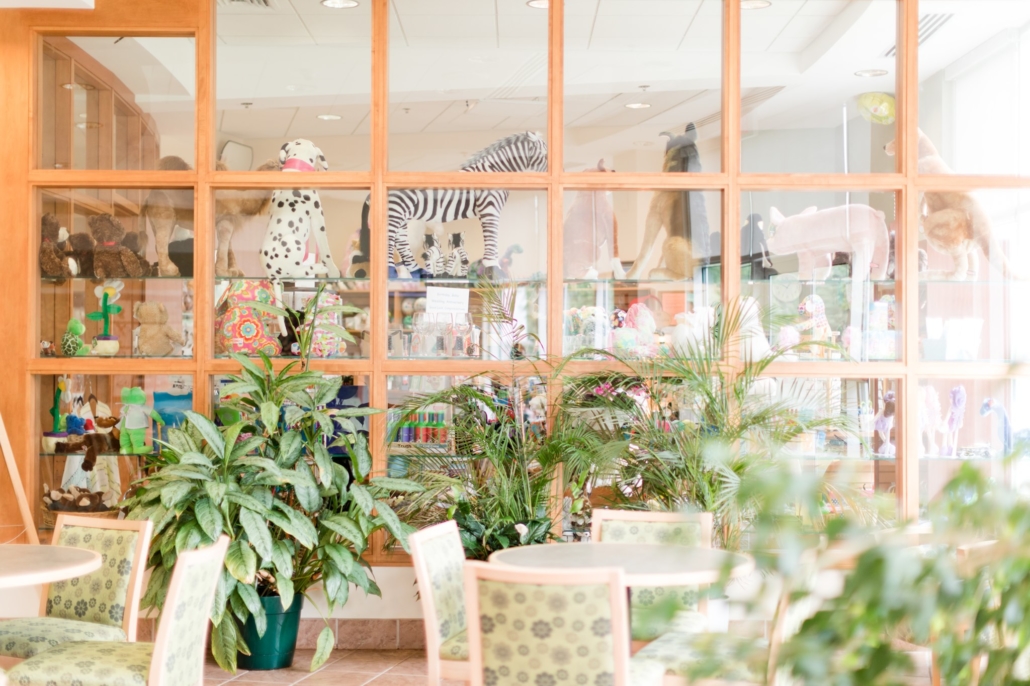 How are you and your shop doing post pandemic?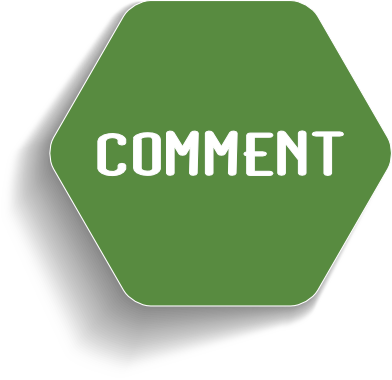 How are you and your shop doing post pandemic? How are sales? Are any shops still closed? What's your best seller right now? Are you going to gift shows? Leave a comment. Share a story.

Connect. Share. Grow.
---
Post-holiday inventory: stock up
⏳ BUY
Nothing looks worse and hurts business more than a shop with left over remnants.
Don't forget to have fresh, new merchandise in stock for right after Christmas!
Purchase adequate quantities and assortments of new merchandise so your shop looks full two days after Christmas (which is a Monday this year).
---
💮
CALENDAR

💮

GIFT MARKETS
Updated Sep 15. **Always double-check show dates for changes.
Oct 26-28, 2021
Atlanta Fall Cash & Carry
Oct 26-29, 2021
Dallas Apparel & Accessories Market
Nov 1-3, 2021
Ocean City Resort Gift Expo, Ocean City, MD
Dec 5-8, 2021
Grand Strand Gift & Resort Show, Myrtle Beach, SC
Jan 5-11, 2022
Dallas Total Home & Gift Market
Jan 11-14, 2022
Dallas Apparel & Accessories Market
Jan 11-18, 2022
Atlanta Gift & Home Furnishings Market, AmericasMart
Jan 23-27, 2022
Las Vegas Market, World Market Center
Feb 2-6, 2022
Atlanta Apparel Market, Atlanta GA
Feb 6-9, 2022
NY NOW Market, New York , NY
Feb 12-15, 2022
Intl Fashion Jewelry & Accessory Show, Orlando FL
Jun 14-17, 2022
Dallas Apparel & Accessories Market
Visit
Gift Shop Mag Trade Show Calendar
or
Smart Retailer TradeShow Calendar
for smaller local/regional shows.
---
SPONSOR
snoozies!® Sherpa Socks
Unique designs and colors
Fully lined cozy Sherpa socks
Keeps your feet warm on the coldest days and nights
Non-skid soles
Machine washable
Will not shrink
See all the snoozies!®Sherpa sock collections at snoozies.com
Call our in house specialist at 252-650-7000 ext 206
---
Shop Sign: 12 Days of Savings (download)
Get more sale ideas in the 50-page Twelve Month Action Plan for Gift Shop Managers.
---
SEPTEMBER 2021 NEWSLETTER: ISSUE #622
Did you miss last month's articles, surveys, and discussions!
October action plan
Trend report for Spring/Summer 2022
RESPONSES: What is your markups in this post-COVID market?
Men's holiday gifts
Q. Do you use HospitalGiftShop for your online store?
SURVEY RESULTS: Do you have staff payroll deduction?
5 ways to get a bigger share of the holiday sales pie

RESPONSES: Is anyone selling vaccination card holders/protectors?
Social Media Tip: Create animated product videos like this!
Calendar: Gift Markets and Regional Conferences
VACCINATION CARD HOLDERS
I just ran across vaccination card holder/protectors, and it made me wonder if anyone has tried them and how they sell for you? – Jamie Lee Hernandez, St. Vincent Healthcare, Billings, MT. 289 beds. 7/15/21
Yes, we currently offer a vaccination card holder. – Tana Taylor. 8/22/21
I've wondered the same; it seems as though no one is requiring the card to be seen for any purpose, so I'm not sure that consumers would see a reason to carry a holder. – Lauren. 8/20/21
No, we are not, but what a great idea! Who is the vendor? – Nancy Collins, Volunteer Services Manager, London Hospital, New London, NH. 8/18/21
Hi Nancy, I noticed them on Faire.com. – Jamie Lee Hernandez, St. Vincent Healthcare, Billings, MT. 289 beds. 7/15/21
We have been selling a clear inexpensive holder from Specialist ID. – Greg Holtgrewe, Baptist Health Paducah, Paducah, KY. 300 beds. 8/17/21
---
POST-COVID MARKUP
Wondering what your markup is on items right now? We have been limited to mostly our hospital staff as shoppers and are noticing a decline in sales. Thank you! – Gina Richmond, Sunshine Gift Shop Unity Point Hospital, Dubuque, IA. 126 beds. 8/10/21.
I manage the flower shop in a hospital gift shop. I am a certified florist and used to work at a traditional flower shop. I saw that the markup for flowers is recommended 30%-35%. I personally think that is low if the arrangements are designed in-house. Flower shops mark up flowers x3 and hard goods (containers) at least keystone and then add another 30%-40% for the labor. If an order is placed at a flower shop and delivered to the hospital there is a delivery charge of $5-$10 per arrangement not per stop. We operate under the hospital's umbrella and don't charge tax. Free delivery and no tax are our selling points. We do well with flowers sales. I worked in a traditional shop for quite some time but I'm sure the mark-up and delivery have not deceased. I keystone everything at a minimum. As a paid staff member, if I am the one designing and not a volunteer I add a few $ for labor. – Noelle Boardman, St. Luke's Floral & Gifts, Cedar Rapids. 300 beds. 9/21/21
Cost + shipping x 2 across the board, excluding candy that is not specialty. If purchasing a discounted item or receiving a discount, the regular price is factored in and then the price is doubled. – Jamie Lee Hernandez, The Gift Corner/Loose Ends, Billings. 289 beds. 9/10/21
I have been doing the same markup as I did pre-COVID (x2). There are some items that I am able to mark up more (x 2.4 or more) depending on if I purchased them on sale or if they are just an inexpensive wholesale item that is great quality that I can markup for. With the added surcharges and increased wholesale prices across the board I am leaning towards a x 2.3 markup in the near future. – Sarah Ryan, Rutland Regional Medical Center, Rutland, VT 9/7/21
Glad to hear that, Sarah. Be sure to include shipping charges into the retail. – Cindy, Cindy Jones Associates
We are a small critical access hospital in Northwest Wisconsin. Due to the population we serve, I cannot always do the 2.3% markup on items in our gift shop, The Corner Boutique. I try, but am always mindful of the price point, yet there are times I can price an item higher because of the purchase price (on sale) and quality. It truly is a game of chance! Thank you everyone for sharing. – Ann Bergmann, Cumberland Healthcare, Cumberland, WI. 25 beds. 8/30/21
The gift shop I manage is located in a rural area where almost 50% of our population is Amish (LaGrange, Indiana). I typically cannot get away with marking up more than x2 and sometimes it's less than that depending on the wholesale cost. – Christina Blaskie, Parkview LaGrange Hospital, LaGrange, IN. 8/23/21
We are using the same calculation we did pre-COVID. Mark up of 50% then the cost of shipping and handling. – Nancy Collins, New London Hospital, New London, NH. 8/18/21
Cost x 2.5 to 2.6 on most items. Candy/snacks are around 35%. – Angela Quinn, UNC Lenoir Health Care, Kinston, NC. 8/17/21
Except for candy & flowers our current markup is minimum 2.5. – Kerri Clark, Community Hospital, Munster, IN. 8/17/21
I haven't changed my pricing post-COVID. I have kept it the same. I will however up my pricing for Christmas only because I feel like Christmas decorations are going to sell fast and customers are not going to mind the prices going up a little because prices are up for everything. – Lauri Huffman, Indiana University Health. 8/17/21
Good thinking Lorrie. As a past department store buyer for May/Macy's, I can say that asking yourself "What would my customer be willing to pay" is very important. Value, uniqueness, quality will guide you to price. But my feeling is that if it is not food or flowers, you should never, ever only double the price of your products. When you DO have to mark items down, take a very close look at the product you are marking down and honestly ask yourself, why didn't it sell? Was it color or quality, size, or value or did it come in too late in the season or was it poorly displayed or maybe, it just wasn't for your customer base? What can you learn from a "markdown"? Trust me, it will be a good learning tool for future buys when a vendor says, "Everyone is selling this". – Anne Obarski, Merchandise Concepts, Mt. Pleasant, MI. 8/17/21
I usually stick to about a 2.4 markup. A little less if I got a free freight special and sometimes I go up a little more. – Juli Chrisman, WPR Cancer Institute, Little Rock, AR. 8/17/21
Ours is normally 2.5 but with the rise in shipping and surcharges we have recently been going up a little more if the product can validate the price. – Cheryl, Novant Health, Charlotte, NC, 637 beds. 8/17/21
We double the cost plus shipping. – Robin Truax, Gouverneur Hospital, Gouveneur, NY, 77 beds. 8/17/21
65-70% – Margaret Legut, Elmhurst Hospital, Elmhurst, IL. 259 bed/ 9/16/21
FROM CINDY
Gina, markups should remain the same! Do not change your markups! Once COVID is gone and life and retailing get back to normal, you will want to go back to your usual markups and pricing standards, but then your customers will walk out saying 'everything is overpriced in the gift shop'!
If you are not taking at least a keystone markup (50% above wholesale) plus shipping on most of your merchandise, it is unlikely that your shop is profitable. Hospital gift shops cannot make a profit on an initial 2x times mark on plus shipping. After mark downs, the gross margin is reduced even more. Profitability is based on many things but one of the most important is markup.
Instead, look for hidden opportunities to earn a little extra profit. Consider buying merchandise at closeout or negotiating discounts on your purchases. Some items will need to be marked down because they are slow sellers. However, discounting everything, such as a "20% off everything" sale, is not recommended. Keep in mind, a mark down is the most important tool a retailer has to move a mistake out the door. We all make buying mistakes. It happens with the best buyers! Buying a bad style, wrong colors, wrong sizes, wrong timing, too many, bad fit, etc. Just don't fret, recognize mistakes early and mark down immediately!
STANDARD MARKUPS BY CATEGORY
GIFTS, TOYS, APPAREL, CARDS, PLUSH, BABY, ACCESSORIES
CANDY, SUNDRIES
Double price + 6-10% for shipping
🎯 Formula: cost x 2.5 or more
30-33% markup
🎯 Formula: cost x 1.4 or more
**Higher for specialty candy
JEWELRY
FLOWERS
60-70% markup
🎯 Formula: cost x 2.4 or more
**Most jewelry comes pre-priced.
33-35% markup
🎯 Formula: cost x 1.5 or more
---
ONLINE STORE
I am currently working on launching an online store. It has been several months in the making but this topic came up at the best time and has helped me so much with all the other shops providing information, tips and tricks. I will be look in to purchasing a photo box and using canva! I have saved all the previous articles to continually reference. Thank you to everyone for all the great information that has been provided. – Sarah, 7/30/21
Hi Sarah, we're happy to hear that the article was helpful! Please let us know how the launch of your online store goes. On the interim, let us know what issues you run into…or questions. I'll answer what I can and put it out for comment in the next issue. Good luck! – Nicole, Cindy Jones Assoc
First of all, thank you for deep diving into this subject. I wanted to know if having a POS is imperative to having an online presence? Is there a work around? Currently we do not have a POS, but we would love to explore the online possibility. Thank you. – Jamie Lee Hernandez, 5/20/21
A POS is not required to have an online store. You can sell, process payment, and fulfill orders entirely through your eCommerce software. You'll need to coordinate your in-store and online sales, plus financials, and inventory. – Nicole, Cindy Jones Assoc
Cindy, this is absolutely the best newsletter that you have published. I will use as a reference over and over. We too realized that we were fortunate to have an online shop. We continue to update it as part of our hospital website. The big website will be new and fresher soon. We have been waiting a long time for this. Our on line business continues to grow even as we have opened our gift shop. We will send in our good news for you to publish. Have a great weekend – Kathryn, Carousel Gift Shop, Driscoll Childrens Hospital, Corpus Christi, TX. 191 bed. 4/19/21
Congratulations on launching your online shop. It is terrific. The landing page image with the teddy bear is really effective. Did you set up and launch it yourself? What software are you using? Several managers are wondering how to coordinate online with in-shop inventory. Are you having the same issue? – Nicole, Cindy Jones Assoc
Our gift shop is part of the hospital website. We are continuing to upgrade our part, as well as, the hospital having a new site. We do struggle with the inventory—as we are on Arba systems. We continue to keep up with inventory the old fashioned way, counting each week. We do keep the inventory separate from the shop back stock. Hope this part helps. – Kathryn, Carousel Gift Shop, Driscoll Children's Hospital, Corpus Christi, TX. 191 bed. 4/19/21
We do not have a web site but will be building one this summer. My question is, I do not want to offer delivery beyond our campus (no shipping). Anyone had success doing this? – Kevin Shaw, Methodist Hospital Gift Shop, St Louis Park, MN. 4/16/21
Yes! Our sole purpose of an online store is for Patient Delivery Only and our opening welcome message on the site reads: Through this site, you may order gifts for delivery to patients staying at our hospitals". We advertise "pre made bundles" to simplify options. We have a binder kept at the register that lists all of our online gift bundles and what items are needed to fulfill the order so that all staff members can work on gift building. We recently added phone chargers as an option online as we get a lot of phone calls from customers looking to send a charger to a patient. Well now they can order that charger online as an "add-on" item!
For inventory purposes, we ring up each item at the point of sale and use "eHit" as our mode of tender; it's an arbitrary tender that has its own line on our reports so that these sales are not getting mixed into credit card or cash sales. – Meggen Heuss, University of Wisconsin Hospital and Clinics, Madison, WI. 500 bed. 4/21/21
We do not yet have an online store however, this information is quite timely in that I am just beginning to explore one. I look forward to the next parts of the series as I am sure there are so many parts and pieces to consider. Without question, I believe it would be worth it, but getting it up and running and having manpower to keeping it going may prove to be more difficult. The shipping pieces is something that really worries me… Thank you all for your time to compile this information, it is appreciated. – Jamie Lee Hernandez 4/16/21
Remember, you don't have to offer shipping. You can limit your fulfillment options to only those you feel are feasible: Patient Room Delivery, Office Delivery, In Store Pickup and, Lobby Pickup, Curbside Pickup. Phase in additional options, like shipping, later on when ready or not at all. We'll discuss fulfillment methods in Part III. – Nicole, Cindy Jones Assoc
I am so interested to hear what others are doing, the pro's and the con's to having an online store. Who are you targeting? What merchandise will you sell? Where will the merchandise be stored? Delivery, mail out, curbside pick up etc. Who will manage it? Who will manage it when you are on vacation, nights and weekends etc. – Jamie Lee Hernandez 3/18/21
I'm not 100% sure so maybe Cindy could help us, but someone told me that if you are not for profit that you have to be very careful with online shopping because it could forfeit your nonprofit status. Cindy, can you help? Is this true? – Ali McCrary, Good Samaritan, Vincennes, IN. 232 beds. 2/16/21
FROM CINDY
It is a myth that 501(c)(3) nonprofit organizations can't make a profit. Most hospitals and their subsequent gift shops are for profit. They charge sales tax and operate as a business. The shops then donate all their profits to the hospital for patient benefit and equipment. Look for our upcoming article on how to start an online store. We've found some terrific online gift shops and currently interviewing their managers to share with our readers. In the meantime, here is a helpful article on launching an on-line store Overcome Common Problems Launching a Hospital Gift Store Website 2/17/21
We are a volunteer only hospital gift shop. No visitors in almost a year. We we closed for 7 months and now are only open in the afternoons. We've been having a 30% off sale and the store is still full! An online shop would be great but it would fall on one person to create it and manage and would be a full time job. – Martha Burke, Rome Hospital, Rome, NY. 130 beds. 2/9/21
---
PROMOTIONS
---
---
SPONSOR
BRAVEHOODS
More than just a hoodie…
These inspirational shirts make great gifts for anyone needing a smile. For each shirt sold, one is donated to a kiddo fighting cancer. Sizing: 6 mo – 4XL
As an incentive, we are happy to donate the amount purchased to your pediatric oncology department.
Featured in Gift Shop and Wired Magazines
---
SPONSOR
BOOGIE TOES – AWARD WINNING BABY RATTLE SOCKS
The cutest baby socks on the planet are perfect for 3 early stages of baby's development.
– Adorable rattle socks with plush toys.
– Rattling sound stimulates hand-eye-ear coordination.
– Busy moms can keep a tab on adventuring crawlers.
– Eco-friendly anti-slip sole for early walkers and runners.
– More than 80 styles to choose from!
844-548-3684
office@pieroliventi.com
SPECIAL DISCOUNTS for Cindy's Newsletter readers:
www.pieroliventi.com/cindy-gift-shops (Pswrd: cindy2021)
https://www.cindyjonesassociates.com/wp-content/uploads/2021/10/shop_a-Crows-Nest-Beach-Market-Santa-Cruz-CA-scaled.jpg
1707
2560
C Jones
https://www.cindyjonesassociates.com/wp-content/uploads/2021/05/CJA_coral_400x106.png
C Jones
2021-10-15 08:00:00
2021-10-18 14:38:53
Cindy's Newsletter for Gift Shop Managers | October 15, 2021 💮